Bhai Vir Singh – A Gem of Punjab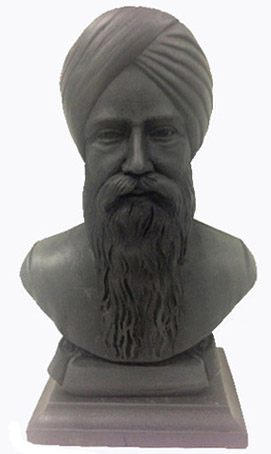 Bhai Vir Singh – A Gem of Punjab –
Click Here to View in our Store
By Sonia Dhami
The legendary personality of Bhai Vir Singh, has been sculpted into an elegant tabletop bust.With this sculpture the boundaries of Sikh Art are expanded. Sikh Art can be defined as Art for, by and of Sikhs. Just like all other body of art, it includes paintings, murals, sculptures, manuscripts, metal repose work, installation art etc. It also includes weapons, antiquities, textiles and other items of exceptional beauty and workmanship. Some of these items are treasured because of their exceptional beauty and some because they are representative of their period in history and some because of their ownership e.g. the belongings of the Sikh Gurus. There are still others, which are symbolic of our emotions and feelings while others are coveted because they are the likeness of legendary figures in the form of a bust or statues while some.
One such legend whose bust is now available for us to adorn our homes and offices is Bhai Vir Singh (5 December 1872, Amritsar-10 June 1957, Amritsar) . This literary Gem of Punjab, was a poet, scholar and theologian and a key figure in the movement for the revival and renewal of Punjabi literary tradition. He is popularly hailed as the father of modern Punjabi literature.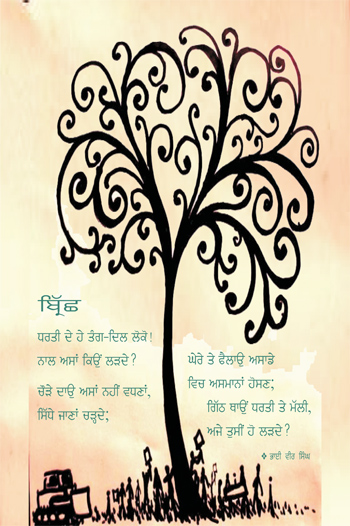 Bhai Vir Singh – Poem
In literature, Vir Singh started as a writer of romances, which are considered forerunners of the Punjabi novel. His writings in this genre – Sundari (1898), Bijay Singh (1899), Satwant Kaur (published in two parts, I in 1900 and II in 1927), were aimed at recreating the heroic period (eighteenth century) of Sikh history. Through these novels he made available to his readers, models of courage, fortitude and human dignity.
The novel Subhagji da Sudhar Hathin Baba Naudh Singh, popularly known as Baba Naudh Singh shares with the epic Rana Surat Singh. Soon after the publication of Rana Surat Singh in book form in 1919, he turned to shorter poems and lyrics. These included Dil Tarang (1920), Tarel Tupke (1921), Lahiran de Har (1921), Matak Hulare (1922), Bijlian de Har (1927) and Mere Sayian Jio(1953). Through these works, he paved the way for the emergence of the modern Punjabi poem.
In November 1899, he started a Punjabi weekly, the Khalsa Samachar. He revised and enlarged Giani Hazara Singh's dictionary, Sri Guru Granth Kosh, originally published in 1898. The revised version was published in 1927. He published critical editions of some of the old Sikh texts such as Sikhan di Bhagat Mala (1912), Prachin Panth Prakash (1914), Puratan Janam Sakhi (1926) and Sakhi Pothi (1950). An important work was Vir Singh's annotation of Santokh Singh's Sri Gur Pratap Suraj Granth, published from 1927 to 1935 in fourteen volumes.
Some of his major creative works such as Sri Guru Nanak Chamatkar and Sri Guru Kalgidhar Chamatkar, were originally serialised in its columns.
An elegant bust of this Gem of Punjab is available from the Sikh Foundation Store
An elegant bust of this Renaissance Man – Bhai Kahan Singh is available from the Sikh Foundation Store