Sikh Sculpture: Father & Son
By Sonia Dhami
What did Maharaja Ranjit Singh look like?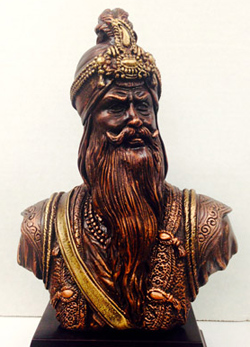 Maharaja Ranjit Singh –
This piece has been sold but is also available in Black Matt – Click Here to View in our Store
Looking at this magnificent sculpture of the Maharaja, we see a face, which conveys exceptional charisma and power. His brows are furrowed probably by the burden of his vast empire, which stretched from the Khyber Pass to cold deserts of Ladhak. Through the penetrating gaze of the Maharaja's single eye, the viewer feels a sense of awe and respect at the glorious achievements of this legendary Sikh Maharaja. All of these qualities are well documented by many dignitaries, both foreign and native, who met him.
This is a sculpture that reminds us for all that Maharaja Ranjit Singh stood for – A great leader who accorded freedom to all his people to practice their own religion. Whenever our gaze settles on this breathtaking sculpture, a deep pride is instilled in our glorious Sikh heritage and we are reminded of his legendary achievements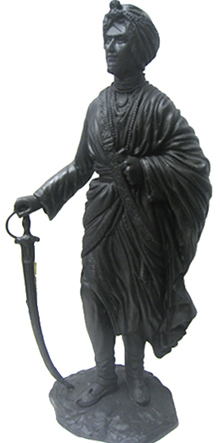 Maharaja Dalip Singh Sculpture –
Click Here to View in our Store
The handsome looks and personality of Maharaja Dalip is well documented in photographs and portraits painted during his lifetime. This sculpture is modeled on the portrait of the Maharaja done in London in 1854 by the artist F.X Winterhalter, a court painter of Queen Victoria.
Queen Victoria became very fond of Dalip Singh, right from the time he was first brought to England and introduced to her in 1854. She recorded in her journal on 10 July 1854 that 'Winterhalter was in ecstasies at the beauty and nobility of bearing of the young Maharaja. He was very amiable and patient, standing so still and giving a sitting of upwards of 2 hrs'.
The young Maharaja is shown standing with his jewel-studded sword and wearing his Indian robes. He proudly supports his turban, mounted with a diamond sarpeech (aigrette) fastened with strings of pearls. On his neck is jewel framed miniature portrait of Queen Victoria.
Despite the difficult circumstances that formed his life, the Maharaja made various spirited attempts to regain his lost throne. After his tragic death in 1893, the Sikhs lost their last Maharaja and therein all hope to regain the lost glory of the Sikh Empire.
These elegant and beautiful art pieces are an attempt to keep alive the memory of these legendary father & son.
To buy your set please visit our store by clicking here.