Sothebys and Christies Paintings and Dagger – Auction April 2010
Emily Eden (1797-1869) – Portraits of the Princes & Peoples of India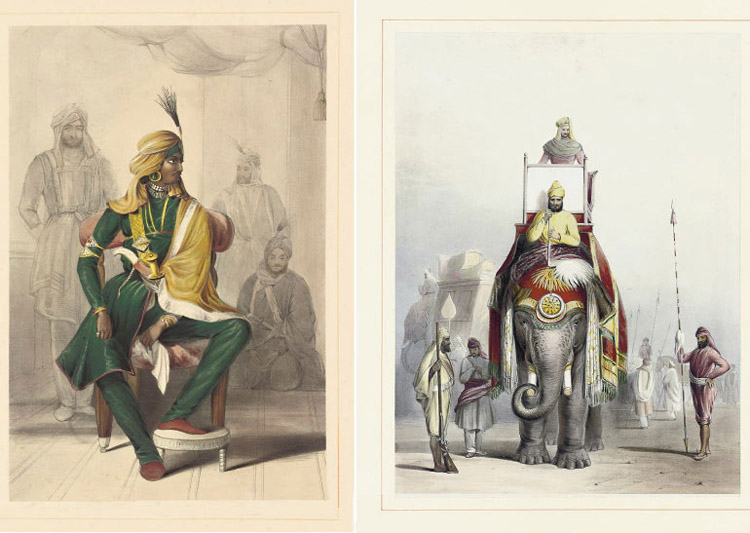 Valued at: £15,000 – £20,000 ($22,815 – $30,420)
Seller: Christies
Date: April 22 2010
Description: Handcoloured lithographed title mounted on card and 28 handcoloured lithographed plates, heightened with bodycolour and gum-arabic, by Lowes Dickinson after Eden, printed by Charles Hullmandel and mounted on 24 card mounts with watercolour borders ruled by hand, published by J.Dickinson & Son, London, 1844, with letterpress titles and captions on paper mounted on each verso. Unbound as issued in original red morocco and cloth portfolio, upper cover blocked in gilt 'Hon.E.Eden's/India' around a vignette illustration of a snake coiled around an egg
S. 21 7/8 x 17½in. (55.6 x 44.5cm.)
Provenance:
Possibly Adeline Maria St Clair (c.1800-1850), mistress of Sir Thomas Edward Mitchell Turton, 2nd Bart (1790-1854), Barrister, Registrar of the Supreme Court of Calcutta (1841-1848), and thence by descent to the present owner.
Lot Notes: A RARE COLOURED COPY of Eden's important work, probably one of only a handful of copies published in this form. The Hon. Emily Eden, the seventh daughter of William Eden, first baron Auckland, accompanied her brother, George, Lord Auckland (1784-1849) to India where he served as Governor-General from 1835-1842. A highly gifted amateur artist and writer, Eden recorded her observations of life in India during this period in the form of letters and an extensive collection of sketches. On her return to England in 1842, Eden arranged to have her images printed privately as a portfolio of 24 lithographs and the Portraits was published in 1844, issued in wrappers in four parts. Most copies were issued uncoloured, except for a few beautifully hand-coloured copies, of which the present work is one. In addition to the Portraits, Eden's descriptions and recollections of her life in India were published in Up the Country. Letters written to her Sister from the Upper Provinces of India by the Hon. Emily Eden, 1866.
Eden's fine portraits and textual descriptions in the Portraits record amongst others, the Indian rulers, and often their families, with whom Lord Auckland met during his term of office as Governor-General. The first period of their stay in India was spent in Calcutta and from October 1837 to February 1840 Lord Auckland and his entourage toured through the Upper Provinces, meeting with Indian princely subjects. Amongst those encountered and portrayed by Eden during these tours were the Maharaja Sher-Singh, King of the Punjab, the Maharaja Ranjit Singh, The Raja of Nahun, the Raja of Patiala, and the Raja Hira Singh, son of the Prime Minister of the Punjab. Not in Abbey
---
A Pair of Double-Ended Daggers, India, 18th Century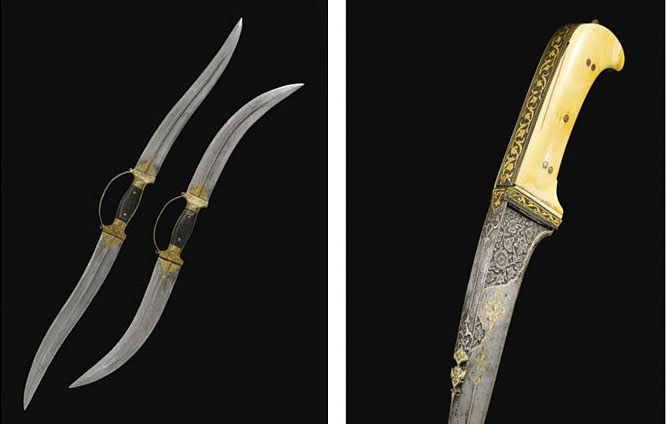 Title:
Valued at: 4,000—6,000 GBP (6,091.60—9,137.40 USD)
Measurements Note: 69.8cm; 81.2cm.
Seller: Sothbys
Date: April 2010 – Session
Description: The double-ended double-sided watered-steel meandering blades with central ridges and gold-overlaid palmettes with floral motifs at the forte, with knuckleguards
Quantity: 2
Catalogue Note: Comparable daggers with double blades can be found in the collection of Henri Moser-Charlottenfels (see H. Moser, Collections of Henri Moser – Charlottenfels – Oriental Arms and Armour, Leipzig, 1912, plate XXIX). In this instance, number 505 is described as Sikh, whilst number 504 is described as Rajput.