Sikh Art Watch – Items recently Auctioned at Sotheby's
The Ten Sikh Gurus with Guru Nanak-Ji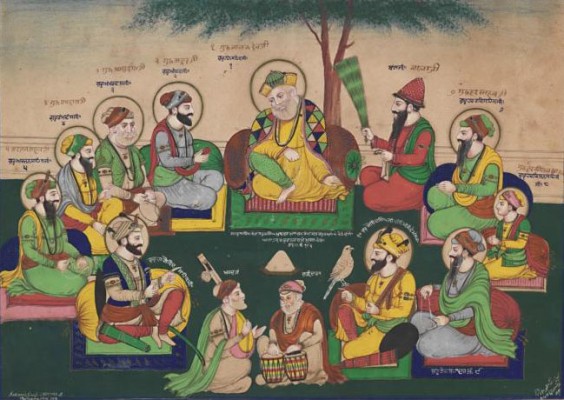 Sold for 45,000 USD
LOT # 90
Estimate: 5,000—7,000 USD
Measurements image 12 by 16 5/8 in. (30.5 by 42.3 cm.)
Alternate measurements folio 15 1/8 by 20 1/8 in. (38.4 by 51.1 cm.) unframed
Description Opaque watercolor on paper
India, Punjab Early-20th Century
Signed 'Sardool Singh,' and inscribed 'Pintre P. Photographrie 193' lower left and further signed and inscribed in Urdu lower right.
The early twentieth century witnessed the increasing prevalence of lithographs and painted photographs bearing images of Saints and divinities, which could be easily produced and readily marketed to a wide audience. This marked a pronounced shift in art production and its effect was seen in the structure of the traditional artist studio where the dominance of the traditional chitrakar or draughtsman waned and a new breed of photographers and print makers were inducted into the workshops, working alongside traditional painters.
The present image appears to have been produced in one such workshop as suggested by the inscription on the lower left.
---
Maharaha Ranjit Singh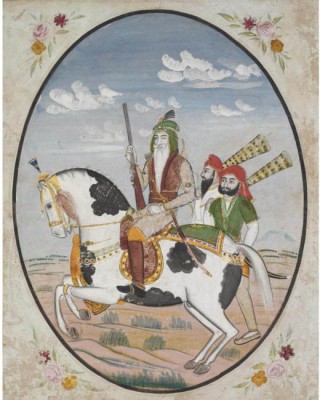 Sold for 15,000 USD
LOT # 91
Estimate: 5,000—7,000 USD
Measurements image 14 1/8 by 11 3/4 in. (36 by 28.9 cm.)
Description
Opaque warercolor heightened with gold on paper
India, Punjab
late-19th Century
Ranjit Singh is pictured here riding a richly caparisoned stallion accompanied by foot soldiers.
The Sikh ruler's passion for horses was legendary and it was said that he bestowed as much or more jewels upon his favorite steeds than upon himself. This is certainly borne out in the present illustration.
---
Large Portrait of Guru Gobind Singh-Ji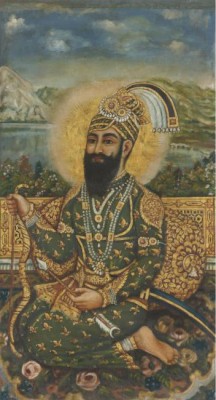 Sold for 254,500 USD
LOT # 92
Estimate: 50,000—70,000 USD
Measurements 59 1/2 by 34 1/2 in. (151.1 by 87.6 cm.)
Description
Oil on canvas
India, Punjab
Inscribed 1912
Guru Gobind Singh (1666-1708) was the tenth and final Sikh Guru. He was known as a writer and philospher who cultivated the interpretation of the Sikh faith. He made final contributions to the codification of the Sikh Holy Scripture, the Guru Granth Sahib, and declared the Scripture to be the highest, permanent article in the Sikh religion.
Guru Gobind Singh is cheifly identified as a fearless warrior in defense of the Sikh faith. He created the Khalsa order of holy soldiers who recognized struggle was necessary to preserve the freedom to practice their faith.
In this portrait, the Guru is shown seated against a large bolster with a serene, mountainous, lake-filled landscape in the background. He wears a plumed turban and there is a nimbus around his head, which are both common iconographic elements in his portraits. While it is a non-military portrait, he is also shown armed with a bow and arrow to denote his warrior status.
The Auction for these pieces begins Sept 17 2009
10:00 AM New York