"Amazing Professor"- Dr. Nikky-Guninder K. Singh Shares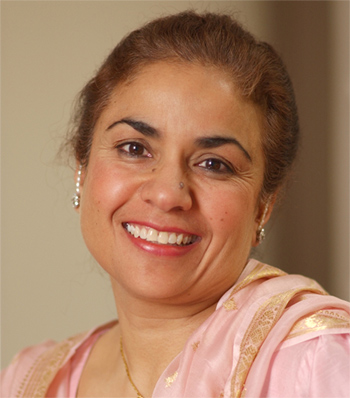 Contrary to popular belief, the working life of a professor is exceedingly busy.
While their primary job is to teach courses to students, they also have to conduct research, write books and papers, engage with the community and participate in various conferences and meeting around the year.
We caught up with Dr. Nikky-Guninder K. Singh, the Crawford Family Professor for Religion at Colby College, a liberal arts college in Maine.
Dr. Singh, recently attended the annual American Academy of Religion Conference in San Diego–CA. We were keen to learn more about the conference and posed her some quick questions.
As a long-standing professor of Sikh Studies, she also shared with us her vision for the Sikh Studies in the US.
"Nikky is an AMAZING professor" is a comment from one of her own students.
She has published extensively in the field of Sikh Studies. Her latest offering is "Sikhism- An Introduction". Some of her other excellent books are "Of Sacred and Secular Desire-An Anthology of Lyrical Writings from the Punjab" and " The Name of My Beloved- Verses of the Sikh Gurus".
1. What is the "American Academy of Religion"? Can you tell us a little more about this organization and your association with them.
The Annual Meeting of the American Academy of Religion is the world's largest gathering of academics who research or teach topics related to religion. The conference includes many interesting academic sessions, meetings, book exhibits, and receptions. Over the last few years, Sikh Studies has established a distinct space at the American Academy of Religion, while working collaboratively with other units. Papers and panels have been exploring several areas: i) text and language, ii) hermeneutic contexts and interpretive frameworks, iii) bodies, selves, and subjectivity, iv) Sikh diaspora and global Sikhism, and v) the teaching of Sikhism.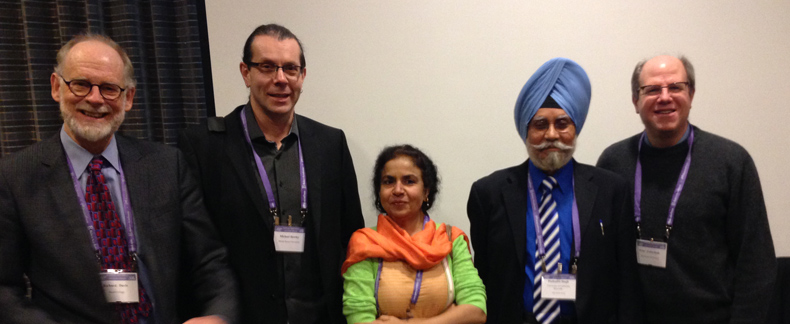 2. In what role did you participate in the AAR this year? Which other Sikh Studies Scholars attended? Who did you enjoy meeting?
This year I was a panelist at a Roundtable session on Teaching Sikh Studies. Yes there were many other Sikh Studies scholars attending the AAR. In fact this has proved to be an important forum for exchange amongst established scholars, graduate students, and those new to Sikh Studies on a range of critical issues. I enjoyed being with my fellow panelists: Professor Peter Gottschalk (chair of our session), Dr. Pashaura Singh, Dr. Michael Hawley, and Dr. Richard Davis. We shared our reflections upon a range of pedagogical strategies and practices in teaching Sikhism. There was a lively exchange amongst the panelists and members attending our session.
3. Why is it important for you to participate in such conferences?
I find the AAR inspirational, for I get to meet scholars doing innovative research in Sikh Studies. I find it most heart-warming as well, for I get to spend time with friends, and get to make new ones. It is fun to walk in a hallway or lobby for who knows which dear friend I may run into serendipitously!
4. What are the courses you are teaching currently and how many students do they impact.
I have been teaching a senior seminar on Sikhism almost on a yearly basis since I arrived at Colby College in 1986. It has been a meaningful experience to see Sikh topics reach students in diverse academic disciplines at this liberal arts college. I can recall my joy when I received The Nation's Tortured Body: Violence, Representation, and the Formation of a Sikh "Diaspora" (Duke, 2001) from one of my earliest undergraduates, Brian Axel.
I have basically pursued two directions: teaching a full-fledged upper level course on Sikhism, as well as integrating facets of Sikhism in my other cross-disciplinary courses at different levels — "Religions of India," "India and the Western Imagination," and "South Asian Women at the Crossroads." The student demography has not changed much over the years, for the majority of my students continue to be non-Sikh and "White." But the source materials have increased considerably since 1986, and there have been major historical shifts. Consequently, my own teaching has changed.
In the early years I took up a phenomenological study of the tradition: I focused on the scripture and its disclosures of philosophy, ethics, aesthetics, and practices. This semester I am offering a seminar entitled "Global Sikhism: Migration and Identity." I am glad to have had the opportunity to teach it as a part of the Migrations Theme promoted by the Humanities and the Arts Center at my college. I have a wonderful group of students majoring in a variety of subjects. We look at the complex and intimate relation between "migration" and "identity" in Sikhism. From its very origins to the contemporary times, migration has been a vital experience in the personal and collective identity of the Sikhs. The leitmotif of this seminar has been the inter-relationship between Sikhism and American society. Sikhism offers a lens through which students acquire a broader understanding of the contemporary global reality. Who constitutes "We"? "They"? How are we connected together? I ask my students to think about how Sikhs deal with globalization and migration, and how the diasporic landscape becomes a rich resource for innovative ventures in art, music, literature, architecture, film, and fashion. How do Sikhs cope with racism, prejudice, and stereotyping in their new environment? How do they deal with gender, sexuality, and transnationalism within their own community? How do they contribute to the political, social, cultural, religious, and artistic diversity of America? We have been exploring the themes of displacement, hybridization, multiculturalism, and postmodernity. Over the semester my students made some excellent group presentations, and wrote some very insightful papers (for instance on the comparison between the voice of Guru Nanak in the Japji and his image in the B-40 Janamsakhi). I am now looking forward to reading their final research papers on an array of exciting topics that they have personally chosen.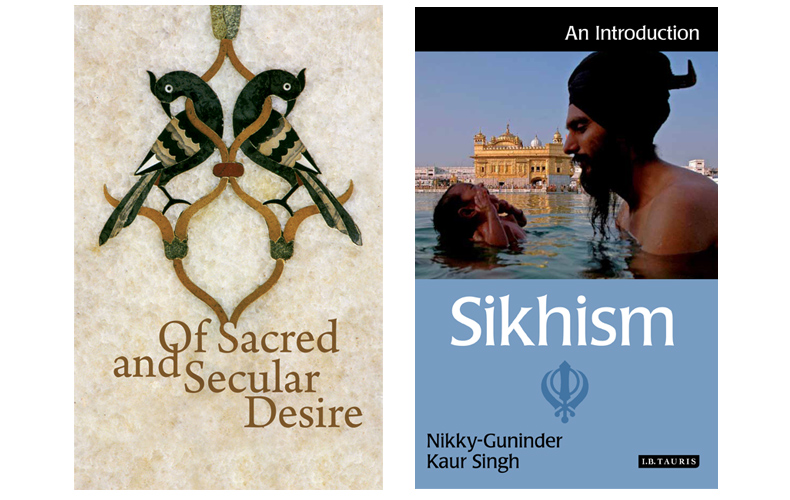 5. What is that ideal place, where you would like to see "Sikh Studies in the US" reach?
I want Sikh Studies to be a part of mainstream American curriculum. I want to see Sikh Studies move beyond religious studies and engage with the broader humanities and social sciences disciplines. It is great that we have seven endowed academic Sikh chairs within the United States and one in Canada, with more proposed. However, at some level Professor Mark Juergensmeyer's 1979 observations ring true: sadly, the "forgotten tradition" is still absent in most colleges and universities. We need to think about ways of promoting a vibrant study of Sikhism in institutions that do not have endowed Sikh Chairs. Its complex and fascinating subject matter needs to be incorporated in syllabi in Art History, Anthropology, Women's Gender and Sexuality Studies, Music, English, Government, History, Environment Studies, Film Studies….
Thank you Dr. Nikky. We wish you the best to continue the great work that your are already doing.