Bathinda Artist Wins Punjab Lalit Kala Akademi Award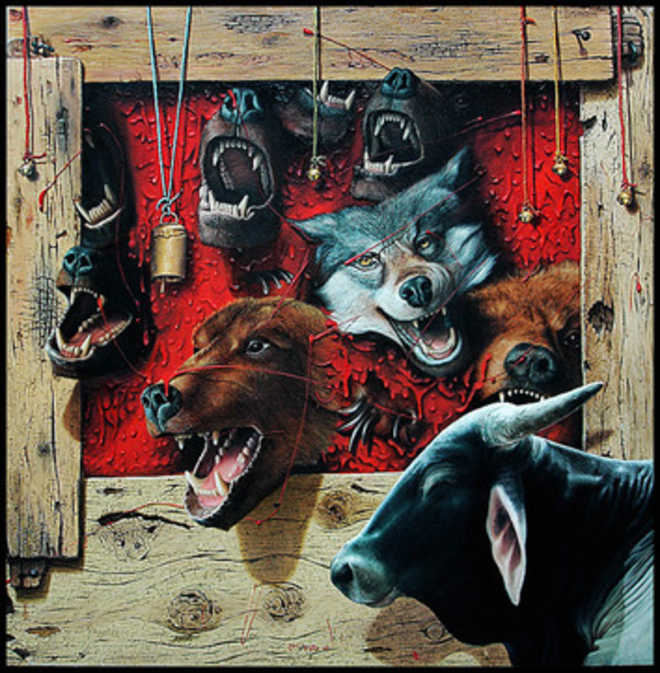 A painting by Gurpreet Singh that won him the coveted Punjab Lalait Kala Akademi Award. A Tribune photograph
An artist from Bathinda, Gurpreet Singh, has been awarded the state award for painting by the Punjab Lalit Kala Akademi. The Punjab Lalit Kala Akademi announced the names of its state awardees for its Annual Art Exhibition 2015.The list includes names of five artists in professional category in different genres and Five Artists in the student category. This year's Professional Category's Award for painting has been given to Gurpreet from Bathinda city for his painting titled "Indomitable". Elaborating on his work, Gurpreet stated that it is an oil painting done in hyper-realism style. It was a part of his series on 'Bull'.
"In this painting I have shown a bull symbolising an honest and strong common man. He cannot be dominated by evil forces of society. Some barking and howling wild animals are shown at the back as a symbol of evil forces. And old wooden frame depicts the orthodox social structure," he said.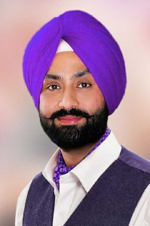 Gurpreet Singh
Gurpreet is working as an art teacher at local St Joseph's Convent school Bathinda. He thanked Akademi president Harvinder Singh Khalsa and society president Amarjeet Singh Painter. He also expressed his gratitude towards Sidharth artist, Subhash Parihar and Nirlep Singh as he thinks they have a great contribution in his art.
This year, the Akademi received nearly 300 entries in both categories of 101 professional artists and 99 student artists. One hundred works were shortlisted for display in the Akademi's Annual Art Exhibition. This exhibition will first be held inChandigarh and the same will be taken to various other districts of Punjab. "Though all the works manifest creative excellence, finally judges selected five works from the professional category (One each in painting, drawing, graphics, photography and sculpture catefories) and five works from student category for the state awards 2015," an Akademi statement said.
In the students' category, Sohaildeep Singh won the award in photography category and planning to pursue art photography as a career. Other then these Amarjeet, Mithun Mandal, Harmeet Singh, Harsimran Singh and Gaurav Sharma were in those whose art works were selected for the Annual art Exhibition.
Courtsey of www.tribuneindia.com