Every Womb Bears a Story – Artist Seema Kohli
By Nonika Singh
Artist Seema Kohli believes in the balance of energies and not in the supremacy of one over the other.
One of India's best known artists, Seema Kohli just can't be slotted or pinned. An artist of a million stories, there is no one philosophy or theology that describes her engaging persona or her work. She connects the past with the present, myth with contemporary, beauty with craft, lyricism with sublime and celebration with spirituality.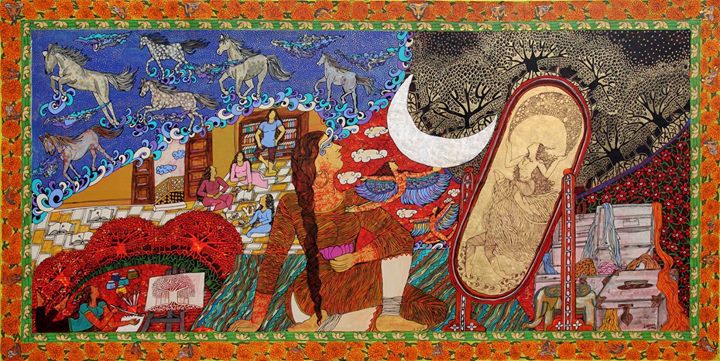 All that lies in-between: Minute detailing and extensive ornamentation define artist Seema Kohli's craft, which connects the past with the present and myth with fact. The arresting visual quality of her works is what makes them stand apart
A self-confessed feminist, she believes in the balance of energies and not supremacy of one over the other. "The moment you negate something, you negate a part of yourself." For her, the other is as much a part of her being as feminine of the masculine. Much of her work stems from the concept of golden womb, hiranyagarbha, the universal germ, the source of the creation of universe. However, she doesn't reduce the womb to its physical manifestation. "Womb is a nursery of ideas, it's where inception takes place, but, not in the physical sense."
Since the womb is the celebration of creation, we wonder if art is the ultimate womb. For her, nothing is conclusive. Each thing is ever expanding, ever moving. The same dynamism can be discerned in her oeuvre — be it paintings, installations, sculpture or her latest preoccupation, performance art. From one end of the spectrum, she moves to another, to weave it all. And to those who see wholeness in her compelling lexicon, she says softly, "See it as a part of the whole; as a story within a story." If myths inform her work, so does contemporary reality. "Today's present is tomorrow's myth. Actually nothing is mythical everything is for real."
Seema wasn't born to a Sikh family, yet Guru Nanak Dev's teachings impress this Punjabi as much as the principle of shakti and ardhnarishwar as do yin and yang and maya and pure consciousness. Hailing Sikhism as the "religion of the present, which stresses on breaking barriers," she says she grew up listening to the tenets of Sikh gurus and tells that her day starts with Japji Sahib.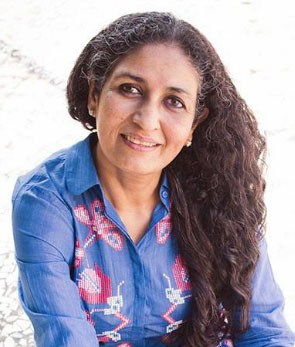 In her works, we see a thread of rhythm and metre. Does music shape it? "Perhaps this is for the first time that I am thinking about it, but, yes, my day begins with kirtan and I guess the musicality permeates my creativity." Choosing to express herself in painstaking technique, using gold and silver leaves, layering over layering, she can't think of any other manner of painting or minimising the size of her larger-than-life works. Even when gallery owners try to rush her up, she does not compromise on the labour of love.
If minute detailing is her signature style, extensive ornamentation defines her craft. Does she feel the arresting visual quality of her paintings distracts the viewer? Well, painting for her is first and foremost a dialogue with herself, a secret code with which she communicates. "I can't force viewers either to partake or enjoy." However, unlike the sceptical tribe, she doesn't think Indians are visually illiterate. "If symbols were the first language known to mankind, how can one not respond to images?" Her educational trip as a visiting faculty in American universities has not changed her mind about how art is seen in India and abroad. "The only difference I discovered in the US was that artists get more support and platforms to exhibit and talk about their works."
Spurred by the need to constantly reinvent herself, the multi-talented artist, who writes poetry and does performance art, is now toying with the idea of learning piano. "It's never too late to learn and imbibe new experiences and energy." If originality is the cardinal principle of art, she believes in experiencing it first-hand. The experiential is what drew her to performance art in the first place. "I am never impressed or inspired by others' art; I am fascinated only by life, which could include other artists' experiences too."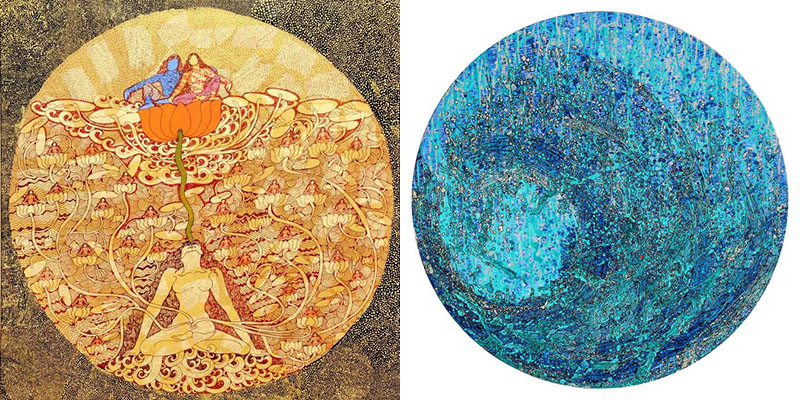 So when she participated in an exhibition on Van Gogh, it were his unusual circumstances that she found inspiring and created a 10-feet installation of his ear. The reasons why he cut his ear have led to many theories, but there is no talking of Gogh without referencing the significance of the infamous moment. "He might have been a recluse and possibly mentally disturbed too, but his ability to create beauty against all odds truly impacted me."
If painting for her is an expression of happiness within, spirituality is delving into the subtlest (sooksham) of one's being. Just as French philosopher Pierre Teilhard de Chardin said, "We are not human beings having a spiritual experience. We are spiritual beings having a human experience."
See more of Seema Kohli work! www.seemakohli.com/
Courtesy of www.tribuneindia.com