Filmmaker Harleen Singh on Race, Bigotry, Stereotyping: 'If We Don't Tell Our Own Stories, No One Else Will
By REENA RATHORE India-West Staff Reporter
We are a mighty long time away from winning the battle for equality. But it's a mammoth ongoing effort and we must strive to be optimistic and do everything we can to create a world where crude race-gender-religion-appearance-based stereotyping becomes a thing of the past.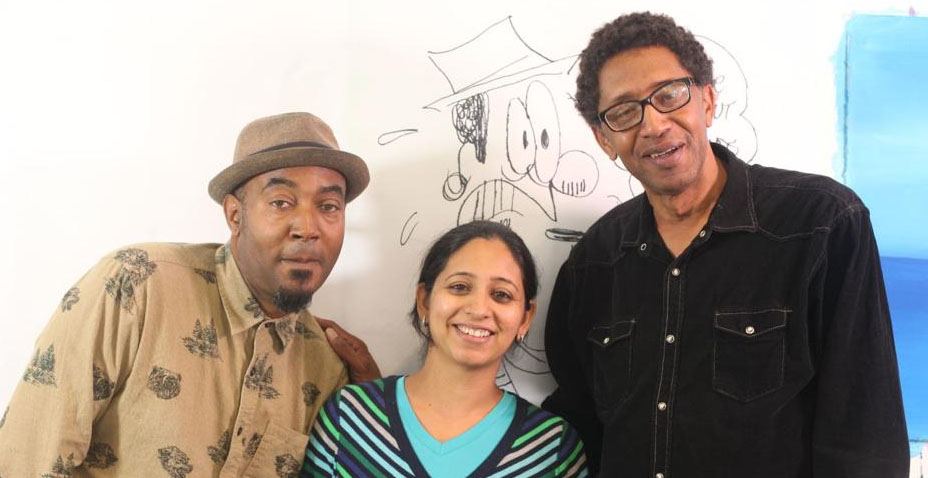 Indian American filmmaker Harleen Singh (center) has made a documentary, "Drawn Together: Comics, Diversity and Sterotypes," which explores the subjects of race, gender and religious sterotyping though the medium of comic books and cartoons. Singh is seen here with cartoonist Keith Knight (left) and Jeff Gary, director of photography. (photo provided)
With this goal in mind, Indian American filmmaker Harleen Singh has taken a step towards spreading a positive message and educating people about the pitfalls of generalizations. Her documentary, "Drawn Together: Comics, Diversity and Stereotypes," looks at the pervasive culture of stereotyping prevalent in society through the lens of comics and their dynamic creators.
With a lively backdrop of superheroes, comic books, and animated comics, the film brings together three talented artists who share their perspective of being stereotyped and how they constantly challenge this notion through their work and in their personal lives: Eileen Kaur Alden, co-creator of the book; Vishavjit Singh, an editorial cartoonist better known on the Internet as Sikh Captain America; and Keith Knight, a black cartoonist behind award-winning comic strips like the Knight Life and K Chronicles that often deal with political, social and racial issues.
"'Drawn Together" boldly encourages viewers to unlearn stereotyping, look beyond the obvious, and confront media prejudices, all through an uncommon and inherently engaging every day source," Singh told India-West.
The inspiration for this film, Singh said, wasn't hard to come by.
"As a woman, I have faced a lot of stereotypes," she stated. "The color of skin adds another layer and being a mother of two toddlers added yet another layer of bias. Some people assume that you will not be able to achieve tasks that require rigor, just because you are a woman. Some of my friends and family members also faced prejudice and this bothered me."
While the documentary highlights the extent of stereotyping, bigotry and racism prevalent in the society, it also showcases inspirational stories of real-life heroes who have risen against all odds.
And what better way than humor to not only diffuse tensions but to engage the masses without being preachy, as Knight says in the film: "Humor is the sweet syrup that makes the hard stuff go down a little bit easier."
"Comics have been a fantastic way to educate people and help them become more socially conscious," the San Francisco Bay Area-based filmmaker told India-West. "Therefore, I chose this unconventional medium for this unconventional topic in order to engage the audience and hopefully make them act."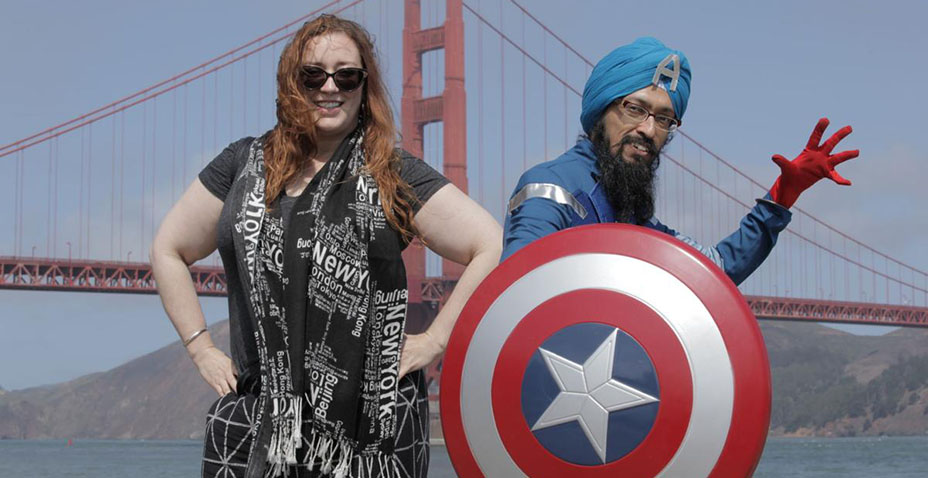 Eileen Kaur Alden, co-creator of the Super Sikh comic book, and Vishavjit Singh, an editorial cartoonist, aka Sikh Captain America, are seen in a still from "Drawn Together: Comics, Diversity and Sterotypes." (photo provided)
"Drawn Together: Comics, Diversity and Stereotypes" will also feature analysis from cultural experts, including Dr. Arvind Singhal, a professor of communication and director of the Social Justice Initiative at the University of Texas at El Paso; Andrew Farago, curator of San Francisco's Cartoon Art Museum; and cartoonist and journalist Adam Elrashidi, a producer at Al Jazeera.
Singh, who previously worked with The History Channel and National Geographic Channel, spent three years making this film, which is now headed to various film festivals around the world. The film's theme, Singh believes, will resonate with viewers all over the world since "religion is being used as an excuse to discriminate against and harm others."
She said she vehemently believes that now more than ever a film addressing racial stereotyping needs to be showcased so that more solutions are proposed.
"It is horrifying to hear stats such as half of Asian American students being bullied or two-third of the Sikh American students being bullied in this day and age where the world is becoming more integrated and interdependent," Singh told India-West. "We all need to spread education and films are one very pervasive medium to do so. If we don't tell our own stories, no one else will."
The goal of the film, which has been shot in the U.K., India and across seven cities in the U.S., including at San Diego Comic Con International, Singh told India-West, is to stir conversations around race, bigotry and stereotyping.
The entire team, Singh said, is also simultaneously making a big marketing push to get this message out to as many people as possible. But for that she said she seeks the community's support.
"If we can collectively take steps to spread awareness through whatever means we have, then we would have accomplished our goal," said Singh. "Through our partnership with the San Francisco Film Society, you can contribute to this cause in a tax-free manner."
For supporting the film, visit: www.sffilm.org/artist-development/drawn-together.
Singh sincerely hopes that the key take-away for anyone watching the film would be to begin to stop judging people based on their looks, appearance, race, gender, etc. "Let's get to know each other and then make an informed opinion rather that bucketing people in large groups, which are inherently not true as no two people are created equal," she reasoned.
Singh, who grew up in India and moved to California in 2009, made her debut as a filmmaker with "The Odd Couple: A Story of Two Triathletes."
The young filmmaker, who earned her MBA in marketing and strategy from the Indian School of Business in Hyderabad, India, and worked as a brand custodian for firms like Colgate and Bolthouse Farms, quit her cushy corporate job to follow her true calling: making documentaries. And that desire led to the founding of Kaur Films.
Actively involved in the documentary film community, she has been a part of the United Nations Association Film Festival as a member of the jury since 2013.
Watch the trailer of "Drawn Together: Comics, Diversity and Stereotypes" here:
Courtesy of www.indiawest.com