Great Sikh Women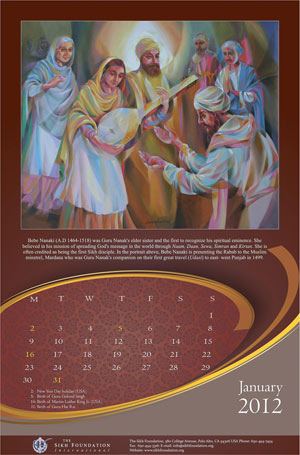 Sikh Foundation publishes Sikh Art Calendars and has successfully distributed them since 2000. The price of the calendar is $10 per piece plus postage.– Click to Enlarge
Sikh Foundation is proud to announce the 2012 Sikh Art Calendar. The theme of 2012 Calendar is Great Sikh Women. The 2012 Calendar features paintings of 12 great Sikh Women starting with Bebe Nanaki to Rani Jind Kaur. Artist Devender Singh has painted 12 great Sikh Women at their best, from fighting in the battleground to cooking langar for Guru Ki Sangat.
The 12 women in the paintings are: Bebe Nanaki, Mata Khivi, Bibi Amro, Bibi Bhani, Mata Ganga, Mata Kaulan, Bibi Sulakhni, Mata Sahib Kaur, Mata Gujri, Mata Bhag Kaur, Sardarni Sada Kaur, and Maharani Jind Kaur. Sikh women are the unsung heroes in Sikh history. With this calendar we commemorate those great women who gave birth to the Gurus and supported them when the winds were blowing against them. We salute their strength and mettle that enabled the Sikhs to fight injustice and repression.
The Sikh Foundation founded in 1967 is a non-profit and non-political charitable organization. We strive to pass on the Sikh heritage to the growing Sikh Diaspora in the West and to introduce the world to the ethics, mysticism, arts, literature and heroism of the Sikhs. We work towards advancing Sikh culture by producing and providing the highest quality resources for the study of Sikhism.
The Sikh Foundation
Read the review:
Our Past is With Us: Launching the New Year With the Sikh Foundation Calendar by Nikky Singh
Click here to order you copy now at our store