Murals of Gurdwara Baba Atal Sahib Ji
The forms of beauty that inspire man to live a life of love, harmony and peace.
By Dr. Jiwan Sodhi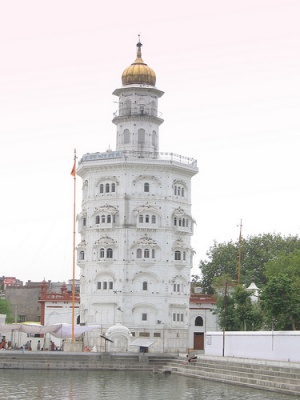 Gurdwara Baba Atal Sahib Ji
Painting is one of the most delicate forms of art giving expression to human thoughts and feelings through the media of line and colour. Many thousands of years ago, before the dawn of history when man was only a cave dweller, he painted his rock shelters to satisfy his aesthetic sensitivity and creative urge. Pursuing his passion, he continued painting on walls, ceilings and other large surfaces when he built houses and other buildings. This art of painting came to be known as mural art and over the ages developed various techniques like fresco, fresco-secco, etc. Traveling through ages to the modern era, this art imbibed the beauty of cultural values and enlighten by expressing the truths of life. When we focus on this art in the Indian context, immediately come to the mind the pictures of Ajanta. These pictures reveal a keen perception of beauty and form. The painters of Ajanta had realized the true glory of the Buddha. The story of whose life was employed by them as a motive to explain the eternal pattern of human life. In fact, murals enlivened many Temples, Gurdwaras and other religious places in India and preserved cultural and spiritual values.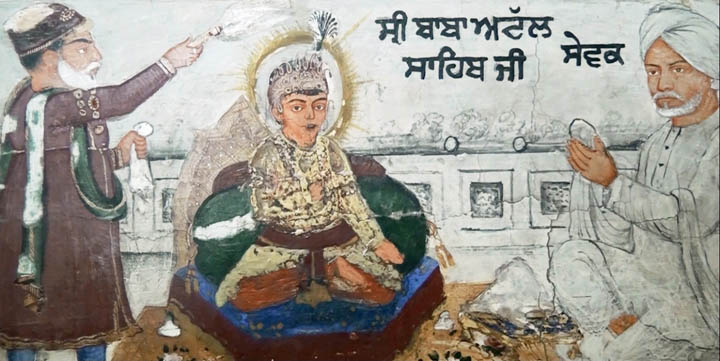 Baba Atal Rai Ji
, Mural, Gurdwara Baba Atal Sahib Ji
When we search the Gurdwaras of Punjab and particularly of our holy city Amritsar, we find a beautiful model of this art, on the walls of the famous Gurdwara Baba Atal Sahib Ji. Gurdwara Baba Atal Sahib Ji, a nine storied octagonal majestic tower was build in 1620 A.D in the memory of Atal Rai, son of the sixth Guru, Guru Hargobind. Originally it was a small memorial (a Samadhi, a cenotaph enshrining the remains of Atal Rai). When transformed into a Gurdwara, its nine storey's were built to commemorate the nine years of Atal Rai's short life. Atal Rai lived the short life of nine years. Though a child, he was honored with the title of Baba for his wisdom.
When it comes to wisdom and divine vision, Punjabis first of all pay their tributes to the divinity and vision of the first Guru, Sri Guru Nanak Dev Ji. So the interior walls of the first floor of the Gurdwara Baba Atal Sahib Ji are richly ornamented with murals depicting the Janam Sakhi's of Sri Guru Nanak Dev Ji in a series in its complete form like a Holy Book painted on the walls. These Janam Sakhi's, the birth stories, are a biographical account of the life of Guru Ji. They throw light on the philosophical insights of Guru Ji and how he preached them. In a way these murals reflect the early period of Sikhism and its tenets as laid by the first Guru. These forms of beauty leave a great impression on the mind of the viewer. Felt along the heart, they inspire man to do little, nameless acts of kindness and of love. They enlighten him by their power of harmony; make him see into the life of things. May be the viewer is illiterate or uneducated; these murals become source of his enlightenment and knowledge.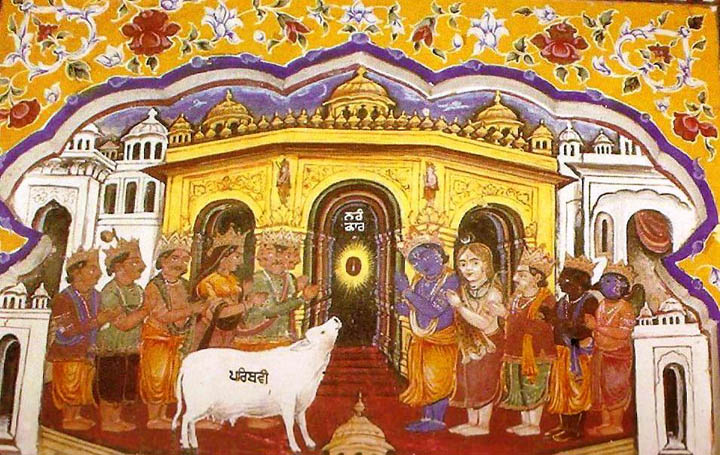 Sachkhand, The Abode Of Truth
, Mural, Gurdwara Baba Atal Sahib Ji
Inspired by the well- known version of Bala Janam Sakhi, written by Paida Mokha, the artists Jaimal Singh Naqqash, Mehtab Singh Naqqash and Hukum Singh began their work on the holy walls of the Gurdwara with the sacred painting, where all the Gods are invoking the Nirankar, the formless Almighty, to send a holy soul on the earth to relieve it from the burden of Kala-yuga. The centre of this painting is the divine light emerging from Sachkhand, The Abode of Truth. All the Gods and the Mother Earth in the form of a cow are standing in obeisance awaiting the descent of the divine incarnations.
The prayers were answered; the invocation was rewarded; now the divine child is born. The parents, father Kalyan Rai Bedi and mother Tripla Ji feel blessed. The family priest, Pandit Hardiyal names the child Nanak Nirankari pointing out his true identity that lies in being Nirankar. History records the date 15th April 1469 at Raibhoi Di Talwandi.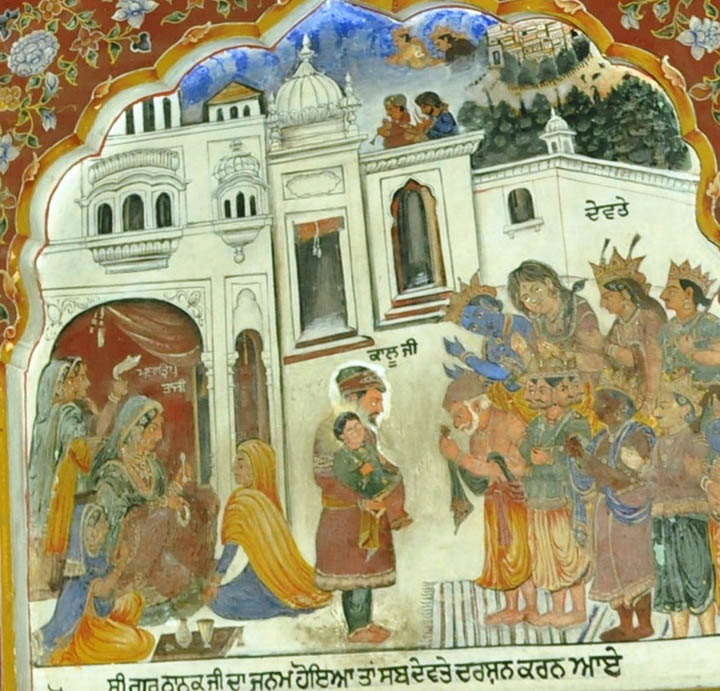 Guru Nanak's Avatar
, Mural, Gurdwara Baba Atal Sahib Ji
In the next painting, the child Nirankari is brought out by his father Kalyan Rai in the day light. Who are curious to have a glimpse of this divine incarnation, they are all the gods who prayed for His Avatar. In this picture, all the gods are shown having the bliss of seeing the Eternal Light in the form of a child. The earth and the sky were vibrating and shinning in the glory of the birth divine. The artists capture the mood. They paint gods showering flowers from the sky and the musicians on the earth playing the sacred music in unison with the showering of petals from the sky. All the gods and honorable guests bow in reverence to the eternal light, as if chanting:-
"Dhan Guru Nanak Pargatia Miti Thund jag Chanan Hoyaya"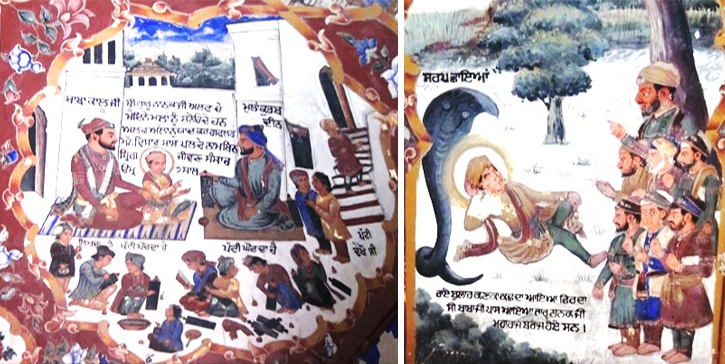 (left)
Guru Nanak With His Teacher Mullah Kutbdin
, (right)
Nag Sarap Chhaya
, Murals , Gurdwara Baba Atal Sahib Ji
The artists move on to the next stage of Guru Nanak's life. In their imagination, they visualize child Nanak in a school. He studied Hindi from Gopal Pandit Ji at the age of 5, a year later he studied Sanskrit from Pandit Brij Nath. At the age of seven, he was sent to school, to study Persian under the tutelage of Mullah Kutubin. In the picture, he along with his father Baba Kalu is sitting in front of the Mullah Kutubin and is explaining to the surprise of the Mullah the original meaning of Alaph, the first letter of Persian language. As he is in the school, the artists make it real by showing other pupils performing various activities in these paintings -like cleaning their Patti's (wooden slates or writing on or waiting to show the Patti's to the Mullah.
There are other paintings depicting various incidents from Guru Ji's life- Guru Ji Refusing to Wear Janau (the sacred thread), Guru Ji Grazing Cattle and Distributing Sweats to Children and Holy People. These paintings express his love for all beings as well as his courage to lead a life on his own convictions.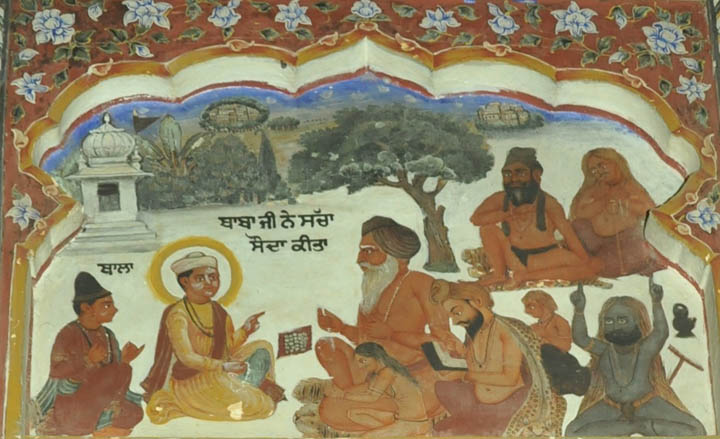 Sacha Sauda
, Mural, Gurdwara Baba Atal Sahib Ji
The child Nanak grew up ready to serve humanity with his pure loving heart. When he translated his wisdom into the business of life, it turned into Sacha Sauda. It is said that one day Nanak was given Rs. 20 by his father to start a business. He with his companion Bhai Bala went to a town to have a business transaction. On the way he met some Sadhus (the holy monks) who asked him for food. With the money he was supposed to begin his business, he brought food and felt it was worth spending it this way to feed the saints and have Sacha Sauda, the true business. In a way it was a beginning of langar sewa which was popularized by him later on to feed the needy and the poor. In the picture, Guru Nanak is shown having a discourse with the leader of the Sadhus, while other Sadhus and Bhai Bala are shown listening to the discourse with reverence. The artists focused on the expressions of the faces, gestures, movements of the figures and their postures with the great perfection.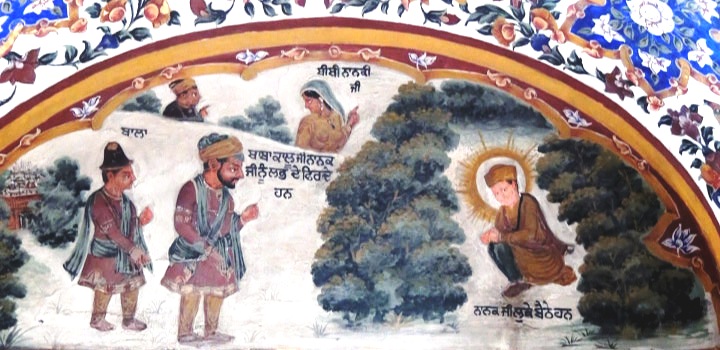 Guru Nanak Dev Ji Behind The Bushes
, Mural, Gurdwara Baba Atal Sahib Ji
After this transaction when Nanak returned to Talwandi, he feared the punishment from his father, the painting shows him hid in the bushes in the jungle. It is said that the tree under which Nanak hid himself is still there and well preserved. It is known as Tambu Sahib (Holy Trunk).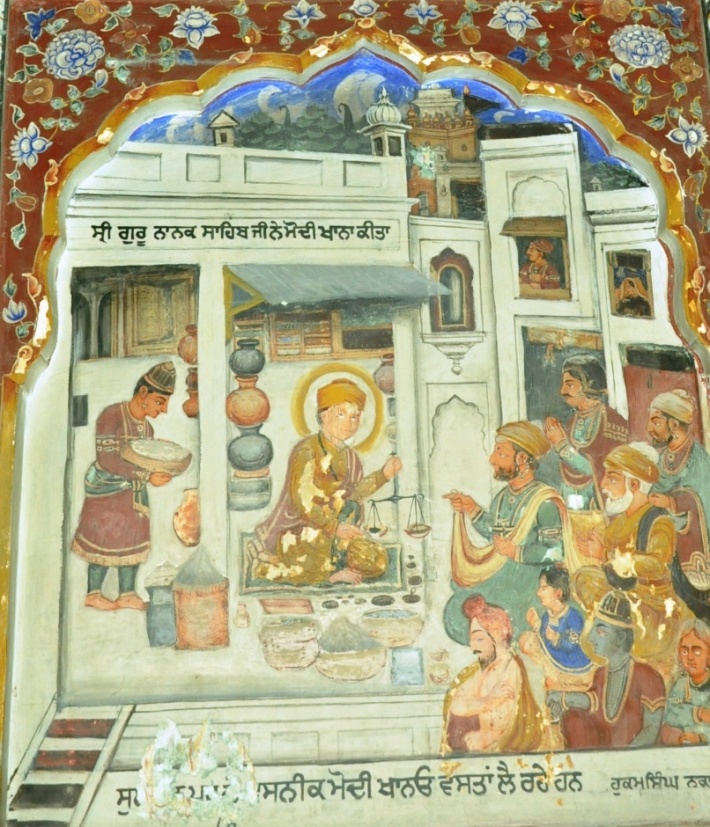 Guru Nanak Dev Ji At Daulat Khan LodI Stores
, Mural, Gurdwara Baba Atal Sahib Ji
At the age of 17, Nanak went to Sultanpur to work as a store keeper at Nawab's store-known as Modikhana. Here also following the spirit of Sacha Sauda, he gave wheat, rice and sugar to the needy, spending from his own pocket. As his mind was pure, he could see God in everyone and go into trance amidst his business activity. During transaction when number thirteen, 13, came in any weight or account, Nanak would go into trance and start chanting Tera, Tera. It's Thine Lord; All is Thine, Oh lord! This practice brought crowds to the store; people praised Guru for his benevolent and saintly nature.
Abode Of Nirankar
, Mural, Gurdwara Baba Atal Sahib JiAbode Of Nirankar, Mural, Gurdwara Baba Atal Sahib Ji
A beautiful aspect of these Janam Sakhi paintings is that they have woven the mythological figures with their rich symbolic meaning. Another painting depicts a mythological character Varun Devta and covers an incident from Guru Nanak's life with richness of its symbolic meaning. It is said that one day when Nanak was in deep meditation, he had the divine intuition to start His mission on earth. Next day, in the very early morning, he went to the local river Bain with Bhai Bala. There Guru Nanak left his cloths except parna. In this picture, we can see that Nanak dives into the river, only His feet are visible. Next to Guru Nanak stand Varun Devta, the messenger of Nirankar with folded hands to welcome him and escort Him to the Abode of Nirankar or Sachkhand. On the right, out of the water, Guru Nanak is being carried on a palki to meet Nirankar. There is the doorway to Sachkhand where Guru Nanak is having discourse with Nirankar. On the extreme left, Guru Nanak, after three days of interaction and union with Nirankar, returned from Sachkhand and came out of the river, met Jai Ram, his brother-in-law while Bhai Bala is sitting in a sad mood for losing his master. Symbolically, it was a deep dive into the inner self, the supreme soul, The Nirankar, henceforth Nanak became Nanak Nirankari.
The enlightenment lends magic to Guru Nanak's personality. He was endured with miraculous power to protect the world. Many paintings depict the magical power of The Guru, such as Nag: Sarap Chhaya, Grazing Cattle, Revival of an Elephant and Nanak's Visit to Bhai Lalo.

Detail Of Grazing The Cattle
A painting-grazing the cattle, has its setting in the pasture from where Guru Ji's cattle went astray into the fields of a farmer. According to the Sakhi, once Sri Guru Nanak Dev Ji was sent to graze buffaloes in the pastures. While grazing the buffaloes and cows, Guru Ji sat under a tree and started meditating as seen in the painting. Meanwhile the herd of buffaloes moved into the neighboring fields destroying the crop. Having seen his fields being damaged, the farmer became furious and lodged a complaint against Guru Nanak Dev Ji with Rai Bular, the officer –in-charge of that area or the chieftain of the village. To dispose of the complaint, Rai Bular sent his servants to look into the matter. Much to their astonishment, when they went to the fields, they found the fields' undamaged.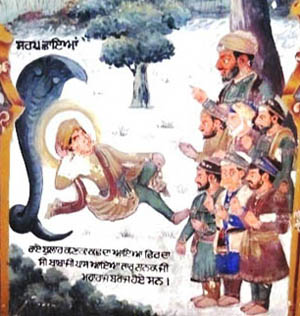 Nag Sarap Chhaya
, Mural, Gurdwara Baba Atal Sahib Ji
The present painting depicts one of the key miracles of Sri Guru Nanak Dev Ji. Gestures of hands and facial expressions, charged eyes, different forms and shapes of buffaloes and cows with their vividly expressive action of forceful movements as well as the linear perspective constitute key attributes of the painting. The historical fields where this Sakhi occurred is presently known as Gurdwara Kiara Sahib.
Nag Sarap Chhaya is another outstanding painting in which Cobra is protecting Guru Nanak with its umbrella like hood. It is a motif for numerous religious figures throughout the history of Indian art including Hindus, Buddhist and Jains. It is said that one day Nanak took his cattle for grazing in the open fields. While the cattle grazed, Nanak went into Nam Simeran, deep trance again. In his trance, he lay down under the shade of the tree. The tree is still there to date. Rai Bular, a chieftain of the village and his officers, passing by in the afternoon, were amazed to see that Nanak being shadowed by the Shesh Nag with its hood spread over the head of Nanak. It was a miracle for them. This incident convinced them that Nanak was not an ordinary child.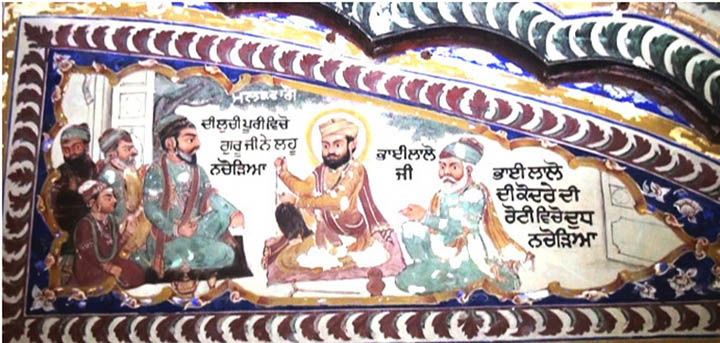 Guru Nanak Dev Ji's Visit To Bhai Lalo
, Mural, Gurdwara Baba Atal Sahib Ji
Another painting has its background in the depiction of event of feast organized by Malik Bhago, a high-ranked Government official of the city Saidpur presently known as Eminabad in Pakistan. According to Sakhi, once Malik Bhago, who was cruel, proud and greedy man, invited Guru Ji for a feast. Guru Nanak Dev Ji declined his invitation saying, a Fakir has nothing to do with a feast. Then he insisted, Guru Ji accepted the invitation and came along with Bhai Lalo Ji who was a carpenter in the city. Malik Bhago frowned upon Guru Nanak Ji, saying that Guru Ji is dishonoring a Kshatriya by eating chapattis from a carpenter's house. To teach him a lesson, Guru Ji took Bhai Lalo's chapatti in his right hand and Malik Bhago's fried food in his left hand as seen in the picture. On squeezing both chapattis, milk dripped out of Bhai Lalo's chapatti while blood trickled down from Malik Bhago's chapatti. Guru Nanak Dev Ji told Malik Bhago that this is the same blood he has sucked by resorting to corruption while livelihood earned honestly has become milk that has been oozing out of Lalo's dry chapatti. Earnestly earned livelihood is the main message of the painting. Scene like trickling of blood and milk, gestures of hands, halo and facial expressions of all the characters have been exquisitely depicted in the painting.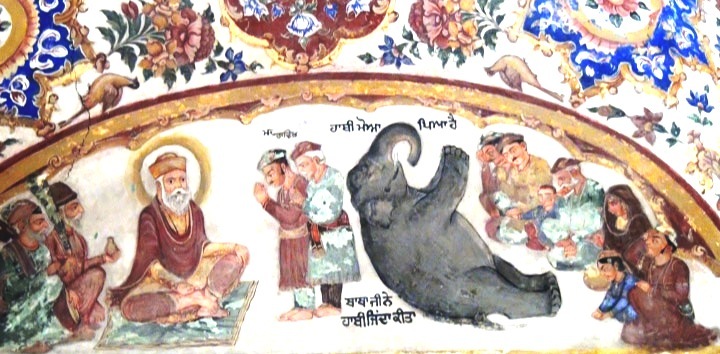 Revival Of An Elephant
, Mural, Gurdwara Baba Atal Sahib Ji
An inscription is written on one of the painting Baba Ji Nai Hathi Jinda Kita. According to the Sakhi, once Guru Nanak proceeded towards Delhi. On the outskirts of the Imperial city, an elephant belonging to the Emperor had died. Its keepers became worried and feared the harsh punishment they might get from the Emperor. When they heard of Guru's arrival, they requested him to bring the elephant back to life, to which the Guru replied: "Life and death are in the hands of God. No one should intervene in God's mysterious Acts. It is best to rejoice in whatever comes from him". But they persisted and Guru Ji took pity on the mahouts and revived the elephant. When the Emperor Ibrahim Beg heard of this, he came and saw the Guru and asked if it was he who revived the elephant. The Emperor asked Guru to perform another miracle and make the elephant die which Guru Ji did. When the Emperor asked Him to revive the elephant again, Guru Ji replied: "your majesty the iron when put in the fire becomes red hot and if someone touches it, he only burns his fingers. Similarly, the Fakirs who are inflamed by God's fire should not play with God's word". With this incident the mahouts were relieved of their obligations, because the elephant of the Emperor had now died due to his foolishness. It is said that where this incident happened, there is a Gurdwara commemorating this event.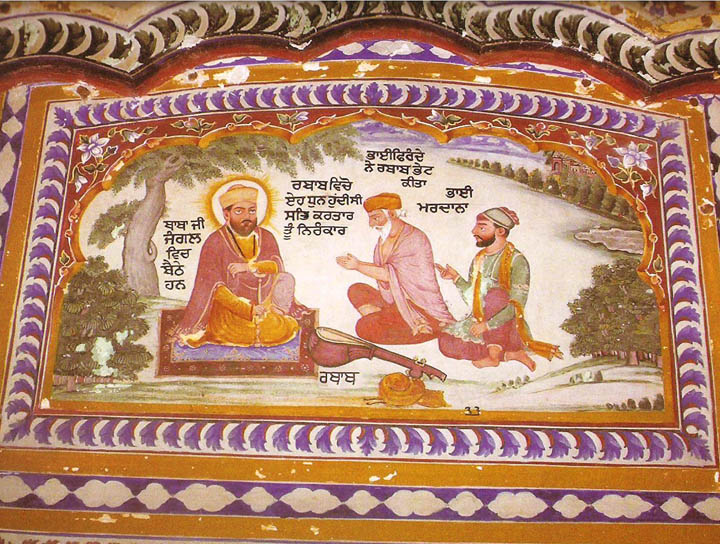 Guru Nanak Dev Ji With Firanda And Bhai Mardana
, Mural Gurdwara Baba Atal Sahib
Religious poetry put to music especially to the rabab, a stringed instrument, is an important component of Sikh ritual and worship. Guru Nanak Dev Ji's faithful companion Mardana was a musician and a rabab player and his search for the best rabab is recounted in some of the Janam Sakhis. According to one version, after considerable fruitless search for an appropriate instrument, Guru Nanak sent Mardana to the house of Firinda, a carpenter and an accomplished musician. According to another version, Mardana looking to replace his own worn out instrument found a fine instrument with the artisan Firanda. When Firanda learned whom the rabab is for, he asked for the opportunity to meet the Guru instead of being paid money. Firanda presented his special rabab to Guru Nanak Dev Ji that produced a melody in praise of the divine. When played, a special tune emerged from it echoing:
Sat Kartar, Toon Nirankar
In the painting Guru Nanak Dev Ji identifiable by his halo, is shown seated under the tree, engaged in conversation with Firanda and Bhai Mardana. The rabab is the key object of the Sakhi which is featured in the center of the painting.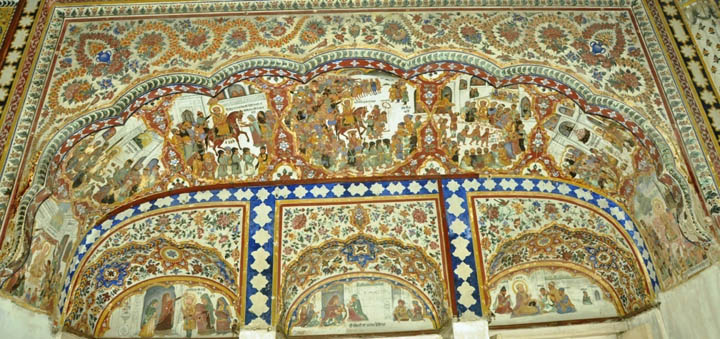 Marriage Of Guru Nanak Dev Ji
, Mural, Gurdwara Baba Atal Sahib Ji
In the next set of paintings Guru Nanak's wedding ceremonies are illustrated. The ceremonies such as Kudmayi, Shagun, Khare Te Ishnam Karma (Guru Nanak having ceremonial bath before wedding), Barat of Guru Nanak Ji in which Bibi Nanaki demands her dues from her brother, Barat Reaching Batala, Guru Nanak Ji Having Langar With Sangat, Lavan, Doli and Groom's Return to His House With His Bride and Mata Tripta Ji Welcoming The Newlywed Couple. All the nine paintings painted by the artist with focus on customs and rituals performed during an Indian especially Punjabi wedding.
A priest from the girl's side performs the Betrothal Ceremony is an outstanding painting of this set of paintings. The scene is set in Nanak's home. Nanak and the male members of his family are curiously waiting to receive the prospective bride's family. Hands are folded in the traditional greetings and sweets are exchanged in celebration. Mula, the father of the bride gives the Shagun to Nanak. In the picture, he is pensive as he evaluating once again the person who will be the husband of his beloved daughter Ghuni and will be responsible for her happiness and security.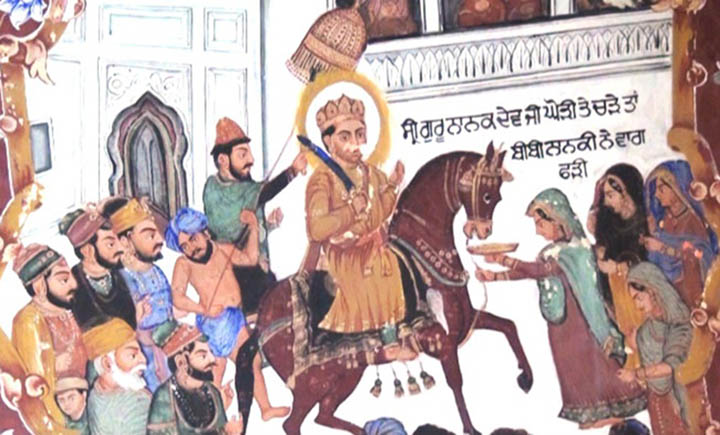 Barat Of Guru Nanak Dev Ji
, Mural, Gurdwara Baba Atal Sahib Ji
In another painting, Guru Nanak Ji is seated on a mare (Guru Nanak Ji Ghodi Te Bethey Han) ready to move to the girl's house for wedding. Bibi Nanaki, his loving sister holds the reins of the mare and is blessing her beloved brother on the auspicious occasion of his marriage. On such an occasion, groom generally gives valuable gifts to his sister as the most beloved and unique blood relation.
Now the next series of the paintings delineates him as a preacher. Guru Nanak remained on journey for a long time, had meetings with the Fakirs, Pandits and experts on religious and spiritual matters. During his journey, he also had a meeting with the Mughal Emperor Babur, whom he taught the great ideals of love, truth, honesty and inner purity. Guru Nanak Ji had unique power to perform miracles. His touch could enliven a dry tree. He could turn the sour and bitter fruit of a Ritha tree into sweet and edible delicacy. It happened when he visited Gorakh Mata in the Himalayas. In the picture, he is shown having a discourse with Gorakh Nath, the leading Sadhu at the Mata.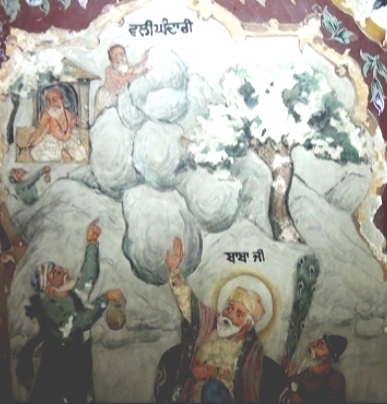 Guru Nanak Dev Ji At Hasan Abdal, Mural, Gurdwara Baba Atal Sahib Ji
During the discourse, he was sitting under a Peepal tree, withered and dried. With his touch, the tree became once again green and alive. Forty five miles away from the spot, there is Ritha Sahib, the tree which till date bears sweet and edible fruits since Baba Ji touched it.
While travelling to Kashmir, Guru Nanak Dev Ji along with Bhai Mardana reached Hasan Abdal. Under a shady cool tree, Guru Nanak and Bhai started reciting kirtan, the devotees gathered together which annoyed Wali Quandhari, a Faqir who lived at the top of the high hill. Meanwhile Bhai Mardana became thirsty and asked Guru ji for water. Guru Ji sent Mardana to Wali Qandhari, who had water pool near his hut. Wali Qandhari refused to give water to Mardana. So he came back without success. To quench Mardana's thirst, Guru Ji picked up a piece of wood and struck the ground at the foot of the hill. Instantly, there appeared a spring of cool clear water. At the same time Wali Qandhari's spring dried up. Overwhelmed with fear and anger, Wali Qandhiri used his strength and pushed a huge boulder towards the Guru to crush him to death. At that time Guru Nanak Dev Ji raised his hand and stopped it with his palm. This stone boulder with Guru Ji's palm impression imprinted on it still stands there. The palm-imprint called Panja Sahib is revered by the Sikhs, Hindus and the Muslims alike. Wali Qandhari, having witnessed the Guru open a spring of water and then stop a boulder with his hand, was totally abashed. Humbly he acknowledged the Guru's mighty powers and falling at his feet, begged for his blessing. Guru Ji responded affectionately and taught the message of golden rules of life to him to live as lovers of god and be kind to all.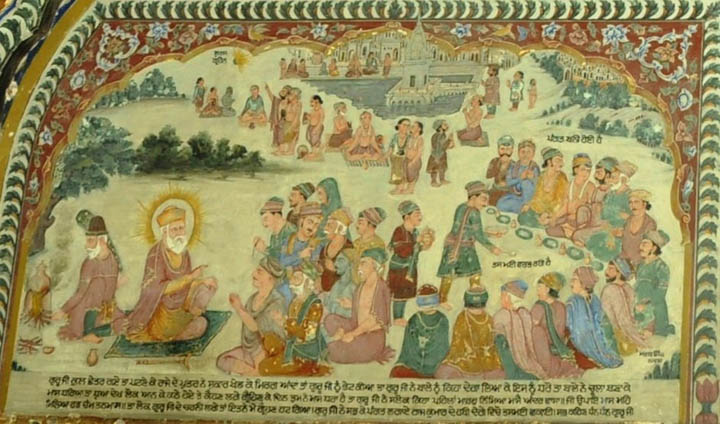 Guru Nanak Dev Ji At Kurukshetra
, Mural, Gurdwara Baba Atal Sahib Ji
Another important painting represents Guru Nanak At Kurukshetra On The Occasion Of The Solar Eclipse. According to the inscription on the painting, Guru Nanak came at Kurukshetra and encamped there on the day of the solar eclipse. There, he tried to enlighten to the people regarding the eclipse which is a natural phenomenon and has nothing to do with religion. He said, "It is the alignment of planets that brings darkness when the one comes in between the other, a natural phenomenon that has no religious value in it."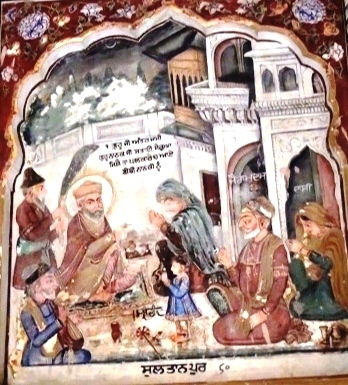 Meeting With Bibi Nanaki At Sultanpur
, Mural, Gurdwara Baba Atal Sahib Ji
After a critical survey of these paintings, it is observed that during his journeys, the depiction of his family is totally absent except his visit at Sultanpur to his loving sister, Bibi Nanaki's house. Guru Nanak always preferred to call her Bebe, which means a respected, honored and wise person. She was the first person who truly realized the spiritual divineness in Guru Nanak. Literally she was the first Sikh, a disciple of Guru Ji. Once, Guru Nanak with Bala and Mardana was far away in the Middle East, His sister remembered and meditated upon her brother as she was keen to have his Darshan. She was preparing the traditional meal consisting of corn flour chappatis and sarso ka saag. It is said that Nanak had promised her, before leaving, that whenever she yearned to see him, he would, in an instant, pay his respects in person. As such, Guru Ji felt a strong urge within him and told Mardana that Bebe is thinking of him. Guru Nanak left the Udassi halfway and returned to Sultanpur. As Nanaki finished her cooking, thinking of her brother Nanak with tears in her eyes, she heard a knock at the door. To her wonder, there stood Nanak with Bala and Mardana. As usual, she touched His feet out of deep respect for his blessings. She said, "O brother, you know not how deep I felt to have your Darshan". In response, Nanak said, "I know, this brought me instantly to your obligations." In this painting, Guru Nanak is seen seated with Bala and Mardana while in the centre; Bebe Nanaki is sitting with folded hands along with her husband Jai Ram. A maid and Nanak's son Sri Chand are also seen with folded hands in reverence.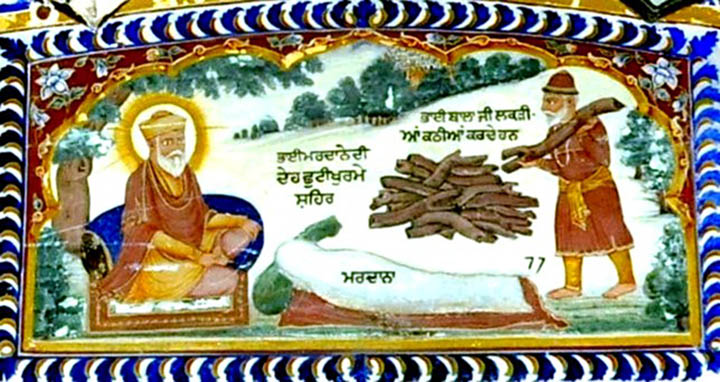 Bhai
Mardana's Antam Yatra
, Mural, Gurdwara Baba Atal Sahib Ji
One of the most important paintings depicts Bhai Mardana's Antam Yatra.Bhai Mardana was the lovable and lifelong companion of Guru Nanak Dev Ji and accompanied Him on all His Udassis. He was the greatest Musician ever born on the earth. He was the master of pure Ragas and Raginis through which the original Scripture, Bani was brought down to earth from its origin. There are different versions of his passing away and last rites in different Sakhis. According to the Bala Janam Sakhi, Guru Nanak Dev Ji went to the tour at Khurrum which was in the North-West extended right into central Asia. As usual, Mardana went with him and suddenly, fell ill and passed away. Guru Nanak Dev Ji and Bhai Bala themselves cremated Mardana with great respect and honor. According to the popular Janam Sakhi, once ardana asked Guru Nanak to permit him to go home. He told the Guru that he met very beautiful people who gave him a garland of such flowers which would not wither. Guru Nanak Dev Ji observed that they were Gandharvas, who had come to take him. Both of these details are also missing in Miharban Janam Sakhi. According to the Sakhi, one evening Mardana fell ill and Guru Nanak foresaw that the light would soon go out of his beloved companion. In token of his affection for Mardana, he asked him if he would like to be buried and have a tomb erected which would "make him famous in the world." Mardana, by now completely soaked in Nanak's philosophy replied, "When my soul had been separated from its bodily tomb why shut in the stone tomb." That certainly pleased the guru for he decided, "Since thou knew god and art therefore a Brahman, we shall dispose of the- body by throwing it in Ravi and letting it go with the stream." When the following morning, at a watch before day, Guru Nanak personally participated in flowing, Mardana's body down the Ravi.
In this painting, Guru Nanak Dev Ji is shown seated beneath the tree and holding a simrani in left hand and is reciting the verse of Kirtan Sohila which is always read at the last rites of the dead, thus entrusting the departed soul on its journey to the void beyond. Mardana's dead body is lying on the ground and wrapped in the white khafan (sheet). Mardana's playing instrument, rabab is shown under his head. Bala is shown gathering the wood for Mardana's funeral pyre. It is observed that the artist of this painting represents the entire event with great perfection. The inscriptions written on the painting in Gurmukhi clearly identifies the illustration.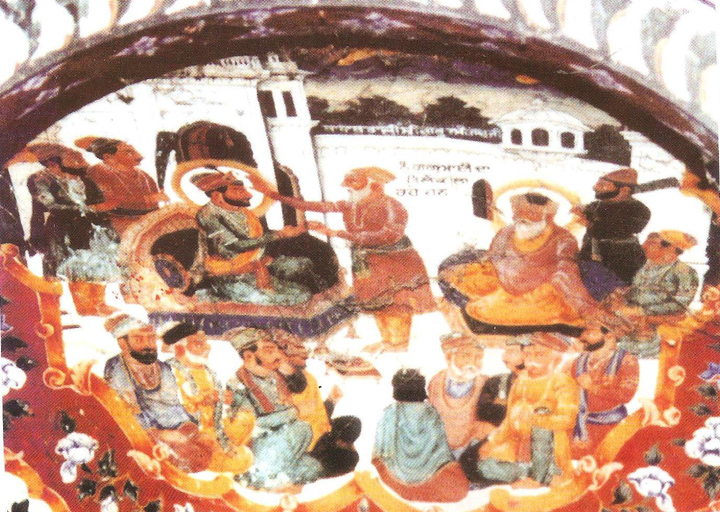 Baba Budda Applying Guru Gaddi Tilak to Guru Angad Dev Ji Mural, Gurdwara Baba Atal Sahib Ji
The last series of these paintings depicts how Guru Nanak appoints Bhai Lehna his follower, as his successor to Guru Gaddi and giving him the divine Guru- Mantar, through which the Word- Light-Spiritual Energy (Shabad-Jyot-Shakt) are passed onto Him. Baba Budda Applying Guru Gaddi Tilak to Guru Angad Dev Ji in the Presence of Guru Nanak Dev Ji is seen in this picture. The name Angad was given to Bhai Lehna by Guru Nanak Dev Ji implying that he had become a part or limb of his own body. It is said that Budda ji popularly known as Baba Budda ji, who had a long tenure of life had the honor of applying tilak to five of the ten Sikh Gurus and placed at His feet his head and gave five Paise's and a coconut. He offered to the new Guru the Bani- Pothi, a collection of his own-life-time hymns and a rosary, the symbols of his legacy and called him by the name Angad, a part of his own being.
Fresco technique of mural painting in the Gurdwara of Baba Atal shows strong affinity with the neighboring states especially Rajasthan and the Hill states. Fresco, known as Mohrakashi in Punjab and Haryana, was also called Jodhpuri Hunar only because the technique was borrowed from Jodhpur. It is different from a secco technique(where the plaster is allowed to dry before working upon). A fresco is a mural painting which is made on the wall, when it is wet. This technique is used in the Gurudawara of Baba Atal. In all the paintings on the walls of the first floor of Baba Atal, the artists use exclusively fresco technique.
Mineral colours have been used in these fresco paintings. While painting, these colours were always kept wet with water in earthen vessels. According to Bhai Gian Singh Naqqash, only six colours – red, green, blue, yellow, black and white were used in these paintings. Different tones of all colours were obtained except green, by mixing white colour. Green was treated with yellow clay. Red was prepared from an indigenous clay called hurmachi which was generally imported from hill areas and was available with grocers. Having constantly moistened with water, it was ground on stone slabs. The intensity of red always depended upon the fineness of the pulverized clay. For obtaining green, small chips of terra-verte called sang- sabz were pulverized with water. Yellow was obtained from yellow clay. Blue was made from lapis- lazuli and deep blue obtained from indigo which was used in later works. Black was prepared from coconut crust or from the smoke of mustard oil burnt in earthen lamp. Doga, the curd like substance was obtained by filtering water from drenched burnt marble chips, which served as white colour. The colours were kept wet with water in earthen receptacles while the work was in progress. The brushes (qalams) used in the fresco paintings were prepared by the artists themselves from squirrel's tail or hair of goat and camel.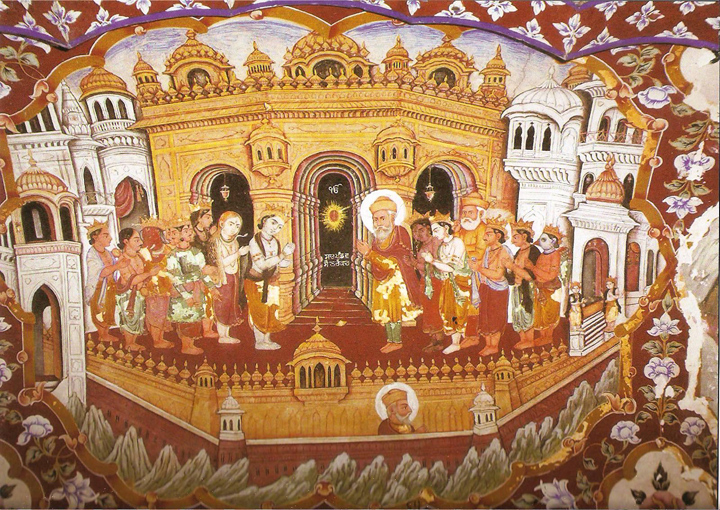 Sachkhand, Mural, Gurdwara Baba Atal Sahib Ji
In fact, all these paintings developed Sikh art by widening all its imaginative stretch and expanse, added new fictional dimensions to it, elevated it with their spiritual concern and devotional tint. They also provide Sikh art its style- portraiture, crystallizing events, arresting movement, narration and serializations, landscape, all motifs and symbols, colours' balance, minuteness, refinement defining borders, margins and other graphic renderings imbued in these visual forms. They impart clue to its unity, continuity, and art tradition; and above all, a capacity to prevail against extraneous pressures and influences and find its own form and base. These paintings go a long way in acquainting us with the socio-cultural mosaic of the Punjabi heritage of the 16th century.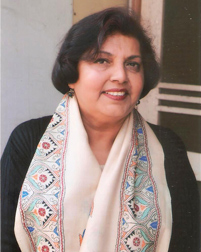 Dr. Jiwan Sodhi
Dr. Jiwan Sodhi,
Asso. Prof., Dept. of Fine Arts,
BBK DAV College for Women,
Amritsar (Punjab),
India

– Dr. Jiwan Sodhi – bio
Photos courtesy: Dr. Jiwan Sodhi