Philosophy, Pain, and Personal Memory – The Art of Arpana Caur
From a large, wall-sized canvas, five women peer out. Their hollow eyes pass no judgment and their hands, busy with interlocking threads, suggest their frightening impersonality as they embroider the fates of men. In the background, their shadows offer graceful support. In some ways these women suggest the Moirai, the Greek goddesses who determined human destinies – the span of a man's life and his allotment of pain and suffering. But they are also earthy, sturdy, and quintessentially Indian, exuding a stoic acceptance of the inevitable and cyclical passage of human existence.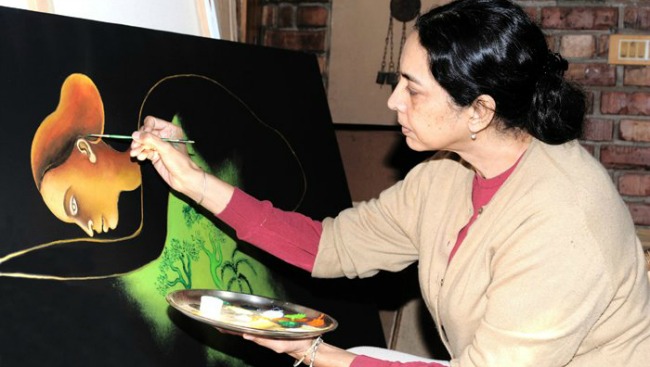 This painting, titled "Day and Night," is the work of one of India's most celebrated artists, Arpana Caur. Her ruminations on life, death, and time inform much of her work but her paintings also emerge from visceral responses to real-world tragedies and the unkindness of man towards his fellow human beings.
The artist, whose works have been exhibited in major cities around the world, including the Victoria and Albert Museum in London and the Asian Art Museum in San Francisco, is visiting the Bay Area next month to be honored for her outstanding contributions by the Sikh Foundation, a non-profit dedicated to promoting the heritage and future of Sikhism. A Sikh herself, Caur has been deeply influenced by the mysticism and humanity of the religion as well as the literature and philosophy of Punjab. One of her works inspired by the Punjabi tale of star-crossed lovers Sohni and Mahiwal is in the personal collection of Dr. Narinder Kapany, the founder of the Sikh Foundation. "My works are large and unconventional but he still collects them," laughs Caur. "He has even talked a couple of his friends into acquiring my oversize works!"
Caur's bold colors and brushstrokes tend to place her in the folk art style of painting, but the self-taught artist resists such labels. "From 1980 to 1984, I brought in architectural elements form Basohli miniatures into my work," she has said in an interview with The Indian Express. "Its linear architecture and vibrant colors fascinate me." She has used the tendency of miniaturists to divide the canvas in her work. Her love of miniature painting has also made her a collector and she often trades her paintings for miniatures in the Sikh and Pahari styles. These are displayed in her academy in New Delhi.
While her work has been called feminine and feminist, Caur prefers to call herself a "humanist." "I have as many male figures in my works as men," she points out. "These men often have the so-called 'feminine' qualities of compassion, tenderness, and generosity, while my female figures display the 'masculine' qualities of strength." Many of her paintings also feature spiritual guides like Kabir, a 15th century Indian mystic poet and saint, the Buddha, and Guru Nanak, the founder of Sikhism.
I asked the artist about her inspirations. "I paint subjects close to my heart," says Caur. "I have done non-commercial murals on the environment and pollution and find it necessary to paint and comment on violence, especially against women." On a visit to Benares, the Indian city that is home to widows abandoned by their families, Caur was appalled by their misery and indignity and painted a series on the subject titled "Widows of Vrindaban." "Painting is a cathartic experience for me," she says. The Sikh massacre (her term) in 1984, seared into consciousness in her youth, has made her particularly sensitive to injustice and oppression. Through her work, she has highlighted the plight of the victims of the atrocities of man against man, like Hiroshima and the Partition of India. "I don't believe painting has to have a message," adds Caur, "sometimes my work simply reflect the events of the times."
Caur's empathy towards the less fortunate is not just reflected in her art. With the proceeds from her paintings and other works, she supports a home for lepers, an institution that trains women in vocational skills, and a library with over 1,000 books.
The Sikh Foundation is proud to honor this exceptional artist and human being. The Foundation will be hosting Arpana Caur and other accomplished women in its Golden Gala on May 5th, 2017. For more information, please visit Our 50th Anniversary Page/