Sikh Fine Art Calendar 2011 – Review by Jasbir Singh Sethi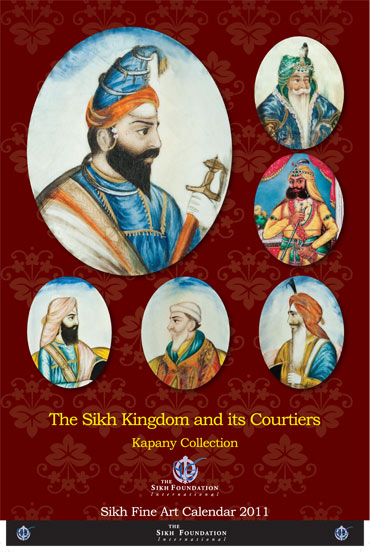 "The practice of art isn't to make a living. It's to make your soul grow"
— Kurt Vonnegut
The Sikh Foundation, Palo Alto, California and Dr. Narinder Singh Kapany deserve really a Gold Medal, for their dedicated efforts to get SIKH ART recognized at Global Level. It was in 1975 that Dr. Kapany, in "Sikh Sansar" an English Language monthly magazine, devoted a full issue to Sikh Art and thereby, opened a new chapter titled "SIKH ART" in the Art Vocabulary of the World. His personal passion for Sikh Art is boundless. He not only has an enviable collection of SIKH ART, but also keeps adding to it by buying whenever and wherever any rare pieces come on the block. He has been encouraging young artists and commissions them for exclusive paintings. I think, not many people know that he is an Artist himself. His own creation of Art Sculptures in Fiber Optics (His other LOVE) deserves an exhibition by itself. But his modesty is the road block, so far.
The First Sikh and Punjabi Arts International Exhibition was organized by the Sikh Foundation in 1992 in San Francisco, California. Since then, the patronage role of the Sikh Foundation, has now brought Global recognition to the SIKH ART. The launching of the global exhibition, "ARTS OF THE SIKH KINGDOMS" (traveled from Victoria Albert Museum, London; to the Asian Art Museum, San Francisco and then to Royal Ontario Art Museum, Toronto, Canada), in 1999 (in celebration of 300th year of Khalsa Sajna) became a land mark in the history of Global Art. The SIKH ART has now been recognized and has earned a seat of honor in the "Global Art Round Table." Since then, a Permanent Sikh Art Gallery in Asian Art Museum, San Francisco; an endowed Annual Sikh Art Seminars Series in Victoria Albert Museum, London, Sikh Art exhibitions in THE SMITHSONIAN, Washington, D.C.; Rubin Art Museum, New York, and numerous other such projects to come, are in the pipeline.
Along with the history making exhibition, in 1999, a companion book, "Arts of the Sikh Kingdoms" by Susan Strong, created an explosive growth in the Publication of books on Sikh Art. To create the awareness of Sikh Art in the Sikh masses, the First Sikh Art Calendar – 2000 was issued. Does it not sound contradictory? Art transcends both Time and Space and here it was being boxed in "Sikh" and a "Calendar". But this approach was necessary to give these "sugar coated pills" to Sikhs, to start taking the Baby Steps, in recognizing their "Timeless Treasure of Art",. A lot of this treasure has been lost and destroyed, some even by our own stupidity at the leadership level.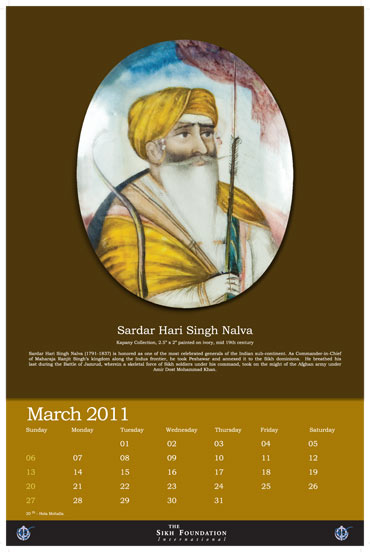 But it gives me a great pleasure that this technique, along with other efforts, did work. Now there are numerous young Sikh Artists venturing in almost all the spheres of Art – Paintings, Sculpture, Dancing, Music, Philologists, Movies and of course, now there are many "Art Collectors" , "Coin Collectors", Art Shows, Film Festivals, Art e-magazines, Seminars, and so on.
But the amazing thing is that the Sikh Foundation, kept up their efforts and even made it their annual project, to keep issuing these "Limited Edition, Collectors Item" ART Calendars. With the latest issue of 2011, Sikh Foundation has passed one more Land Mark and has now entered in the SECOND DECADE.
These are not just Calendars, to mark and keep track of days and dates, just by their presence in you Drawing Room in your home or Office, or your shop or workshop or as a Gift to a friend or relative, are constant reminders of your rich heritage and keep up your morale, self respect and confidence. They are reminders of your glorious past, link you up with stalwarts of History and even give you miniscule peep into those chapters of history.
Even those who visit you in your home or in place of work, will get a pleasant exposure to your rich heritage. Your status in their estimation, would be enhanced as an exceptional person (We have a slogan for US Marines, "The Proud, The Few, The Marines"), a lover of art – a road to spiritual growth.
The establishment of the Sikh Kingdom by Maharaja Ranjet Singh was an unparalleled chapter in the History of India. The 2011 Calendar gives you a "Peep" into the life ands styles of those stalwarts, like Maharaja Ranjit Singh, his son Sher Singh; Akali Phula Singh; Gen. Sham Singh Attariwala; Gen. Hari Singh Nalwa; Fakir Aziz-ud-Din; Raja Tej Singh; Sir Henry Lawrence and some more.
The Calendar, as usual, is designed in such a manner that you can easily, separate the Timeless Art Part and frame it and create an instant Mini Sikh Art Gallery.
These Calendars are limited quantity and are available for US $10.00 plus S&H
Visit the Sikh Foundations Store for more information