Tagore and the Sikhs – Amalendu Kumar Bose
Tagore wrote a number of poems that rank among his finest compositions and are known to every Bengalee, man and women, who has had some school education. In 1900 were published two volumes of ballads and narratives which are now combined in a single volume entitled Katha-O-Kahini (Tales and Legends). Some of these poems are based on Buddhist legends, some on Todd's Rajasthan, and some on Sikhs history – one around Banda, another around Taru Singh, two others concern Guru Gobind Singh.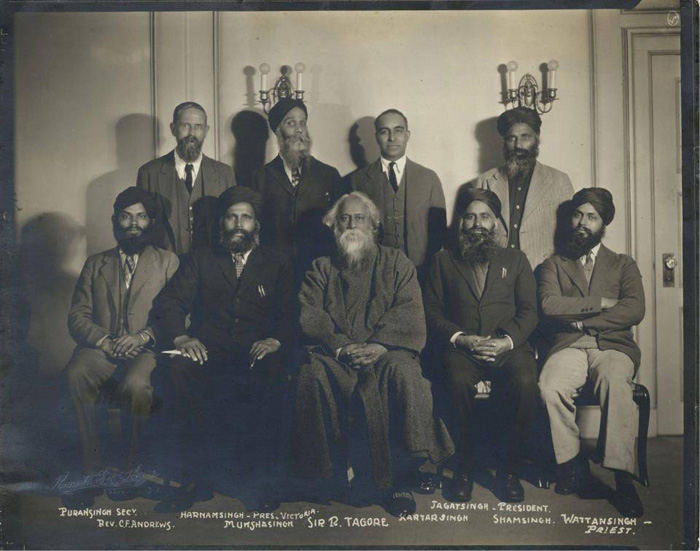 Rabindranath Tagore (seated centre) visited the West 2nd Avenue gurdwara in 1929.
Photo courtesy of www.straight.com/
I myself admire most the last two poems, for their rare depth of understanding of Guru Gobind's self-exploration and moral strength during two crises of his life; but the poem on Banda, with its stirring metre and diction, is a must for every school function or social get-together where poems are recited; there are lines in this poem that Bangalee revolutionaries for half a century have uttered while jumping into the fray of life and death. To give my audience here some idea of the quality of the content of the poem, I propose to offer a rendering of some of its portions in my hesitant English prose. The title of the poem is "The Chained Hero," Bandi Veer, bandi meaning a prisoner, but, I hope, my audience here will recognize the subtle sonal affinity between bandi and the hero's name Banda
In the prominent royal Mogul court of Delhi
King's sleep will break-up hundred times daily
There was such a dreadful fright in his heart
In his consciousness painful sighs were brought

What fire scorched his heart no one knows
All of a sudden he was jumping in fiery blows
It appeared like red hot sky from the Delhi court
King's heart shaking, seeking Godly support

Rivers of blood were flowing on the five rivers' land
Sikhs were facing persecutions for some ideal ground
Smeared in blood, they were saying thanks in gratitude
Patiently, regardless of comforts, they were in solitude

They crossed their way with the Moguls might
With faithful heart they remembered God in sight
Maiden decorated with mark of blood, their foreheads
What sort of people are Sikhs, with such eagerness

They move like moth, looking at burning all around
Without delay they line up ready to fight duty bound
They play jokes with death, and like lions they roar
Wherever they stare and rebuke, enemy is no more

Brave warriors jumped in fray with hand to hand attack
They quickly hawk assaulting caught the deadly foe
Like flying hawk assaulting a deadly poisonous snake
Squeezing them in his claws from tip to toe

Innumerable was the enemy army, Sikhs were very few
They were surrounded in chains and were put in queue
Clothes soaked in blood, bodies full of wounds and bruises
Intestines fall in tummy but they had faith and confidence

The enemy was battered by the dashing Banda Singh sage
Moguls fought back and tied him like brave lion in cage
Surrounded him from all the sides and imprisoned the hero chum
Then they moved towards Delhi, on the beat of kettle-drum

The Mogul army departed towards the Capital of Delhi city
They moved like hurricane, without stopping or any pity
Seven hundred Sikhs were imprisoned and curled-up in chains
It was a disgusting sight, an extraordinary incident, full of pains

On every pointed spear, the head of Sikh was hanging
Streams of blood dripping, the sight will give a panging
Sikh prisoners shackled in chains, shouted this voice of cry
O! our true saviour preserve thy honour, don't let panth shy

Spectators gathered in the heart of Delhi's Chandni Chowk
This caravan of Sikhs was quite out of strength and in shock
Outside they were dull and defeated, inside enjoying thrill
Greeting loudly the victory of Guru and obedient to His will

The onlookers revealed an extraordinary and peculiar tale
The prisoners started argument as no body wanted to fail
Everybody wanted to be first in their turn to meet the fate
All wanted to meet the Beloved, Gobind through life's gate

The wheel of death started, the murderers were on assault
An applause was echoed, whenever the sword was at fault
The Sikhs were being butchered, going forward for sacrifice
It was game of seven days for seven hundred heroes nice

Chief Banda Singh was in the clutches of destiny or fate
Next they brought forward to kill his little son ever so great
The Kazi passed on to banda Singh the killer sword grand
He ordered to cut his son's head as it was royal command

Sons are symbols of worldliness for formality in social affairs
If someone rebukes them one feels like to pull his hairs
What sort of test in life, to kill one's own son, was shaping
The thing one can't even imagine, the same was happening

Banda first picked his son and loved and caressed him
Then he tried to explain the role and character of Sikhism
Prince Fateh and Jujhar Singh were also children like you
Now in the test time and what they achieved you can also do

Greeting the victory loudly, the little son was revitalized
If life goes, the custom of Sikhism is, let it be sacrificed
For holder of righteousness definite victory will be at last
His love won't be wasted, he meets the Beleoved very fast

The Kazi became angry as he could not bear the splendour
The executioner attacked the child and he started to flutter
Even then this strange trick of destiny could not succeed
Plump intestines jumping softly, the earth was red indeed

It is written in the history that Banda remaned unmoved
In his mouth soft plump heart of slayed child was forced
In this hard probation Banda remained unshaken, steady
The history will cry when going through its own study

It was such a dreadful scene that onlookers could not spy
Snatching with pincers first they took out his both eyes
Iron bars were made red hot to burn his body limbs ready
The Sikh greeted the victory loudly and soul left the body

The Sky echoed with kettle-drum beat, banner flying like kite
Once a hero takes a battlefield, he is eager to show his might
A true warrior is one, who fights for sake of humble and meek
He might cut into the pieces, but to leave battlefield will never seek
I doubt if there are many comparably stirring poems in many languages, and though I regret that it is beyond my capacity to render the tremendous power of the rhythm and imagery of the original, I think the incident itself is powerful enough to enter deep into the reader's sensibility. By contrast, the poem on Taru Singh is a brief, piece of only sixteen lines. It goes thus:
"The ground in Shahidganj became red with the blood of Sikhs taken prisoners in war and then slaughtered. Then the Nawab said, "Listen, Taru Singh, I wish to pardon you."
"Why should you neglect me?" asked Taru Singh.
Said the Nawab, "You are a brave man, I can't be angry with you. I shall let you off. My only request is that you will cut off your hair plait and leave it with me." Taru Singh replied." I am so beholden for your kindness that, in return, I had better make a gift of my head along with the plait."
This is the poem, taut and terse in its verbal economy, offering us quick glimpses of the explosive passion that lies underneath the courteous exchange of compliments. And in Taru Singh we behold one who is more than an individual Sikh hero; we behold one who is also a symbol of his race, a symbol of his faith.
A parallel story occurs in one of the poems in Sesh Saptak (The Last Gamut) belonging to the final phase of the poet. This is once again the story of the siege of the Gurdaspur fort. The Badshah's Lieutenants have planned to starve the handful of besieged Sikhs fighting under Banda Singh; all communication between the fort and the world outside has been snapped; the besieged soldiers are reduced to eating powdered barks and branches of trees and raw meat (if any meat be available). This infernal privation comes to an end when, after eight months, the fort falls; soldiers in chains shout, "Victory to the Guru" and day after day, severed Sikh heads roll on the ground.
The poet now turns the focus on to a teen-aged young man, Nihal Singh, one of the chained soldiers. His is a fresh, serene countenance lit by an inner light; in his eyes are congealed the morning song of pilgrims; it is as if some divine sculptor had carved out his eighteen-year old body; he stands like a young cypress plant, straight but lissome and an exuberant vitality almost overflows his body and mind. His hands bound, he is brought to the court of the victors, the executioner is ready with his sword.
At this moment a letter arrives from the capital conveying Syed Abdulla Khan's order that the young man is to be set free. When they unloose the chains, Nihal asks why there should be such an order for him. He hears that his widowed mother has informed the authorities that her son is not a Sikh, that he has been forced by the Sikh to join them. The young man's face is flushed in shame and grief, and he cries. "I do not care for my life in exchange for falsehood, in truth is my final liberation, I am a Sikh." – This too is a great poem in which Tagore has abandoned metre and rhyme, as he did in most of his later poetry.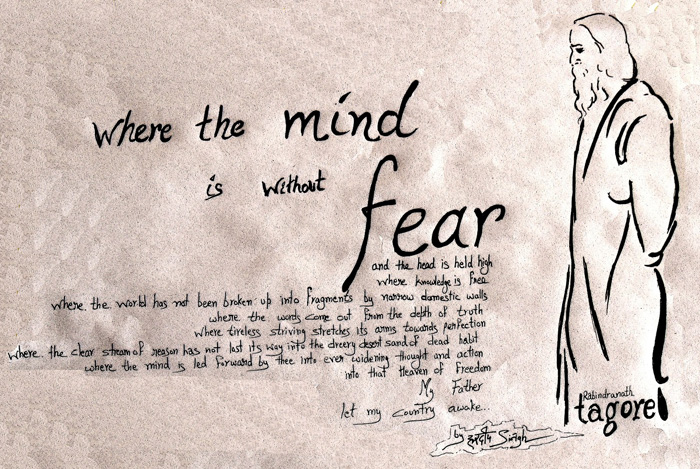 Rabindranath Tagore: A Mind Without Fear.
Photo courtesy of www.legends-tresures.blogspot.in/
As if he challenges the reader to see if the stark prose rhythm cannot adequately convey the character of the incident – its dramatic development, the grim background against which stands Nihal Singh, the sharp contrast between his youthful vitality and its destruction in the offering, and, above all, his unflickering adherence to Truth which is the cardinal meaning of his faith.
Of the two poems on Guru Gobind Singh, Shesh Siksha (The Last Lesson) tells the story of how the Guru had, once in sudden anger, killed a Pathan creditor; how, to atone for this act, he brought up the Pathan's son, treating him as a son, and how the young Pathan became deeply devoted to the Master; how the Guru tried to arouse the young man's vengeance but failed once, and how eventually the Pathan was made to fly into a rage and to plunge a dagger into the Master's body; and how the dying Guru said, ?My son, this is my last lesson for you, you must take revenge for a wrong done.? This too is a great poem bringing out the Guru's complex personality but the other poem, entitled Guru Gobind is, to my mind, the greatest of this group, great because of the rhythm and imagery, great because of the excruciating psychological self-exploration of the Guru during years of solitude.
A man of action and organisation, Guru Gobind has been passing his days in contemplation, in an endeavor to attain to that spiritual fullness which alone should entitle him to the difficult role of leadership of his people. A humanist rather than an ascetic, his heart yearns for life in the midst of multitudes; he wakes up in his sleep dreaming of calls from his people; his sword in the scabbard wriggles like a living thing as he watches the restlessness of his followers.
Ah, what a joy it would be to throw himself in the midst of a crowd, breaking and making kingdoms, destroying tyrants, catching hold of fate as if it were a disobedient horse, riding through millions, leaving behind indelible footprints on flame-crimsoned grounds, always jumping across death on to life. Sometimes it is a dark night and sometimes it is a shiny day, once the sky above is thunder-laden, torn asunder by a relentless and insane storm. But, heedless, the Guru sends his call to his followers, "Come ye all to me as the waters of the five rivers flow into the sea; come ye my bhakats and raise your intoxicated cry across the length and breadth of Punjab."
The Guru's voice penetrates the remotest nooks of jungles lest there should be some timid one hiding there. As he advances, his followers swell in number, Brahmin and Jat abandoning caste consciousness, ready to lay down their lives – But these are visions of the future that cannot be worked out yet. Now he has to control his passionate natural humanistic desires, now he must ponder and thoroughly examine himself until he can say to all:
"I have no more doubts and hesitations, I have learnt what truth is, I have found my path and all obstacles, including life and death, cleared off from my course. A voice within tells me to stand up in the effulgence of my truth. I call ye, my followers, to come to me, let in your Guru's life your own lives be enriched."
But all this is yet to be, and the Guru hardens himself to more days of strenuous self-examination. He must be like a lamp steadfast amid darkness, emitting its light in a stormy world. And therefore Guru Govind asks his followers Sahu, Lehari and Ramdas to leave him alone with his unremitting self-preparation.
This is a poem containing over half-a-dozen stanzas that are memorized by every Bengalee young man worth his salt; these offer us the crystallized essence of a resolute and courageous Gospel of Action.
In his prose and poetry, Tagore brings out some of the essential features of the Sikh character, especially the militant features. But these militant features acquire an unparalleled purity and nobility by virtue of their never-dimmed relation to their faith. For though changing times have necessarily brought about some modification or other in the social organisation of the Sikhs, there has never been a deviation from the Primal Spirit of their faith which they received from that incomparable man of God, Guru Nanak. I submit to this learned audience the view that a remarkably inspiring direction to that Primal Spirit has been indicated by Rabindranath Tagore in his poems, prose, essays, and in his devotional songs, a direction for which we in the eastern regions of our country are deeply indebted to him.
This is an edited version of the Quin-centenary tribute to Guru Nanak Devji from one of the most celebrated scholars of Bengal, the late professor Amalendu Kumar Bose of Calcutta University.The english translation of Bandadir is not the authors own and is from an unknown source.
Rabindranath Tagore was granted Knighthood by the British Government, which he renounced in protest of the British massacre of peaceful protesters at Jallianwala Bagh on April 13, 1919.
Courtesy of www.legends-tresures.blogspot.in