The Art of Frescos: Sharanjeet Kaur Bansal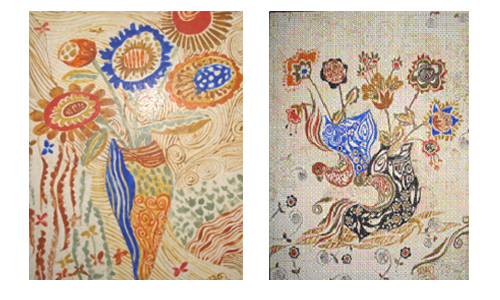 Fresco paintings made with traditional techniques
Whilst studying in the city of Jaipur (Rajasthan) Sharanjeet Kaur Bansal was amazed to see fascinating colourful paintings on the walls, pillars and roof of palaces, temples and houses. These paintings were done various different artist of that era centuries ago but they still look very fresh as if they have been done only yesterday. When she visited the Golden Temple and some of the other well known Gurudwaras in the state of Punjab, she immediately recognised that the most of the artist used the same technique. This was Fresco painting, a traditional technique used for wall painting.
Fresco is a form of mural painting in which natural earth pigments are applied directly to wet lime plaster. The dry powder colours, when mixed with water, penetrate the surface and become a permanent part of the wall. This technique is also known as Buno fresco, or "true fresco". In the history of Sikh art and heritage, only one of the artists Bhai Gian Singh Ji claims to have achieved the fame in his fresco-painting on the walls of the Golden Temple. He served for 14 long years until the death of his Guru in 1905. His incredible determination and hard work made a mark in the Sikh art history.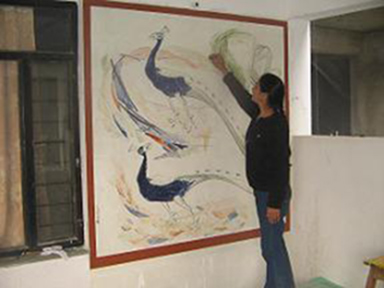 Sharanjeet painting in Rajasthan
Sharanjeet Kaur Bansal inspired by these breathtaking pictures/painting and decided to pursue her career in fresco painting. But, unfortunately there are not many places in India where you can get formal training in this technique. This art always been passed on generation to generation to family members. Only handful of people got an opportunity to learn this art from masters. Sharanjeet has been very privileged to be trained by India's renowned eminent artist Shri Deokinandan Sharma Ji, for whom she holds a highest respect in her heart.
She received a gold medal award for her Masters Degree in drawing and painting from Rajasthan. Later on, she obtained training in mural painting and achieved a diploma in mural painting. In more than twenty five years of her career as a freelance artist she bagged Rajasthan State award in drawing and scholarship from All India Fine Arts and crafts Society, New Delhi. To advance her career and progress in the field of fresco painting she got training in restoration of paintings from National museum, New Delhi.

The conservation and treatment of wall paintings at Krishna Temple, Rajpur, Dehradun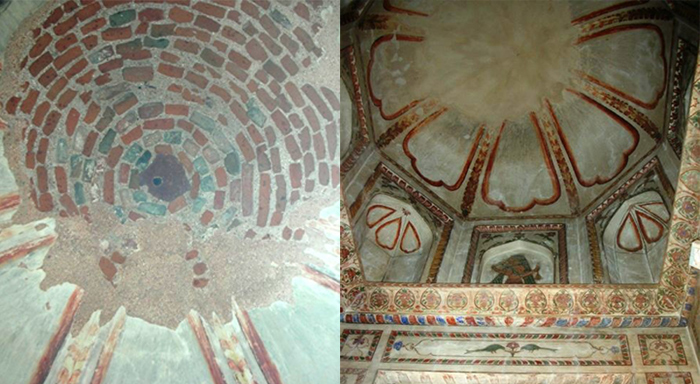 Ceiling of Krishna temple before and after restoration
In the beginning of her career, she explored many different subjects in day to day life in her solo and group shows. She also participated in many national exhibitions in India. She has produced her many different styles and different media, i.e. in oil, water colours, acrylic, mix media on canvas & paper and also using technique with pen and ink. Later in her career, she mostly focused working on traditional technique of fresco painting and spent her time restoring old fresco art works. It was an honor to get an opportunity to work with her Guru on two very large fresco paintings in a school in the city of Jaipur, Rajasthan. In spite of limitation of working space at home she never stopped working in this technique, preparing lime in big clay pots, sieving and grinding colours was a time taking and tiring job. She worked so hard to get the perfection in this art.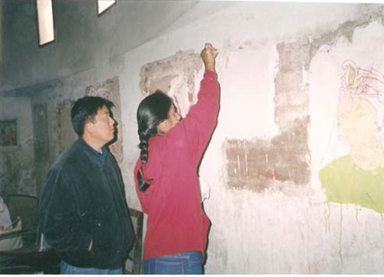 A demonstration of Fresco Artwork at the National Museum, New Delhi
However, the usage of Fresco technique has drastically been going down for the last few decades due to the lack of experienced and skilled craftsmanship. Unfortunately, not many people interested to pursue their career as a fresco artist because of its time consuming and tough method which needs so much patience.
One of the finest examples of her work is the restoration of Krishna Temple in the city of Dehradun where her responsibility was to restore the building structure, the fresco paintings to the former glory to the original form when the temple was built. This meant finding the material from the surrounding areas and preparing the material and colours. Also cleaning, re-plastering, edging, fixing of loose plaster were some of the essential things required for the restoration. The work was undertaken under the supervision of the Archeological Survey of India, a special department within Government of India.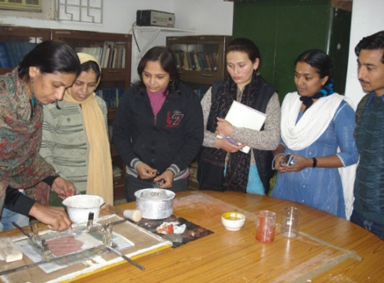 A demonstration of Fresco Artwork at the National Museum, New Delhi
She has held many workshops within schools, colleges training Art Teachers and also students. She also took a number of workshops at the National Museum in the Indian capital city in Delhi in collaboration with the conservation department of National Museum, Delhi. The workshops were held throughout the year and lots of Art loving people attended these workshops from all over the world.
The aim of these workshops was to train artists and all the other people/students from all walks of life and also demonstrating the technical process involved and there by contribute in the revival of this ancient and important art form.
Sharanjeet sincerely thinks, it is the responsibility of all the artists, restorers, archeologists and art historians that they should collaborate with each other and work together to restore, revive and to keep this precious art form alive for future generations to see and enjoy otherwise this form of art and technique will be lost forever.
You can get in contact with Sharanjeet via email at manibhooi@yahoo.com