The Art of Portraiture by Manu Kaur Saluja
* Read the Introduction to this Feature
Note-Mouse over images for description
The Making of "Maharaja Ranjit Singh, the Lion of the Punjab"
The inspiration for my work is drawn largely from 16th-19th century Old Master painters such as Rembrandt, Peter Paul Rubens, Jean Auguste Dominique Ingres, Anthony Van Dyck and American artist John Singer Sargent (see Figures 2, 3). I've long admired the artistic mastery with which they created large-scale paintings that tell the stories of great legends. Their paintings are not only beautifully executed, but also offer iconic images through which history is told. It has been a dream of mine to contribute to the telling of Sikh history through the tradition of classical realism. In 2001, I embarked on creating a life-size portrait of one of the most revered figures in Sikh history: Maharajah Ranjit Singh. I began by researching his life and how artists had portrayed him in the past.
Maharajah Ranjit Singh (1780-1839) was crowned emperor of Punjab in 1801. He rose to power as a brilliant military and political strategist, building a vast empire of almost 200,000 square miles by consolidating feuding Sikh clans, leading the Khalsa army, and seizing Lahore and Amritsar from the Moghul empire—all by the age of twenty-one.
While Ranjit Singh is legendary for his abilities as a young, formidable soldier, almost all existing portraits of him depict a serene, older man with a white dari (beard) and a nimbus (halo) above his head (Figure 4). He is often seated in profile–a perspective that hides his blinded left eye, the result of childhood small pox. Whether shown in solitude as a humble, meditative ruler in simple dress (Figure 5) as in Emily Eden's life drawing, or in full regal attire, bedecked with jewels, surrounded by his heirs and courtiers (Figure 6) as in August Schoefft's epic oil painting, Ranjit Singh is consistently portrayed as a wise, fatherly figure in the latter years of his reign.
My portrait is a contemporary re-imagining of Ranjit Singh shown with the direct gaze and potent posture of the man whose extraordinary martial skill earned him the nickname Sher-e-Punjab (The Lion of the Punjab). I felt his place in history, his life and accomplishments were deserving of an iconic image on a grand scale. The painting is a reflection of the pride the Punjabi Diaspora feel for Ranjit Singh as much as it is a historically faithful, posthumous portrait of the man himself. I drew inspiration partly from Ingres' portrait of Napoleon Bonaparte (1769-1821), both for its artistry and for the historical connection between Napoleon and Ranjit Singh (Ranjit Singh recruited several generals from Napoleon's army in an effort to modernize the Khalsa army) (Figure 7).
As an artist devoted to capturing the solidity of a subject's form on canvas, it is essential for me to work from live models, yet no photos of Ranjit Singh had surfaced and his possessions are in various museums and private collections throughout the United Kingdom. To create this work with a life-like, three-dimensional quality, I set the stage for the portrait with replicas of 19th century Indian armor, his octagonal Golden Throne, his sword and shield, and the famed Koh-i-Nor diamond. I was given special access to these original artifacts that once belonged to Ranjit Singh.
I began by flying to London to see Ranjit Singh's throne at the Victoria and Albert Museum. I photographed it from several distances and angles. The close-up shots reveal beautiful scalloped and floral motifs (Figures 8, 9). When back in New York, I hired artist and woodworker Joel Haffner to carve a small replica of the throne from a solid piece of wood. By hand, I embossed the throne's motifs onto brass plating and then cut the plating to fit the facets of the throne (Figure 10). I upholstered the seat using cotton and velvet, and sculpted the s-curved arms out of polymer clay painted gold. I now had a miniature version of Ranjit Singh's throne that I could use to study and photograph from any angle that I needed for the portrait (Figure 11).
The Wallace Collection in London has one of the finest collections of 19th century Sikh Armor. Sikh gorcharra soldiers wore full dress armor– breastplates, armguards, chain mail, kurta-pajama and boots (Figure 12). They wore turban helmets designed solely for Sikh soldiers with an extra compartment for the gura and patka (bun of hair and scarf) (Figure 13). For the portrait of Ranjit Singh I felt his impenetrable strength was best expressed by depicting him in this suit of armor. At the Wallace Collection I was granted special permission to photograph these items along with a sword and shield from Ranjit Singh's court. Unlike the Golden Throne, these items were not frequently, if ever, photographed or portrayed in a painting.
The sword has been identified as Ranjit Singh's. The scabbard is made of gold leaf with black leather piping. His sword has hunting motifs such as the solid gold animals at the base of the scabbard and a bull's head for the hilt. The straps are made of red velvet with elaborate gold trim and jewels (Figure 14).
There can be no question that the shield is from Ranjit Singh's court. It is engraved around the edge with portraits of Ranjit Singh, his heirs and courtiers. Persian inscriptions identify the figures as Maharaja Ranjit Singh, (then proceeding counter-clockwise) Shahzada Nau Nihal Singh, Raja Dhyan Singh, Raja Hira Singh, Raja Gulab Singh, Raja Suchet Singh, Jawahar Singh, Attariwala Singh, Chattar Singh Attariwala, Tej Singh, Shahzada Duleep Singh, Raja Lal Singh, Shahzada Partap Singh, Shahzada Sher Singh, Gulab Singh Attariwala and Shahzada Karak Singh (Figure 15).
I hired an armorer Jeff Wasson to make replicas of the turban helmet, breastplates and armguards in steel. I painted the ornate designs directly on the helmet, chain mail and armguards using gold enamel paint (Figure 16). To finish the breastplates and shield I used the same brass plating technique as the throne (Figure 17). After I fastened the brass onto the shield I rubbed black paint into the embossed plating to bring out the portraits (Figure 18). For the sword I refurbished a kirpan by stripping, sanding and painting the scabbard. I sculpted the bull's head out of polymer clay and then it painted gold (Figure 19). The straps were made from velvet sown with gold trim and beads. I purchased a variety of items, from costume jewelry to leather, to complete the uniform. When all the props were ready, a mannequin was set up in the pose with full dress armor. For Ranjit Singh's facial features and hands, I had read written descriptions by French generals in his army describing his likeness and looked carefully at paintings of Ranjit Singh by August Schoefft. I had a Sikh model pose for me and did drawings until I felt I understood what Ranjit Singh would have looked like as a younger man.
The photographs, replicas, drawings and preliminary oil studies were indispensable in designing the full-length portrait. The final piece was completed within seven months in May 2009 and measures 80 by 52 inches. I titled the piece: Maharajah Ranjit Singh, The Lion of the Punjab.
With every portrait I've painted over the last twelve years, my primary goal is to capture the character and essence of the subject. I communicate this with the sitter's pose and expression, and also with the way I compose the lights, shadows, colors, and line. I use these elements to evoke emotion, guide the viewer's eye through the painting, and to convey its main theme or message.
Every element in the composition of Maharajah Ranjit Singh, The Lion of the Punjab is designed to draw the viewer's eyes upward to his gaze: from the step-laid Kashmiri rug with floral motifs reminiscent of a lion, and the tilted face of his shield, to the curve of his sword and the sharp, upturned points of his shoes–creating a vertical, rhythmic trajectory.
The color palette is a balance of warm and cool tones repeated throughout to harmonize the painting.
The cadmium orange of the kurta-pajama (shirt and leggings) is painted in contrast to the cerulean tinted chain mail to make a visual connection with the orange and blue colors of the Khalsa (Sikh army) flag.
The famed Koh-i-Nor diamond ("Mountain of Light" in Persian, currently part of the British Crown jewels) is shown un-faceted in its original setting on his right arm as it would have been during Ranjit Singh's reign.
A dark umber background gives way to lighter ochre hues with horizontal lines subtly suggesting the interior of shesh-mahal (a room in Lahore Palace where he often held court). The transition from dark to light is also representative of how he emerged as a beacon of strength from the dark chaos of Northern India—establishing a Kingdom of civil justice and flourishing artistic patronage.
From November 28, 2009 through March 28, 2010, the painting was exhibited at the Royal Ontario Museum in Toronto in the Sir Christopher Ondaatje Gallery of South Asian Art, alongside a replica of F.X. Winterhalter's Maharajah Duleep Singh I had been commissioned to paint in 2005 (Figure 20).
The exhibit, curated by Dr. Deepali Diwan, was titled Kings of the Punjab and told the story of the rise and fall of the Sikh Empire. Both paintings will be exhibited at The Reach Gallery Museum Abbortsford in British Columbia in late October 2011 through January 2011, along with 2-3 other paintings I have completed this year. It has been extremely fulfilling to share my work with the public and contribute contemporary artwork that can facilitate dialogue across cultures about Sikh awareness, history and art.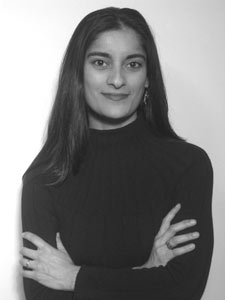 Biography:
Manu Kaur Saluja's oil paintings hang in prominent institutions and in the homes of influential families throughout North America. She has presented her work at the Smithsonian's National Museum of Natural History in Washington D.C., and at the Asian Art Museum of San Francisco. She trained with John Frederick Murray at the School of Visual Arts in New York, and as a registered copyist at The Metropolitan Museum of Art. She is a 2003 recipient of the Centennial Award for artistic achievement from the Sikh Centennial Foundation of Canada, and a 1999 finalist in the nation's largest portrait competition sponsored by The Artist Magazine. Her paintings have been featured in Nishaan Magazine (IV/2002), House Magazine (Sept/Oct 2001), and the Graphis New Talent Annual (1998).
For more information on the artist, and to order limited edition prints of Maharajah Ranjit Singh, The Lion of the Punjab or Maharajah Duleep Singh after F.X. Winterhalter visit: http://manusaluja.com.
* Read the Authors Bio & Introduction to the series here
Note-Mouse over images for description