The Royal Falcon – The Musical
The Royal Falcon Musical is based on the highly acclaimed children's book of the same name by Jessi Kaur, a Bay Area based author. It has been adapted for the stage by Tony Kienitz.
It is the heartwarming story of Arjan, a young boy who is taken on a fantastical journey through time by a falcon who teaches him the importance of compassion, forgiveness, and sharing. At the heart of the narrative is a war-time episode from Indian history where a water-bearer named Bhai Kanhaiya epitomizes compassion in action. The cast of the musical is multicultural, and the lyrics of the songs are based on verses from Sri Guru Granth Sahib, a scripture that upholds the unity of mankind, celebrates diversity, and demands respect and dignity for all.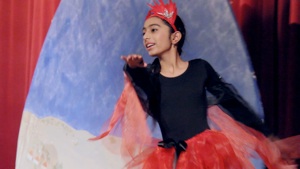 From the musical
The Musical has been directed by Tanna and Tony Kienitz. The original score has been rendered by Manesh Judge and Mike Anand.

With its multicultural cast, and songs and dances that incorporate elements of jazz, hip-hop, and rap, The Royal Falcon Musical will touch the hearts of children and adults alike.
For tickets go to:
musical.theroyalfalcon.org