To Honor Pride and Eliminate Prejudice
The 9th Annual Sikh Art & Film Foundation's International Film Festival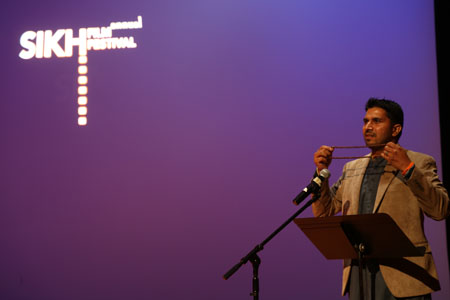 Director Amardeep Singh Kaleka of "We are Sikhs – a Poem," a film that pays tribute to victims of the Oak Creek shootings in Wisconsin — Photo credit: Tamriko Bardadze-Shaffran
(November 5, 2012 — New York, NY) – More than 1000 people attended the Sikh International Film Festival at the Asia Society to celebrate and commemorate Sikh art, culture, leadership, and film on Saturday, Nov. 3. Presented by the Sikh Art & Film Foundation (SAFF), the film festival premiered 15 short films and documentaries featuring Sikh stories from across the globe, from both established and emerging filmmakers. Short films were shown from noon to 2 p.m., short documentaries from 3 to 5 p.m., and premiere documentaries from 7:00 to 9:00 p.m. The event culminated with an after-party and awards ceremony from 9:00 p.m. to midnight. The winners were:
Brendan Nehmias for "Humble the Poet" – Best Short Film
Michael Singh for "Visionary" – Best Short Documentary
Winning films in the category of Best Short Film and Best Documentary were recognized with cash prizes that totaled $15,000.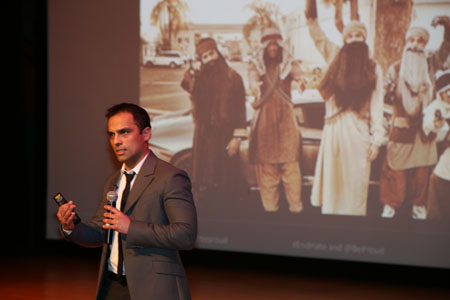 Gurbaksh Chahal introduces the "Be Proud" Campaign — Photo credit: Tamriko Bardadze-Shaffran
Five films made their World Premiere at SIFF 2012 including: Oak Creek: In Memoriam, from award-winning filmmaker Valarie Kaur (Divided We Fall), a recently completed short documentary commemorating the tragic shootings at Oak Creek; We Are Sikhs: a Poem, a short by Amardeep Kaleka, whose father was killed at Oak Creek; The Volunteers, British director Mark Hammett's short feature about a young nursing home volunteer learning about Sikhs during World War II and the Burmese War; Injustice 1984, a film by Jarnail Singh which uncovers ugly truths behind the 1984 massacre from one family's perspective, and The Sikhs of Kabul, a hard-hitting look at the minority Sikh population still living in Kabul, Afghanistan, where, during Taliban rule, they fell to the lowest rungs of society, and remain confined to a compound.Making its U.S. Premiere was Hola! The Mighty Colors, filmmaker Teena Kaur's story about the Sikh celebration.
Other titles shown were: the short Humble the Poet about the tattooed hip-hop artist who is also a practicing Sikh in Toronto; Namrata, a true story of Namrata "Mona" Gil, an abused Sikh woman who becomes a police officer in Canada; The Visionary, a new film by controversial director Michael Singh; Sikhs@War, the story of the Sikhs who were recruited to fight for the Allies during WWI and WWII; #MyTurban, interviews with prominent Sikhs that were created from a social networking initiative; Beyond the Gardens' Wall, about the harsh treatment of Sikh and Chinese immigrants who came to work in British Columbia in the early 1900s; Kartiviya, a short narrative film about a New York Sikh cab driver and grandiose promises made by a passenger; Remembrance: A Sikh Story about Sikhs in the Great Wars, and Five Folds, a narrative father-son drama.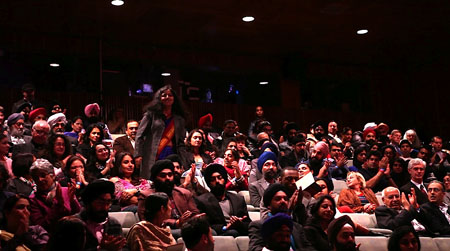 The packed audience at the Asia Society for the Sikh International Film Festival Photo credit: Tamriko Bardadze-Shaffran
During the 7:00 p.m. documentary premiere series, the Sikh Art & Film Foundation premiered a multi-million dollar public service announcement campaign called Be Proud, created by Gurbaksh Chahal, Be Proud Foundation Founder and Founder & CEO of RadiumOne. The Be Proud campaign, created in the wake of the tragic Gurudwara shootings of six innocent Sikhs in Wisconsin in August, will begin airing nationwide in mid-November 2012, bringing its anti-hate, pro-unity message to Americans from all walks of life. The campaign, which is backed by renowned figures such as Sir Ben Kingsley, Deepak Chopra, Jay Sean, Gurinder Chadha, Kabir Bedi, Vikas Khanna, RDB, Anupam Kher, Lisa Ray, Priyanka Chopra, Eva Longoria, and Aamir Khan, is about eliminating hate with the "unifying truth that we are all a little different and we should be proud of what makes us unique," according to Mr. Chahal. Be Proud will also be recording videos at the Gala that will be used on the Be Proud website,www.beproud.org.
The Sikh International Film Festival was founded in 2003 to create awareness and pride in the diversity, culture and history of the Sikhs, a people rooted in the Punjab region of South Asia who practice the world's fifth largest religion. Announcing the 2012 Film Festival and Sikh Heritage Gala, Tejinder S. Bindra, President of the Foundation, said, "In offering this year's excellent lineup of films and events and sponsoring the Be Proud campaign, we renewed our mission to demonstrate Sikh culture and stand with our partners in declaring that intercultural understanding, fighting for the oppressed, and respect for each other's differences are not just our core Sikh values, they are also our American values." For more information, please visit www.sikharts.org.
See Videos of the films here