Unveiling the 50 Sikh Art Treasures
By Rupy C. Tut
Art is often categorized as a treasure but how often do we spend our energies and money to commission work from artists. Many years ago, Sikh royal patrons, powerful men and women, religious institutions, all were heavily involved in the generation of Sikh art that we refer to as treasures today.
Many of such treasures, I first came across during my artist residency at the Sikh Foundation. In one year, I have probably scanned, browsed, drooled, and been left amazed by more than 300 pieces of art. Most of this work in the Kapany Collection dates between mid 1800s to early 1900s. So is the fact that these pieces are so old enough to make us care about them? Or do these pieces mean much more? This is the question I hope to help you ponder over.
In December 2016, the Sikh Foundation completes 50 years of existence. Within these 50 years, the Kapany collection of Sikh art has grown and been distributed for the wider audiences at major museums around the world.
A tribute to these 50 years of service to the art world and to the cause of Sikh art is a curated collection of 50 Sikh Art Treasures. From hundreds of pieces, images of about 50 pieces including textiles, paintings, armor, stamps, coins, etc. will be shared with our audiences around the world. Some of these pieces are very commonly known, some never heard of, some in the best possible condition, and some crumbling under the pressure of history and heritage. However, all of these pieces tell a story, our story.
Images of 50 Sikh Art treasures along with some fun, unknown facts will be released through the Sikh Foundation's website and social media accounts. The very first of these treasures will be released on December 27th, 2016, exactly 50 years after the start of the Sikh Foundation.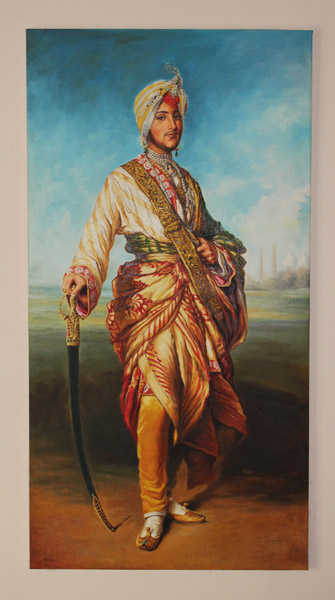 Maharajah Duleep Singh
Reproduction by Sukhpreet Singh of original
painting by Franz Winterhalter
Punjab, India 2005
Oil on canvas 94 cm × 182 cm Kapany Collection
More than just a facebook post you'll be delighted to share with your friends, I hope each of these artworks reminds of the stories that we need to remember.
In the case of Duleep Singh's famous portrait by Franz Winterhalter, I hope you can wonder about the intention of Queen Victoria in commissioning the royal portrait artist to paint her favorite prince. While you glance over the fierceness of the color red in Ranjit Singh's flag, I hope you find joy in imagining it hoisted in full glory and largeness. While you get caught up in the turban jewels of Sher Singh, I hope you can wonder about the exquisite design of the wool rug his image is woven into.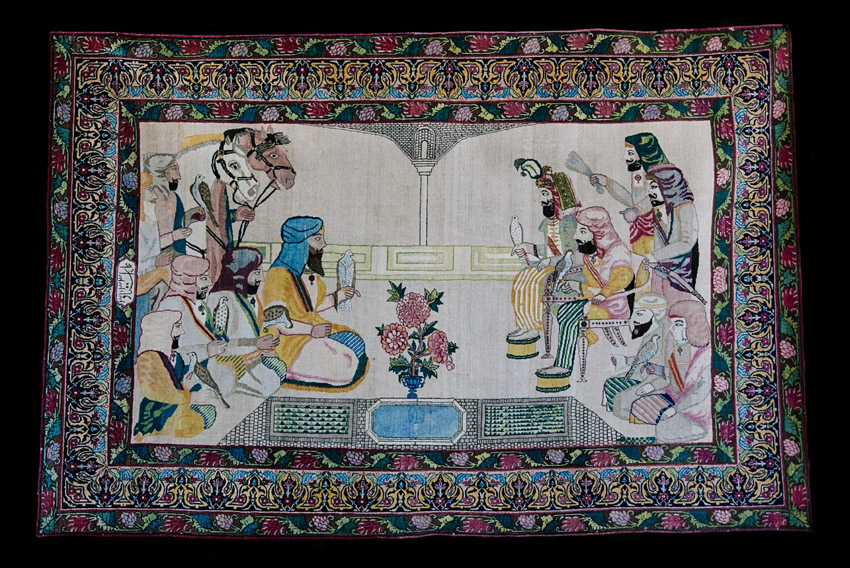 A Kirman Pictorial Rug
South East Persia c. 1900
Wool 218 x 145 cm Kapany Collection
As someone who took on the Sikh Foundation artist residency to basically get a unique chance to stare at beautiful Sikh miniatures all day, there is far more to care about in these artworks. In my journey over the last year, the 50 Sikh Art Treasures and the many other works in the collection have given me a sense of history and belonging.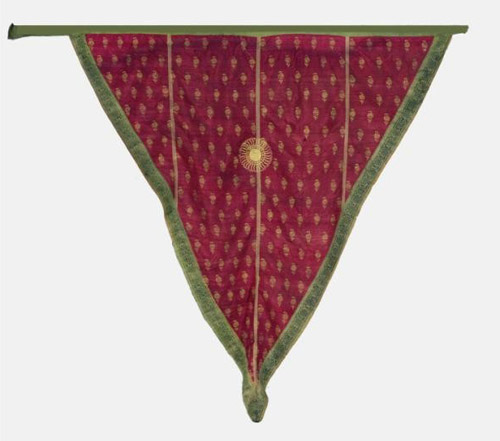 Battle standard
India or Pakistan approx. 1830-1849
Silk with block-printed gilded motifs H. 132 1/2 in x W. 101 in, H. 336.6 cm x W. 256.5 cm (with pole and finial) Asian Art Museum of San Francisco,
Gift of the Kapany Collection, 1998.109.a-.c
As an artist who calls herself a 'Sikh artist', I am more aware of where I come from. I see the artwork as not only a snapshot of a rich historical time, but also as a precursor to the possibility of the arts flourishing yet again in our community. I am optimistic that connecting and caring for these pieces of a large puzzle will help us explore our identity not just as Sikhs but also as Sikhs who are strongly rooted in creative expression.
About the Author
Rupy C. Tut, also known as 'Art by Rupy', is a visual artist and calligrapher. She is also the Sikh Foundation's artist-in-residence 2015-2016. Her work with the Kapany collection of Sikh Fine Art has included cataloguing and researching many pieces of art from the 19th century. In her research, she enjoys sharing her own experiences and interactions with pieces of such significant history while striving to make them relevant today.
www.artbyrupy.com