A Milestone Conference
(Re-)building Punjab – Political Economy, Society & Values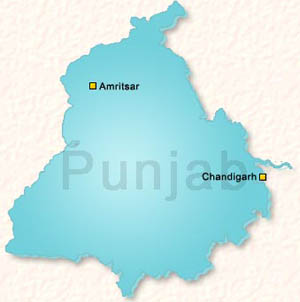 Punjab was once acknowledged as the most dynamic and prosperous state of the Indian Union. Its farmers ushered in the Green Revolution while its industrialists turned its cities into "Manchesters of India". Punjab of that era was spearheading India's progress, but not anymore. Punjab has turned from being a leader to a laggard and has now slipped to number six among the major Indian states in terms of per capita income. Its agricultural practices are increasingly unsustainable. Its ground water, wherever accessible, is polluted. Thousands of farmers are committing suicide. Accessibility to affordable health care and primary education is fast vanishing.
These were some of the alarming facts presented in a gathering of scholars and concerned citizens who converged at the University of California in Santa Cruz on 28-29th March 2013 to participate in the conference "Re-building Punjab – Political Economy, Society & Values".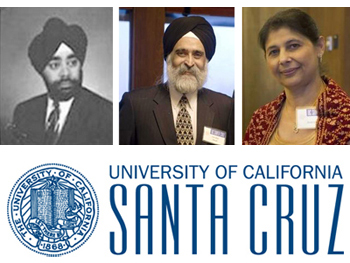 Sarbjit Singh Aurora, Dr. Nirvikar Singh & Dr. Inderjit N. Kaur
This inter-disciplinary conference was the initiative of Prof. Nirvikar Singh- Professor of Economics and Sarbjit Singh Aurora Chair of Sikh and Punjabi Studies at UC Santa Cruz and Dr. Inderjit N. Kaur, Research Associate in the Department of Music and Advisor to the Sikh and Punjabi Studies Program at UCSC.
So what are the reasons for this alarming decline in the state of affairs in Punjab? Professor Pritam Singh of Oxford Brookes University, UK explored the key turning points in Punjabi society in the last 50 years or so. He argues that the enrollment of Sikhs in the British Army and their subsequent mercenary careers in wars outside of Punjab eroded the value system of the Sikh Gurus who had always fought for justice and human rights. Furthermore, the violence accompanying the partition of India in 1947 also led to a moral degradation in the collective psyche of the Sikhs. These factors provoked religious revivalism and post 1984 saw the extreme polarization of values and politics. By 1995, even though the armed insurgency was crushed by the Indian State, it was denied a moral victory. Prof. Pritam observed that it might be possible that the sense of hopelessness pervading society in Punjab can be summed up as "collective defeat of the community". Despite these challenges, there is increasing gender awareness and environmental consciousness in the people. This is seen, for example, in the success of projects under Sant Seechewal, Pingalwara, Khadoor Sahib, Keti Virasat and others. Within the community there is also a weakening of caste barriers and a decreasing fear of traditional symbols of authority and power. Prof. Pritam holds the view that only those organizations who practice inclusive politics that embrace the upper caste urban Hindus as well as dalits and smaller religious minorities such as Radhaswamis, Namdharis, Ravidassia community as well as Muslims, Christians, Buddhists and Jains in, both, rural and urban areas will be able to succeed.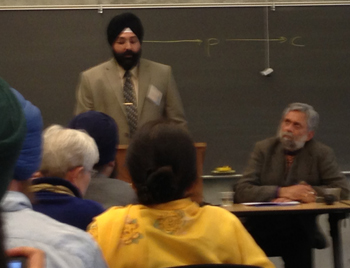 Dr. Jugdep Singh Chima & Prof. Pritam Singh
Dr. Jugdep Singh Chima, of Hiram College Ohio, acknowledged the challenges confronting Prof. Pritam's paper since it was studying cultural values which were fundamentally different than the easily quantifiable economic and political factors. He astutely summarized Prof. Pritam's arguments as economic factors in the Punjab drive its politics which further impacts the cultural values of society today.
The conference was not only memorable because of the scholars who presented their papers but also because of the interesting mix of audience who travelled to Santa Cruz to hear them. Mr. Bhupindar Singh (Bob) Dhillon, a Sikh leader of the San Jose Gurudwara, who attended the conference with his wife, said "the Sikh diaspora has always responded to every cry of help from the homeland". He hoped that the conference would help clearly define the ways and areas where people living outside of Punjab could help those living in Punjab.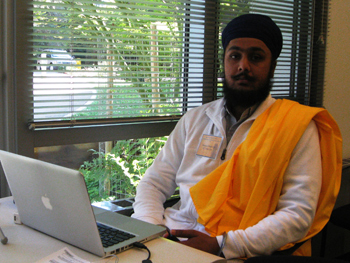 Damanjit Singh
Damanjit Singh, a second year UCSC student of Global Economics, said "I have been looking forward to such an interdisciplinary conference for a long time and find this conference to be very thought provoking and invigorating". He added that he visits Punjab regularly and was looking for positive strategies which he, too, could apply in Punjab.
"Sikh Values and Punjab Society in Historical Perspective" was the paper presented by Prof. Pashaura Singh, holder of the Jasbir Singh Saini Chair in Sikh Studies at UC Riverside. He explored the role of Sikh values in the development of Punjab society in different historical periods. The region of Punjab is widely regarded as the homeland of the Sikh tradition. Although its mention is not to be found in the Sikh scripture, the Guru Granth Sahib, it received explicit reference in the contemporary writings of Bhai Gurdas (c.1558-1636) who employed the term in a stanza that extols "the greatness of the Guru in Punjab." In the twentieth century, Puran Singh plainly defined the relationship between the Sikh teachings and the region by saying that "Punjab survives in the name of the Gurus." Prof. Pashaura Singh also emphasized the importance of the study published in 1972 by Murray J. Leaf which is a social analysis of a village of 860 people in Punjab.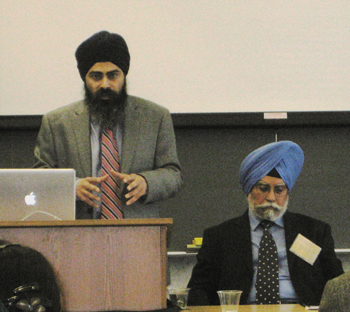 Dr. Harpreet Singh & Prof. Pashaura Singh
Dr. Harpreet Singh from Harvard University added his perspectives on the evolution of Sikh collective values, and their roots in a distinct theology and ethical world view. Prof. Triloki Pandey, from the audience, added to the conversation, acknowledging the revolutionary concepts propounded by Guru Nanak. He said ,"the Hindu is very fussy about food and Guru Nanak forced the taboo out of food by insisting on communal eating (langar)". He further added that Guru Nanak took on the task of educating a class of people who were shunned out by the caste system of the time by addressing the people in their own language. By these two actions he leveled the playing field between the different sections of society separated by the Dharma worldview.
Professor Lakhwinder Singh, an economist who travelled from Punjabi University Patiala presented his paper "The Punjab Economy: Problems and Prospects". Living and working in Punjab, he provided a first person perspective on the issues facing the state's economy. Prof Singh described Punjab as a "rich state with poor governance". Despite the alarming statistics, he declared that he was still "not a pessimist" because all the ills that ail Punjab can be redressed by improving fiscal management, increasing public investments, strengthening local industries and improving health and education. Prof. Singh is also the lead economist on a policy paper titled "Rejuvenation of Punjab Economy: A Policy Document". This document has been prepared by 22 economists of Punjab working with the Centre for Development Economics and Innovation Studies, Punjabi University Patiala, in collaboration with the Chair of the Planning Commission of Punjab.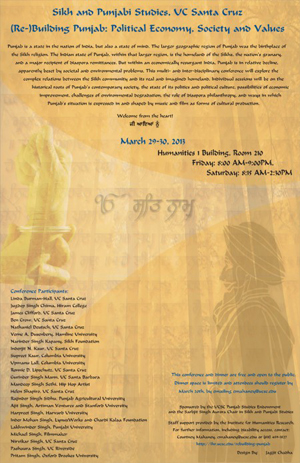 Conference Poster
Prof. Nirvikar Singh, in his discussion of the presentation and of Punjab's economy, expanded on the different areas in which the state's governance needs to be improved, as well as the role of the market economy, and the distortions in markets created by both state and national policies.
Governments do not alone influence the economic development of a region, so do its people. This was the subject which interested Prof. Verne A. Dusenbery of Hamline University. His paper "A Case Study of Sikh Diaspora Philanthropy in Punjab" profiled the example of Budh Singh, a resident of Vancouver who founded the Guru Nanak Mission at his hometown of Dhahan-Hoshiarpur. Though most non-residents Punjabis follow the traditional philanthropic areas of financing kabaddi matches, eye camps, gurudwaras and gates in their ancestral towns and villages, Budh Singh undertook a massive social development project which has spurred the economy of his village. Prof. Dusenbery noted that Sikh charitable organizations, especially with transnational collaborations, are hugely unrepresented in the Punjab.
Supreet Kaur, Assistant Professor in the Department of Economics at Columbia University, the discussant for Prof. Dusenbery's paper, noted that "spontaneous, non-planned, and largely unorganized contributions appeared to characterize NRI (non-resident Indian) philanthropy in Punjab". Philanthropic intents usually either offer relief services to affected people (e.g. debt, crop failures, health shock, bore well failures etc.) or undertake proactive developmental initiatives in human capital, improving agricultural sustainability or other venture capital projects with limited interest in profits. The role for the diaspora, suggests Dr. Supreet is to "identify good organizations (domestic or international) and invest actively in institutionalization (start-up costs are huge)". She offers the example of Baba Nanak Education Society working to document and offer relief to families affected by farmer suicides as a model for development in relief services. On the other hand, the Columbia-PAU Tensiometers project is a good example for a developmental project in agricultural sustainability. Another model which should be considered in Punjab is the "cash transfer" model which allows donors to "give directly", such as KIVA.
The first day of the conference ended with a beach side dinner for all the participants. Later in the evening, Professor Gurinder Singh Mann, the holder of the Kundan Kaur Kapany Chair of Sikh and Punjabi Studies at UC Santa Barbara, gave a presentation "Reflections on the Columbia – UC Santa Barbara Punjab Summer Program" reminiscing about the days spent with hundreds of students over 13 years, in the hot and humid summer of the Punjab, learning about and experiencing its history, culture and people.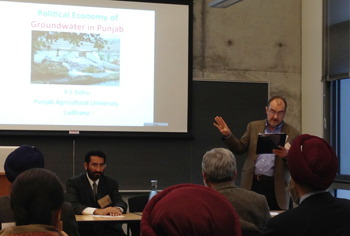 Prof. Rajinder Singh Sidhu & Prof. Ben Crow
On the second day of the conference, Professor Rajinder Singh Sidhu, an economist from the Punjab Agricultural University, Ludhiana presented the paper "Ground water in Punjab – Environmental Challenges". Today the high productivity of wheat and rice in Punjab is comparable to world standards and has allowed the farmers of Punjab to progress tremendously but with serious pitfalls. The alarming decrease in the water table in some areas of Punjab, while the condition of water logging affecting other areas are serious issues which undermine the sustainability of current farming practices in Punjab. The agrarian economy of the state is dependent upon mainly three crops – wheat, rice and cotton. All of these are irrigation intensive. Farming practices have almost done away with, not only crop diversification, but also varietal diversification leading to predominantly mono-culture farming. The way out of these problems can only be realized by adopting a multi pronged strategy of crop diversification, modern farming practices and technology.
The discussant for this paper, Professor Upmanu Lall of Columbia University, joined the discussion via Skype. Prof. Lall announced the shocking truth that "most people in southwest and central Punjab are drinking contaminated shallow water which is nothing but a cocktail of deadly nitrates and phosphates". He further added that "every aspect of the problems facing Punjab's agriculture can be solved, provided the politicians listen and, more importantly, do not stand in the way".
The ensuing discussion to this presentation brought up many interesting observations from the participating audience. The Minimum Support Price of wheat and rice was established by the Indian Government, to address India's food needs. Policies were put in place to ensure increased grain productivity for states like Punjab, western UP and Haryana. Over these decades, these measures have made India self sufficient in food. This has caused a shift in the national priorities and the central government is not wholly dependent on states like Punjab to feed the nation. Hence the central government has little motivation to address the agricultural un-sustainability issues of Punjab by encouraging crop-diversification. This mantle now falls squarely on the State government and it must rise to the challenge. This just might turn the whole debate on its head – making it from a technological challenge to a socio-political one.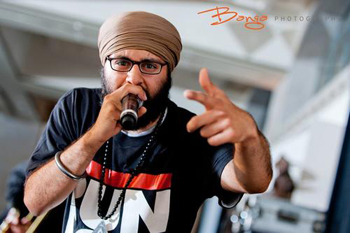 Mandeep Sethi
The presentation by Dr. Inderjit N. Kaur centered on music in Sikh heritage and culture. Dr. Inderjit Kaur's paper "Punjab's Ethical Soundscapes: From Asa ki Var to Dhadi Var and Hip Hop" examined how Sikh kirtan extends the idea of an ethical soundscape, integrating music with an ethical message, and how dhadhi var, as secular music, is also aligned with this concept of ethical soundscape, dealing with issues such as female feticide and women's education, as well as Sikh heritage. In contrast, some modern Punjabi music in the genre of rap is antithetical to this ethos. Dr. Kaur noted how this need not be the case, and that hip hop can have a positive ethical content. This point was illustrated by a demonstration by Mandeep Sethi, one of several young Sikh hip hop artists who have grown up in the Sikh diaspora. Mandeep Sethi rapped about social justice, the universality of such a message, and the need to reach out to young people.
The session featured a lively and important discussion about the role of music and culture in shaping societal norms, and the impacts of global capitalism and market pressures on the nature of music that is produced. Dr. Kaur, in the discussion, re-emphasized the importance of individual choices made in the home, and ultimately the crucial role played by women in shaping the soundscape of the home, for children growing up in Punjab or in the US. This point connected back to the important issues raised in earlier sessions about empowerment of women, gender equality and the need for awareness of these issues. In the discussion, Dr. Kaur also re-emphasized the role of traditional forms of music, including dhadhi var and shabad kirtan, alongside newer genres, in influencing and shaping ethics and moral values.
All of the well researched presentations stimulated a vigorous debate and comments from the audience. The question "Why should we care about Punjab?" was very profoundly answered by Prabjot Singh, a young entrepreneur and social activists. He said, "Our immigrant community in the US is continuously increasing with people emigrating from Punjab". This, he said, "is an ongoing process and they bring with them their cultural, social and religious beliefs impacting the Sikh community here in the US as well". If our parent's house is on fire, should we just sit back and watch the flames come fast to our house? This is a reality that we must all think deeply about.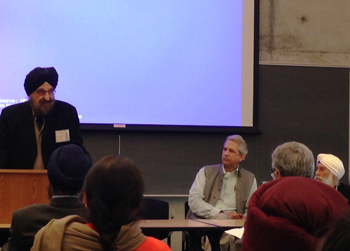 Dr. N.S Kapany, Michael Singh & Dr. Inder Mohan Singh
Day two of the conference came to a close with the remarks by a panel of distinguished community members.
Dr. Narinder Singh Kapany, eminent scientist, entrepreneur and philanthropist suggested that to overcome the monumental problems facing Punjab, one should formulate five panels of experts in each of the five areas: agriculture, education, finance, industrialization and arts. Proven experts from abroad and Punjab should focus for a 5 to 10 year period on intensive efforts to overcome these issues.
Film producer, Michael Singh, encouraged the audience to work towards "changing people's hearts and minds" by investing in the arts. He pointed out the Sikh community's disinterest in encouraging arts activity by recounting his own discouraging experience in the process of raising funds for his film "Riding the Tiger" based on his personal experiences of the 1984 Sikh massacres in Delhi. He showed a clip from his current film project on diaspora philanthropy in Punjab.
Dr. Inder Mohan Singh, another successful entrepreneur from the Bay Area, closed the panel discussion for the day. The two days of intense conversations and presentations drew to a close with an intention to meet again and discuss progress made in these areas.
Dr. Harpreet Singh of Harvard University summed up his impressions about the conference saying, "The UCSC conference in Santa Cruz was a wonderful interdisciplinary gathering of humanists and social scientists to grapple with contemporary problems facing the Punjab. It was a productive meeting largely because academics and concerned individuals from the United States were able to engage in a dialogue with scholars from the region who possess a wealth of knowledge about local conditions. Hopefully, this dialogue will translate into collaboration on specific projects in the near future."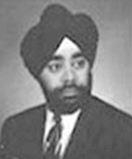 Sarbjit Singh Aurora
The individual papers presented by the scholars will be made available on the UCSC website soon.
The Sarbjit Singh Aurora Endowed Chair in Sikh and Punjabi Studies, endowed by Hardit and Harbhajan Kaur Singh, in memory of their son Sarbjit Singh Aurora, supports research and teaching in Sikh and Punjabi studies at the University of California-Santa Cruz, from a multicultural and global perspective.
The next academic conference we are looking forward to is at UC Riverside "Dialogues with/in Sikh Studies: Texts, Practices and Performances" on May 10-12, 2013.
As a community member, if you have any comments or suggestions on areas which you think the Sikh Studies program at the various universities should address, do leave your comments below.