American Academy of Religion fosters Sikh Studies
By: Pummy Dhanjal-Sehmbey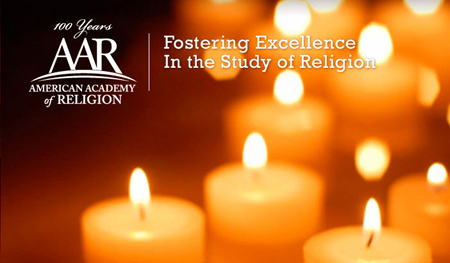 The American Academy of Religion (AAR) works with a mission to promote "continual reflection upon and understanding of religious traditions, issues, questions, and values through excellence in scholarship and teaching in the field of religion". The 2012 AAR Annual Meeting held in Chicago this November included a Sikh Studies Group session organized by co-chairs Professors Nikky Guninder K. Singh and Mike Hawley and was presided over by Prof. Louis Fenech of the University of Northern Iowa. After the panel on Sikh(ism) in Context(s): Text, Transnationalism, Sikh Dharma, and Film, a dozen of the participants including professors and students of Sikhism from across the United States continued their engaging conversations over lunch.
Dr. Nikky Singh is the Chair and Crawford Family Professor of Religious Studies at Colby College in Maine, USA. Dr. Singh has published extensively in the field of Sikhism and lectures internationally. Her books include Of Sacred and Secular Desire: An Anthology of Lyrical Writings from the Punjab (IB Tauris 2012), Sikhism: An Introduction (I.B. Tauris, 2011), Cosmic Symphony (Sahitya Akademy, 2008), The Birth of the Khalsa (SUNY, 2005), Feminine Principle in the SikhVision of the Transcendent (Cambridge, 1993), Name of My Beloved: Verses of the Sikh Gurus (1995; 2001), and Metaphysics and Physics of the Guru Granth Sahib (1981).
Dr. Michael Hawley has been a distinguished instructor for the Department of Humanities at Mount Royal University in Alberta, Canada since 1998. Professor Nikky Singh acknowledges Michael Hawley's important role in establishing a distinct space for Sikhism at the American Academy of Religion. Dr. Hawley's recent research project focuses on the emerging area of Sikh Studies. He is currently working on a project that will "identify and document the history of the Sikh communities in Calgary, Alberta and recognize contemporary issues facing the Calgary Sikh communities". Dr. Hawley has published books about Sikhs and the Sikh Diaspora. He has also taught a course about Sikh Women in the Colonial Period. Dr. Hawley presented "Sikh Philosophy" at the conference New Directions in Sikh and Punjabi Studies at University of California, Santa Cruz in November.
The AAR session included highlights of various academic papers presenting the Sikh experience from diverse perspectives. A condensed abstract of each paper follows its title:
"Gora Sikhs at the Golden Temple: Understanding 3HO's First Shift Toward Sikhism" was presented by Philip Deslippe from the University of California, Santa Barbara. This paper examines the important and primary shift towards Sikhism in the history of 3HO (Healthy, Happy, Holy Organization): a three-month trip taken to India by Yogi Bhajan (Harbhajan Singh Puri) and approximately eighty of his students during late 1970 and early 1971, that culminated in a visit to the Golden Temple. Yogi Bhajan's Western Sikhs refer to this event as "The Birth of the Khalsa in the West."
"Representations of Sikhs in Indian Popular Culture" was presented by Geetanjali Singh Chanda from Yale University. This paper explores the construction of the Sikh identity at home and abroad through various forms of public culture but mainly focusing on films. It investigates the role of religious identities in three specific arenas: national belonging, diaspora affiliations and gender relations. Public culture plays a significant role in challenging, reinstating and shaping perspectives of the 'other' but it also clears a space for dialogue where diverse religious identities can be respectfully accepted. In post 1984 India and post 9/11 America, Sikhs have had to negotiate their place in their homelands.
"The Practice of Sikhism in 'Everyday' Life?: Exploring 'Lived Religion' Approaches to Sikh Studies" was presented by Charles Townsend from University of California, Riverside. Due to Sikh studies emerging predominantly from the work of historians, textualists, and south asianists, most of the foundational scholarly literature in Sikh studies has focused on the study of Sikh history, texts, and 'doctrines', and relatively less attention has been given to Sikh practices or Sikhism as a living religion. The author discusses how a 'lived religion' approach informs his ethnographic research among American Sikhs methodologically and theoretically. In particular, this research on Sikh practices and performances of sacred music (kirtan) adopts from 'lived religion' approaches: a focused awareness on the 'everyday' practice of religion; attention to 'religions' as always 'local' and non-static; and Orsi's framing of 'lived religion' as a 'third way' between radically 'secular' and 'confessional' approaches to studying religion. The author proposes broader ways that lived religion approaches can foster new ways of thinking about Sikhism and Sikh studies.
"Who Can Fathom the Wiles of Women? The Text and Contexts of the Charitropakhyan" was presented by Pawan Deep K. Rehill from the University of California, Santa Barbara. Completed in 1696 at Guru Gobind Singh's court in Anandpur, the Charitropakhyan is a remarkable literary achievement that has been an important part of Sikh worship and ritual. Textual evidence from the Charitropakhyan indicates that it is primarily an anthology of triya charitra, which is an idiomatic expression that conceptually links 'femaleness' with cunning, hypercompetence and excessive sexual desire. After demonstrating the persistence of similar discourses across South Asian religious literatures, this paper contextualizes the production of triya charitra discourse in the Anandpur court. Intertextual clues in contemporary rahit texts suggest that the Charitropakhyan informed the support for widow remarriage in the Param Marag Granth. Furthermore, since the Charitropakhyan encodes a vast range of worldly knowledge it reflects a pedagogical imperative beyond moral edification alone, as is suggested in the Mahima Prakash. Such knowledge would have been expedient for actualizing "Raj Karega Khalsa."
Upon completion of the AAR session, Professors Nikky Singh and Mike Hawley – invited the gathering to join them for lunch at a restaurant hosted by the Sikh Foundation. Most of the panelists and several members in the audience walked over to the restaurant and engaged in inspirational conversation. Professor Nikky Singh wonderfully organized and promoted the luncheon. As Professor Hawley says, "it is over a shared meal that relationships are built, associations made, and (scholarly) friendships are fostered". The luncheon hosted by The Sikh Foundation at this year's AAR Annual Meeting provided an opportunity for professors and scholars of Sikh Studies from across the United States to do just that by participating in this enriching experience.
For more information about the AAR please visit http://www.aarweb.org/