Lecture by Dr. Rahuldeep Singh at GTU Berkeley on Nov.2, 2016
Sikh Studies Continues to Expand, Courses on Sikhism to be Offered at GTU Berkeley
The Sikh Foundation is proud to announce that the Graduate Theology Union in Berkeley, California will be offering two courses focusing on Sikhs and Sikhism. The course titles are "Sikhism" and "A Seminar on Religious Pluralisms in the Punjab". A preview lecture of the courses will be giving by the visiting professor, Dr. Rahuldeep Singh, on November 2, 2016 at the GTU library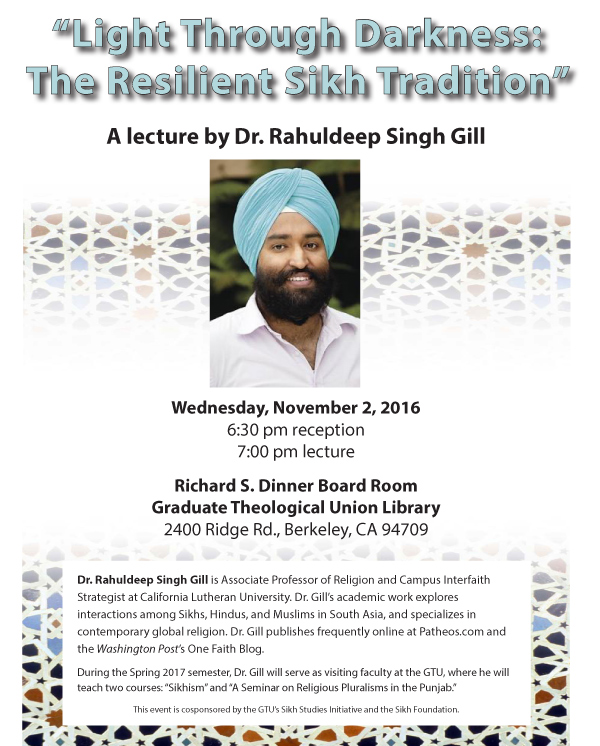 Click image for PDF you can save of the flyer
Dr. Rahuldeep Singh is an Associate Professor of Religion at California Lutheran University who specializes in Sikh literature, investigating how Sikh writers have helped to define communal identity over the centuries. He is interested in the relationships between Sikhs, Hindus, and Muslims and has studied Punjabi, Hindi, Urdu, Sanskrit, Persian and German languages. He did undergraduate work, with honors, in religion and politics at the University of Rochester and earned a doctorate in Religious Studies from the University of California, Santa Barbara.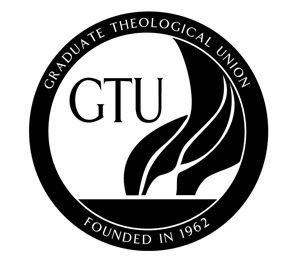 Graduate Theological Union
What is the Graduate Theological Union?
"The Graduate Theological Union is an ecumenical and interreligious crossroads, building bridges among Christian denominations and other faith traditions, and dedicated to educating students for teaching, research, ministry, and service. [They] seek to achieve [this] mission in two ways: as a graduate school offering academic programs in a wide range of fields in theology and religious studies, and as the largest partnership of seminaries and graduate schools in the United States. The GTU flourishes as a haven for interdisciplinary religious thought, study, and practice, making a tangible difference for the greatest good – and serving as the place where religion meets the world." (www.gtu.edu/about)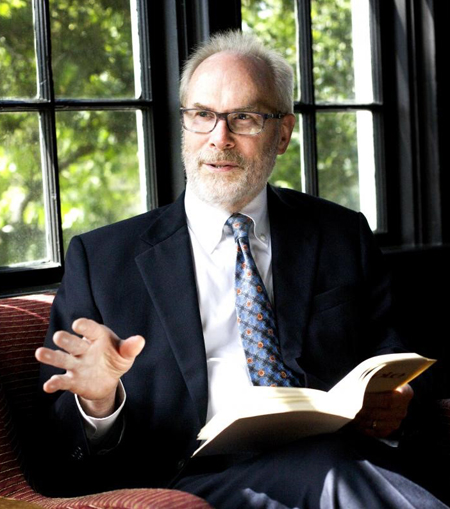 President of GTU, Riess Potterveld Photo Credit: www.gtu.edu
The offering of these courses are a major step forward in the continued growth of Sikh academics across the world. With the GTU's close ties and proximity to UC Berkeley and other Bay Area academic institutions, it offers a great opportunity to educate a diverse group of individuals about Sikhism. Moreover, these courses are a unique opportunity for fellow Sikhs to learn more about their culture and religion in an academic setting.
Sikh Studies is expanding. The Graduate Theological Union is opening news doors of academic study and research, and it is a great honor for the Sikh Foundation to be a co-sponsor in these advancements.
On Wednesday, November 2, 2016 Dr. Rahuldeep Singh with be giving a lecture titled "Light Through Darkness: The Resilient Sikh Tradition" at the Richard S. Dinner Board Room in the Graduate Theological Union Library. This lecture will provide a small preview of what will be taught in his courses in the Spring of 2017. Additionally, this lecture will give you any opportunity to meet with the Dr. Singh and ask him any questions you may have about these courses or his research.
All are welcomed to attend this lecture. Please do come to support this program and gain new knowledge about the Sikh Tradition.