My Impressions of the UCSC Conference by Dr. Baltej Singh Mann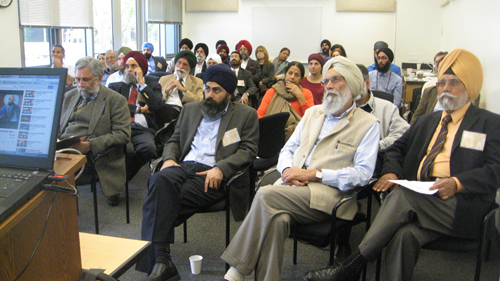 I had the opportunity to attend an international seminar where prominent scholars from Punjab, England and the United States got together to explore the complex relations between the Sikh community and its real and imagined homeland focusing on history, diaspora, politics, economics, environment and culture in Punjab. The UC Santa Cruz Sarbjit Singh Aurora Chair in Sikh and Punjabi Studies organized the conference titled (Re-)Building Punjab: Political Economy, Society and Values on its campus on March 29-30.
Sir Anthony Eden, who was the Prime-Minister of Britain in the mid-fifties, said there were three types of reformers – revolutionaries, anarchists, and idealists. Revolutionaries say 'no' to the existing order and want another; anarchists say 'no' to any type of order; and idealists judge, or imagine they do, in terms of an eternal order. The impressions that I am going to make are related to the last category and are as follows:
I have always believed that Punjab is not only a state in the nation of India but also a homeland for the Sikhs. Historically speaking, with the elimination of caste factor in the sphere of economics, the Sikh society experienced an unparalleled outburst of energy. The Sikhs were the first to reach foreign lands after the annexation of Punjab by the British in 1849. They first went to China and Malaysia and then to North America. The first gurdwaras to be built in foreign countries were in Bangkok and Singapore. The photographs displayed in an exhibition on 'Early Asian Arrivals in the United States' held at the University of California in Los Angeles in 1984 showed that the first Indian immigrants to that country were all Sikhs. The population of Sikhs among the settlers in the Canal Colonies of Lyallpur and Montgomery (now in Pakistan) was about 19 per cent but they were allotted over 70 per cent of agricultural wasteland that they transformed into a granary within a short time. The population of Sikhs in the erstwhile British India was less than 1 per cent. However, their representation in the Armed Forces that required grit, qualities of hard work and discipline besides ability to work under pressure and readiness to mix regardless of caste, creed and ethnicity was until recently almost 20 per cent.
A question that looms large for all well-intentioned Sikhs across the globe is, "Why is Punjab in a relative state of decline in the face of economically resurgent India"? In this backdrop, this groundbreaking seminar provided an interdisciplinary forum to the scholars to brainstorm as how to rebuild Punjab and bring back its past glory. Individual sessions were planned with due diligence e.g. historical roots of Punjab's contemporary society, the state of its politics and political culture, possibilities of economic improvement, challenges of environmental degradation, the role of diaspora philanthropy and ways in which Punjab's situation is expressed in and shaped by music and film as forms of cultural production.
Now, I would like to present a gist of ideas emerging out of the presentations by the scholars and discussants and the subsequent discussion during the seminar:
• It was rightly demonstrated in the beginning of the seminar that Sikh values in the development of Punjab society have been playing a critical role in different historical periods. However we have to find relevance of these values in the process of rebuilding Punjab in modern times. I believe that when established cultures and civilizations undergo a radical change, they generate debris of conflicts, tensions and problems which can be grasped, conceptualized and overcome only with the help of the teachings of the great Masters. Guru Nanak's repudiation of the doctrine that 'religion and economic interests are two separate and coordinate kingdoms' and reiteration of his philosophy that the economic environment within which individuals function must have a scale of values derived from theology which can moderate the unbounded desire for pecuniary gain in a materialistic civilization. The process of development, therefore, must take cognizance of the traditional cultural values which people of Punjab regard as immutable. Economic development is normally related to a region or a country and not to the people professing a particular faith. However, historical researches by scholars like Max Weber and R.H. Tawney clearly shows that not only religion influences man's outlook on society to a degree which today it would be difficult to appreciate, social and economic changes also act powerfully on religion.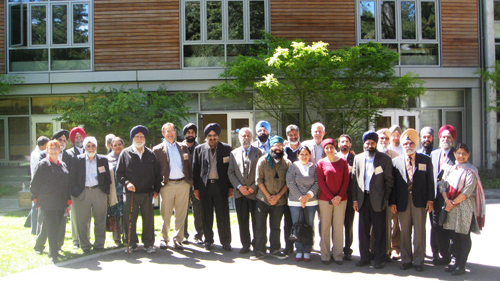 • A unique contribution of the seminar, in my view, is holding an independent session on 'Punjab's Ethical Soundscapes: From Asa ki Var to Dhadi Var and Hip Hop' which depicted Punjab's rich heritage of music where song was the original medium of expression of Sikhism. The scholar invoked Canadian composer Murray Schafer's conceptualization of "soundscapes", and anthropologist Charles Hirschkind's related idea of "ethical soundscapes" to comprehend the role and evolution of music in Sikh and Punjabi society from Asa ki Var to Dhadi Var and Hip Hop. A live presentation by the Hip Hop Artist showcased as to how the Hip Hop culture is popular among the youths nowadays.
• Equal focus was on development agenda that included improvement in the system's governance. This is especially called for, as with increasing localization and liberalization the Center is likely to have fewer control possibilities. It was noticed that the private sector of the economy has been diverting resources from all over the country for development of industry in the particular states of Maharashtra, Tamil Nadu, West Bengal and Gujarat along with the industrial belt around Delhi. Data related to the credit-deposit ratio in the banking sector show that Punjab with a credit-deposit ratio of about 40-45 per cent has been a major loser in this process.
• It was noted that the state and the market economy complement each other. For all round development of the Punjab State it is necessary that the State maintain its presence beyond mere regulation of the system. The marriage of public and private partnership for overall development was envisaged. In view of ubiquitous evidence that growth does not trickle down, the distributional aspect cannot be left over to the market economy dynamics. Free economic modeling must yield place to a framework in which the development enterprise becomes socially inclusive.
• After listening to the scholars, a thought that is worrying me at the moment is whether the system of governance, which could not deliver in Punjab, will be in a position to oversee effectively the process of change towards a new social order. The process of the reconstruction of the society goes well beyond the realm of economics and into politics and sociology, so that developmental concerns can be addressed in a holistic way. It presupposes the existence of strong leadership that places itself at the service of the nation rather than the nation at its service and enduring stability so that it may be possible to take hard decisions. But unfortunately our flawed electoral politics is not helping us in any way. It was reflected in the discussion that more than six decades after independence, the levers of State power are still in the hands of those who function in the interest of a few in spite of frequently elected democratic governments at the Centre and in the States. Professor Kenneth Boulding's observation, "On the whole, the historical record is that those in power tend to stay in power", seems to have much force.
• The role of diaspora communities in development strategies, poverty reduction and economic growth has attracted considerable policy interest across the globe in recent years. The analysis of a case study of Budh Singh's project 'Guru Nanak Mission Medical & Educational Trust' in Punjab by a scholar illustrated the ways in which diasporas have been actively involved in development efforts, often of their own accord. His experience at the Trust reflects continuing challenges facing Sikh diaspora philanthropy in Punjab (i.e., in developing and sustaining effective charitable organizations and in reconciling different development priorities, management styles, and cultural values of variously positioned stakeholders). It is evident that the government or development actors failed to best engage with diasporas in Punjab despite their substantial contribution in the form of remittances and otherwise.
• The scholars unanimously stressed the need for preserving the groundwater resources in Punjab. It can be achieved by adopting a pragmatic shift in policy stance away from free power to energy and protection of rice crop to promote crop diversification, and scaling up of water saving technologies and practices such as direct seeding of rice, scheduling of irrigation with tensiometer, laser leveling of fields.
• In conclusion, it was felt that passionate efforts should be made to rebuild Punjab through the efforts of academia, well-wishers, policy makers, diaspora communities, and political and religious leadership. A clarion call to the academia and diaspora scholars by Dr. Narinder Singh Kapany to forge working groups to envision rebuilding Punjab aroused emotional feelings. I think that philanthropists like Dr. Kapany should take the lead to build bridges across the multiple institutions responsible for Punjab's rebuilding. The need was also felt to achieve excellence in the dissemination of value-based education which raises the quality of human capital and shapes work ethics.
• Last but not least, it was also noted with admiration that the Columbia/UC Santa Barbara Punjab Summer Program provided a unique opportunity for hundreds of students, teachers and scholars interested in Sikh and Punjab Studies from all over the world to visit Punjab – birthplace of the Sikh religion.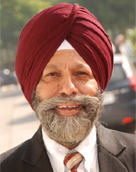 Dr. Baltej Singh Mann
My thanks to Prof. Nirvikar Singh and Dr. Inderjit Kaur of UCSC for having afforded me an opportunity to be part of the mega seminar. My special thanks to 'The Sikh Foundation' for inviting me to write impressions.
Dr. Baltej Singh Mann, is the Chair Professor at Punjabi University's Sri Guru Tegh Bahadur National Integration Chair. He is also the Visiting Professor at the San Jose State University in California (USA) for Global and Diaspora Studies.
Dr. Baltej S. Mann, Ph.D.
Visiting Professor, SVCGS College of International and Extended Studies
San Jose State University
San Jose, CA 95192
Phone- 408-219-9894 /Mobile
mannbs2001@gmail.com