Sikh Foundation Partners with Graduate Theological Union – Berkeley to Teach Sikhism
The Sikh Foundation is proud to announce its latest Sikh Studies initiative with the signing of the agreement with the Graduate Theological Union (GTU). Under this agreement, GTU-Berkeley will begin teaching courses in Sikh Studies, as early as this fall. Dr. Rahuldeep Singh Gill, Associate Professor of Religion at California Lutheran University, has been appointed as a visiting professor at the GTU.
We, as a community, are excited at the new possibilities that such partnerships bring forth for our youth and future generations. We are also delighted that our heritage and traditions will now be represented amongst the world's major religions at an institute with the highest standards as the GTU.
– GTU has released a Press Release on this occasion, Click Here to Read
On smaller media devices you will need to Click Here to download the PDF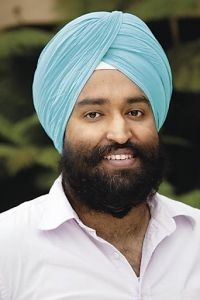 We posed a few important questions to Dr. Gill, who is the youngest Sikh Studies professor in the US, to understand what his personal goals are and how he plans to make a success of this unique opportunity.
Q. Why is it important to have Sikhism represented at GTU?
Dr. Rahuldeep Singh Gill (RSG):
The Graduate Theological Union is at the forefront of interreligious education at the graduate level, and its administration seeks to represent the diversity of the world's religious traditions. If Sikhs don't work to include our tradition here, we will either be left out of the conversation or, even worse, cede ground for others to speak on our behalf.
Conversely, participating in this private consortium of religious institutions in one of the world's great intellectual hubs (Berkeley, Calif.) extends a unique opportunity to the community.
Thanks to the Sikh Foundation's leadership, we have a three-year partnership with the GTU during which we are excited to launch the first courses in Sikh religion to be taught at this institution.
Q. What are your goals while working at GTU?
RSG: At the GTU we can certainly train graduate students in Sikh history, texts and culture at the Masters and Doctoral level. We can also train students who will specialize in other traditions to teach Sikh traditions appropriately in their other courses and to interface with the community for the mutual benefit of all. But what we can dream to do here that we cannot do anywhere else is:
• Build programs to help Gurdwaras train Sikh leaders in the west.
• Be a center where members of Gurdwara communities can seek training to take back to their communities.
• Interface with the larger community in ways not yet achieved (e.g., hold conferences and seminars targeted to community education).
• Establish Sikh sewa as a model of interfaith engagement that goes far beyond dialogue to putting our tradition's highest principles into action and gives us a leadership role at the interfaith table.
Q. How do you plan to achieve these goals?
RSG: It's quite simple, really: teach excellent courses that attract bright students, and engage the Sikh community in those courses as well as in other programmatic efforts.
Q. What will be the content of the course you will teach at GTU and how many students do you hope to attract?
RSG: The first course I will teach this Fall is introductory, and entitled Sikh Tradition: A Case Study in Global Religions. This course will have to cover a lot of ground in introducing students to five hundred years of Sikh history and thought, while also embedding students in the experiences of California's Sikhs. Graduate seminars of this sort are intended to attract a small number of students, with the idea being that these students will themselves become educators and faith-leaders who bring their learning to bear on the thousands of people they engage in their still burgeoning careers.
Q. Will there be any specific programs aimed at the broader Sikh community?
RSG: At this early stage in our relationship with GTU, the Sikh Foundation has chosen to focus on courses. A subsequent goal should be to lay the groundwork between members of the Sikh community and the GTU. As part of my courses, I will be leading trips to Gurdwaras, and introducing students to Sikh leaders in the bay.
Q. What kind of support would you like to see from the community?
RSG: I have no doubt that congregations will warmly invite students to visit the Bay's many Gurdwaras. In the long term, the community will have to decide if a permanent investment in GTU is a worthwhile pursuit, and will have to put its considerable resources behind such an endeavor. Having Sikh tradition robustly represented in Berkeley is an institutional goal of the GTU's leadership. Does a permanent home at GTU fire the imagination of Sikhs?
Rahuldeep Singh Gill, Ph.D.
Campus Interfaith Strategist
(California Lutheran University)
rahuldeepgill.com
connect@rahuldeepgill.com