Sikholars 2011 – Walking the Talk
The Ranjit Singh Sabharwal Chair of Sikh and Punjabi Studies with the Jakara Movement is hosting the conference "SIKHOLARS 2011" at the Cal State East Bay, Hayward, from 25th -27th Feb. 2011.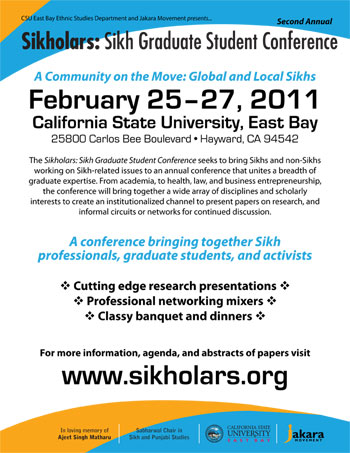 Click to Enlarge
Sikholars is a Sikh Graduate Student Conference, born out of repeated conversations with graduate students about the need for a collaborative effort to bring various expertise together to identify, analyze, and support the needs for research about the Sikh community. The effort is a stellar example of "Walking the Talk". A group of friends from Fresno in Central California attended a Sikh conference in 1999. While the conference was informative it was lacking in youth voices. It would have been easy to just talk about the shortcomings and carry on with their fledging careers and lives. But these friends actually took on the challenge with their collective might, and the Jakara Movement was born. Its founding declaration is "A call to the next generation of Sikhs from all places, backgrounds, and points of view to reflect on our past and prepare for our future". Over this past decade they have continued to mobilize the Sikh youth to take pride and the responsibility of ownership of their Sikh heritage.
The Ranjit Singh Sabharwa Chair is the fourth endowed Sikh Chair, after the Chairs at UC Santa Barbara, UC Riverside and UC Santa Cruz, established by the Sikh Foundation with the support of the community. Dr. Jaideep Singh, will be delivering the opening address for the Conference. He has the distinction of teaching the first South Asian American Studies course at CSU East Bay, building momentum towards offering the first Sikh American Studies course in 2011-12. This course would be a landmark for Sikh American Studies in the Bay Area as well the entire country. His future plans and efforts are to include a Punjabi language class, broaden his outreach activities and continue all of his research and teaching responsibilities including working on his second book.
Sikholars 2011 is a grassroots conference run exclusively by students addressing both our social and religious concerns. The purpose differs from many other traditional Sikh camps and conferences. This year it has attracted participation from all over the US and Canada, with over 18 speakers presenting their papers. The subjects covered range from the explorations on the nexus of media and film, to family dynamics along with an inquiry into Sikh sculpture, history, philosophy, diasporic formulations, theology and much more. The day time presentations are complimented by a formal Banquet in the evening. The event promises to be an interesting mix of serious deliberations and festivities.
To register for the event and other information, please visit www.sikholars.org