A Lesson in Business
A Preface to Jasbir Singh Sethi's New Book Titled "Business"
By Brig (Retd) JS Grewal, Sena Medal, PhD (Mgt)

Twentieth Century has brought a sea change in the world. Agriculture based economies have given way to industrialization which has further been refined by ever developing technologies. Alvin Toffler in "Third Wave" brings out how Hunters changed to agriculture based society, which in turn changed to industry. Ten the third wave of technology changed the society. Now I may say that free flow of information and development of infrastructure has brought the world closer as brought out by Thomas L. Friedman in "Earth is Flat". Business and trade has gained importance as professions in contrast to becoming doctors, lawyers and engineers few years ago.
Management studies have gained weight as the realization has dawned that scientifically managed business gives optimum results in contrast to old Marwari and other methods. It has been seen that even homemakers who are MBA qualified do a better job then those who are masters in one subject or the other. Yet business schools donot teach everything, as they are academic orientated. Also those most entrepreneurs do not get opportunity to attend formal education in management. Then there are aspects, which are practically useful but not included in the curriculum as brought out by Mark McCooack in "What they don't teach you at Harvard Business School.
Punjabis are traditionally a martial race to whom business acumen does not come automatically nor is genetic. After all Sikh regiment has the honor of being awarded 27 VC and Two PVCs highest among all regiments. Also though English is quite popular but most people especially in villages prefer Punjabi. At the moment there is hardly any literature available in Punjabi. Today's farmer has lot of money thanks to the blooming real estate sector and green revolution but would like to spend money in showing off or in ego satisfaction rather than investing wisely or establishing business, which would prove profitable.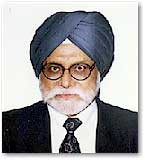 Jasbir Singh Sethi
S. Jasbir Sethi ji, the author has a vast practically experience scanning many decades. Being a veteran, he has retained ethical values, which have helped him to show that business can be managed in an ethical manner; yet making profit and achieving satisfaction. He has addressed the problem in a pragmatic manner by giving all essentials in a nut shell to a lay man who wishes to be an entrepreneur and also to those who are not but would like their investments to grow rather than filter away hard earned money or the money converted by disposing off ancestral properties.
The book covers almost all aspects of business, how to chose what you want to do, then to establish it and then run it successfully. Many armatures just concentrate on only profit ignoring optimum utilization of resources thus following a path of self-destruction. The Author has empathized utilization of human resources, getting the best out of them by establishing a relationship rather than treating them as machines.
The financial resources require to be utilized in a manner that there are no ideal funds, yet there are adequate reserves since a push may be required at critical moment which can make or mar the enterprise.
To succeed, either the product has to be unique which is very rare unless there is some innovation, which is patented, or else the quality and price has to be matched to make it saleable. Thus the art of marketing, creating apool of customers and retaining them has to be mastered. No customer can be treated as small or unimportant because it is not possible to judge the future.
Vision and mission statements
The Author has brought out the importance of these statements. Irrespective of size and nature of business whether service or manufacturing sector, these are very important, as clarity in mind coupled with creativeness and flexibility is key to success. Following case would illustrate the point that no business is small for applying these principles.
"I was waiting in line for a ride at the airport. When a cab pulled up, the first thing I noticed was that the taxi was polished to a bright shine. Smartly dressed in a white shirt, black tie, and freshly pressed black slacks, the cab driver jumped out and rounded the car to open the back passenger door for me.
He handed me a laminated card and said: 'I'm Wasu, your driver. While I'm loading your bags in the trunk I'd like you to read my mission statement.'
Taken aback, I read the card. It said: Wasu's Mission Statement:
To get my customers to their destination in the quickest, safest and cheapest way possible in a friendly environment.
This blew me away. Especially when I noticed that the inside of the cab matched the outside. Spotlessly clean!
As he slid behind the wheel, Wasu said, 'Would you like a cup of coffee? I have a thermos of regular and one of decaf.'
I said jokingly, 'No, I'd prefer a soft drink.'
Wasu smiled and said, 'No problem. I have a cooler up front with regular and Diet Coke, lassi, water and orange juice.'
Almost stuttering, I said, 'I'll take a Lassi.'
Handing me my drink, Wasu said, 'If you'd like something to read, I have The Hindu, Times of India, ET and India Today.'
As they were pulling away, Wasu handed me another laminated card, 'These are the stations I get and the music they play, if you'd like to listen to the radio.'
And as if that weren't enough, Wasu told me that he had the air conditioning on and asked if the temperature was comfortable for him.
Then he advised me of the best route to my destination for that time of day. He also let me know that he'd be happy to chat and tell me about some of the sights or, if I preferred, to leave me with my own thoughts.
'Tell me, Wasu,' I was amazed and asked him, 'have you always served customers like this?'
Wasu smiled into the rear view mirror. 'No, not always. In fact, it's only been in the last two years. My first five years driving, I spent most of my time complaining like all the rest of the cabbies do. Then I heard about power of choice one day.'
'Power of choice is that you can be a duck or an eagle.'
'If you get up in the morning expecting to have a bad day, you'll rarely disappoint yourself. Stop complaining!'
'Don't be a duck. Be an eagle. Ducks quack and complain. Eagles soar above the crowd.'
'That hit me right,' said Wasu.
'It is about me. I was always quacking and complaining, so I decided to change my attitude and become an eagle. I looked around at the other cabs and their drivers. The cabs were dirty, the drivers were
unfriendly, and the customers were unhappy. So I decided to make some changes. I put in a few at a time. When my customers responded well, I did more.'
'I take it that has paid off for you,' I said.
'It sure has,' Wasu replied. 'My first year as an eagle, I doubled my income from the previous year. This year I'll probably quadruple it. My customers call me for appointments on my cell phone or leave a message on it.'
Wasu made a different choice. He decided to stop quacking like ducks and start soaring like eagles."
Decisions. Right decisions at the right time makes all the difference.For this the enterprenuer should train himself. Aperson is born with IQ, but thinking can be developed and knowledge acquired to make good decisions.
Humility. This is a quality of mind essential for a business man. It is not pity but concern for his employees.
Time management. Every one has 24 hours in a day. How we use them depends on us. An entrepreneur must recognize critical activities and monitor them as well spend time on them instead of getting into minor issues. Lee Iacocca learnt this lesson very early in life which allowed him to let his subordinates do their work instead of interfering with them
Communications. 85% of mistakes occur due to communication problems. One must refine listening habits in order to make best use of talent available.
Creation of stress free atmosphere is a prime responsibility of an entrepreneur. It is amazing that Prime minister to a chaprasi complain of stress as also those who are unemployed! This shows that all stress is inside a person. So manage oneself to remain stress free.
Crisis Management. Essential factor in running a business. Plan ahead to cater for contingencies so that crisis does not occur. Incase it does happen, do damage control instead of finding faults. Later on take remedial measures.
Manage change. This is essential as any institution, which stops growing is bound to die. Process of learning should never end.
In fact the book would not only act as a quick reference for decision making and providing fundamentals to establish and run a good establishment or Single business unit but also be a holy Bible for young entrepreneurs.
Brig (Retd) JS Grewal, Sena Medal, PhD (Mgt)
Ex Director Punjab Business School.