Drinking From Love's Cup Surrender and Sacrifice in the Vars of Bhai Gurdas Bhalla
Edited and translated by Rahuldeep Singh Gill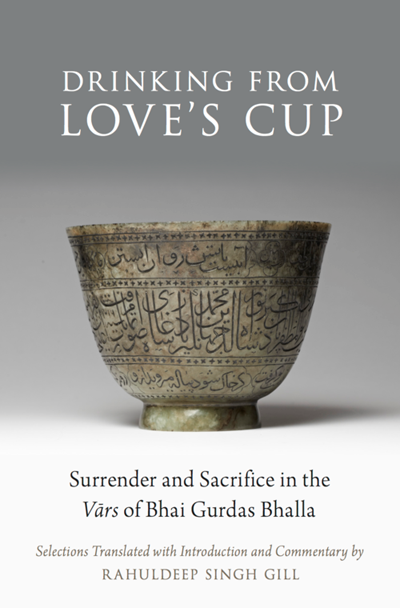 Drinking from Love's Cup translates and put forth new theories on composition and subversive content on poetry done by Bahi Gurdas Bhalla.
Bhai Gurdas Bhalla (d. 1636 CE) is widely considered the most important non-canonical poet in Sikh history, having shaped the theology and ethics of the tradition for centuries. His poems, which offer an authoritative illustration of Sikh life in the early seventeenth century, defined Sikh identity during a tumultuous period of upheaval. In Drinking from Love's Cup, Rahuldeep Gill brings together for the first time a collection of the revered poet's early work, masterfully translated into English, alongside the original Punjabi text.
The magic of Gurdas's poetry, says Gill, is the fusion of Islamicate narrative with Indian heroic literature to speak about death, martyrdom, and the spirit's absolution in love. Gill challenges the traditional scholarship surrounding the dates of Gurdas's writing, suggesting that Gurdas wrote his poetry to console the Sikh community when it was in mourning over the execution of the fifth of the Sikh founders, Guru Arjan (d.1606), by agents of the Mughal Empire. Gurdas in his verses immortalized the fifth Guru's role as a martyr and encouraged the faithful to stay involved in the community, resist hegemony, and reinforce Sikh beliefs during the sectarian upheaval. Rhythmic, elegant, and lucid, the poems weave Sikh scripture into the lyrical fabric of Sikh spirituality. Gill brings a contemporary flair to Gurdas's moving stanzas and in his commentary unearths fresh insights about his life and context.
This book has received praise from academics across the world.
Dr. Nirvikar Singh, Professor of Economics and Sarbjit Singh Aurora Chair in Sikh and Punjabi Studies at University of California, Santa Cruz states "Rahuldeep Singh Gill has written a very important book. By providing new translations of the major compositions of Bhai Gurdas, a pivotal figure in Sikh history, and complementing these with powerful and convincing interpretations of their message in the full context of the time in which they were written, Gill gives us new insights into the evolution of the Sikh community and its faith. His work will change Sikh Studies."
Anna Bigelow, the author of Sharing the Sacred: Practicing Pluralism in Muslim North India wrote "Gill's exquisite translations and lucid commentary bring to life the work of Bhai Gurdas – a writer often considered second only to the Gurus in the formation of Sikh tradition. Challenging current scholarship while elucidating Gurdas's beautifully precise yet allusive language, Drinking from Love's Cup is an essential read not only for those interested in Sikhism, but also for anyone drawn to the poetry of redemptive suffering and divine justice."
Nikky-Guninder Kaur Singh, Crawford Family Professor of Religious Studies, Colby College explains that "The heroic, spiritual, and romantic ingredients of Love's Cup offer a taste of the rich poetic legacy of the Sikh tradition. Here Gill brings attention to Bhai Gurdas, a vital poet and theologian, whose hand recorded the Sikh sacred text, and yet who remains woefully neglected in the academy. This accessible and provocative introduction to the life and works of Bhai Gurdas is sure to inspire exciting debates and discussions."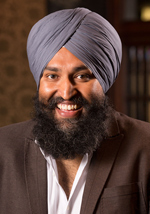 Rahuldeep is an Associate Professor of Religion at California Lutheran University who specializes in Sikh literature, investigating how Sikh writers have helped to define communal identity over the centuries. He is interested in the relationships between Sikhs, Hindus, and Muslims and has studied Punjabi, Hindi, Urdu, Sanskrit, Persian and German languages. He did undergraduate work, with honors, in religion and politics at the University of Rochester and earned a doctorate in Religious Studies from the University of California, Santa Barbara.
To purchase book please click on the link below: