By Vidya Pradhan
"Let me use a sports metaphor," says Pardeep Nagra. "When it comes to issues of human rights, you have to be in the game. If you stay on the sidelines, you're part of the problem."
Nagra, once an Olympic boxing hopeful, shot to prominence when he was denied the opportunity to participate in the Canadian National Championships in 1999 because of his beard, which he could not shave off as a practicing Sikh. It was not an unexpected obstacle. From the time Nagra became a boxer (the gifted athlete switched from soccer while training at the gym to recover from a sports injury) he had been fighting on two levels – in the ring and in the courts.
When Nagra arrived in Vancouver for the nationals, he had already prevailed in the lower courts. But the Canadian Amateur Boxing Association (CABA) used a loophole to prevent him from competing, saying that he had a right to compete in Ontario (where the courts had ruled in his favor) but not in Vancouver. "This made no sense," says Nagra. "Since both Ontario and Vancouver were under the umbrella of the CABA."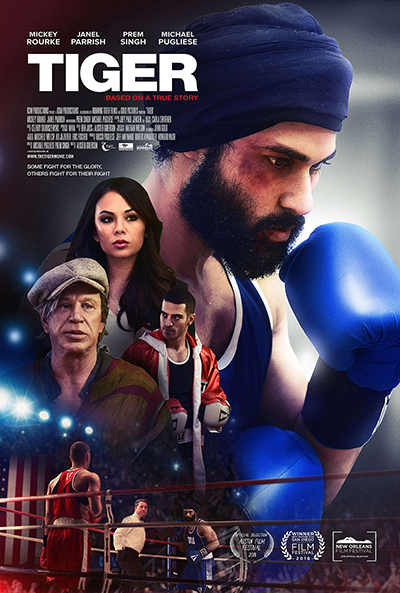 While facial hair has been allowed in professional boxing for a while now, the rule against beards in amateur competition is a longstanding one with unknown origins. "It was strange to see lawyers for the CABA arguing against beards for health and safety reasons," says Nagra, "while they probably watched the bearded Floyd Mayweather box the bearded Conor McGregor in a professional fight not that long ago."
Nagra's struggles to get the CABA to allow beards in boxing motivated Sikh and Muslim boxers in other countries to take up the cause as well. His story is the inspiration for "Tiger," an award-winning film cowritten by Canadian filmmakers Michael Pugliese and Prem Singh who also star in the film.
Singh plays the title role; Pugliese plays Nagra's competitor. Mickey Rourke, who starred in The Wrestler in 2008, plays Nagra's coach; Janel Parrish of Pretty Little Liars plays Nagra's lawyer.
I asked Nagra how he was able to focus on his sport while having to constantly fight for his rights. "You have to be better," he says. "There is higher accountability because you are in the public eye. If I had not been good at my sport, people would have wondered what the fuss was all about." He adds, "The other reality is that I never knew when the courts would make their decisions or what that decision would be, so I just had to keep staying focused on my sport."
The CABA eventually agreed to let amateur Canadian boxers compete with beards, but the decision came too late for Nagra. He continued to box for a few years, but began to focus more on getting those rights for the athletes who came after him. Today amateur boxers in Canada and the UK are allowed to keep their facial hair. There has been intense lobbying for the International Amateur Boxing Association to change its rules as well, with a decision expected any day now.
Did Nagra ever feel demoralized that he was not able to compete? "No, not at all. Human rights have never, ever been arbitrarily handed over; they take decades, centuries, battles, and lives. Being demoralized is not going to solve the problem." Despite the success of his efforts to make boxing more inclusive for people wanting to keep a beard for religious or health reasons, Nagra acknowledges that there is much more work to be done.
"In the last 20 years, technology has made it possible for hatred to be disseminated at a rate never seen before," he says. "Where once hateful things were said face-to-face, now the ease and anonymity of social media have given hate a megaphone."
"And hate is easy," he adds. "It doesn't require any energy. To fight against hate, that takes energy, it takes work."
When Nagra was approached for Tiger, he agreed to help without even looking at the script. "The story is about me, yet it is not just about me. It is a vehicle for the right to diversity and equality. I want people to know that it is Canadian to wear a turban. To have a Sikh actor play the lead role of a Sikh character in a mainstream movie, that is very special."
Nagra continues his fight as a member of the Board of Directors of the Canadian Museum for Human Rights. He is a passionate advocate for diversity in various Canadian institutions and Executive Director for the Sikh Heritage Museum of Canada. But today, his focus is Tiger, which won Best Feature Film at the San Diego Film Festival. "Tiger is both a vehicle and tool to showcase to America a new screen identity and celebrate representation," he says. "And I need you to watch it!"
Tiger releases on November 30, 2018 at select theaters in Toronto, Vancouver, New York and Los Angeles. Locations can be found here http://pardeep.ca/portfolio/tiger/