By Vidya Pradhan
On Baisakhi day this year, April 14, 2018, it was not just the prospect of a thrilling UFC fight between Canada's Arjan Bhullar and Poland's Adam Wieczorek at the Glendale Gila River Arena that was the highlight for the enthusiastic audience. Rather, it was the sight of Bhullar entering the fight octagon proudly wearing the dastar (turban). Bhullar had waged a campaign of education and outreach to UFC officials ever since his debut fight in September when they had turned down his request.
To understand why wearing the turban prominently and publicly is so important to Bhullar, it is necessary to go back to his ancestors' struggle in their adopted Canadian homeland. "My baba (grandfather) arrived in Canada looking for a better opportunity for his family and settled in Vancouver in 1959," says Bhullar. "He brought my father and other members over in 1971." The children, enrolled in local public schools, had to deal with overt racism, often of the physical kind. "My father took up wrestling as a way to protect himself and his family. He is my role model." Bhullar's father, Avtar Bhullar, ended up being very successful at his chosen sport and travelling all over the world. Bhullar's mother joined Air Canada as a way of accompanying her husband to his matches, a perk that continues to benefit her son!
As the extended family became financially successful, they bought a farm and created an akhaada (gym) in the backyard. This akhaada became the de facto community gathering place where the youngsters practiced their sports and the adults discussed pressing issues, prominent among them the need to assimilate and engage better with the local community. This was the environment in which young Arjan grew up, imbibing both the wisdom of wrestling from the experience of previous generations and the pride in Sikhism from watching his elders deal with the challenges of being strangers in a strange land with the strength of their beliefs.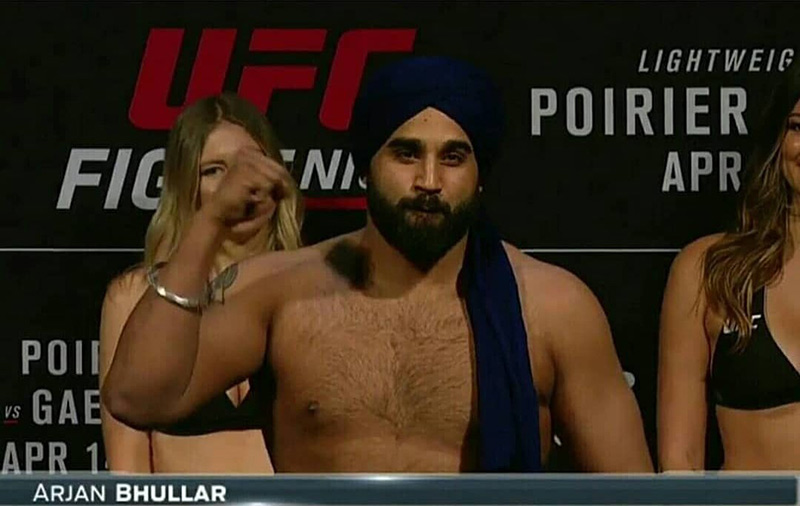 Financial success also freed Arjan Bhullar to pursue a career in sports and he went on to win a gold medal in wrestling in the Commonwealth games and representing Canada in the Olympic Games – the first Sikh to do so in his sport. "But everywhere I went I would look for the Sikh footprint, seeking out my community and looking for a gurdwara (Sikh temple) to visit." He always wore his turban at the opening ceremonies and wore his kada (steel bracelet) wherever possible. Bhullar is intensely proud of his Sikhism and waxes eloquent when talking about it. "It is a tolerant faith that both promotes peace and equality and fights injustice," he says. "I want to be an ambassador for my faith. I want people to understand my culture and my people."
When Bhullar was approached by UFC (Ultimate Fighting Championship), an organization that arranges fights in a style called mixed martial arts, he jumped at the opportunity. "I felt it would be a bigger platform for my message." He had to learn many new rules and styles of fighting but was heartened by the fact that many UFC fighters are former wrestlers. He contacted the best trainers in the business to help him and he was delighted to connect with the Sohal family in San Jose, who happen to be deeply involved with the local gurdwaras, while training here in the Bay Area.
"My hope is that through my platform I can help people understand what my people stand for, our belief system. I want people to not be afraid of the turban," says Bhullar. He adds, "We Sikhs have a long history of standing up to injustice and standing for freedom. Now that our community has achieved success in other spheres, it is time for us to invest in engaging with the wider community. I want to channel the warrior spirit of the Sikhs in this endeavor. "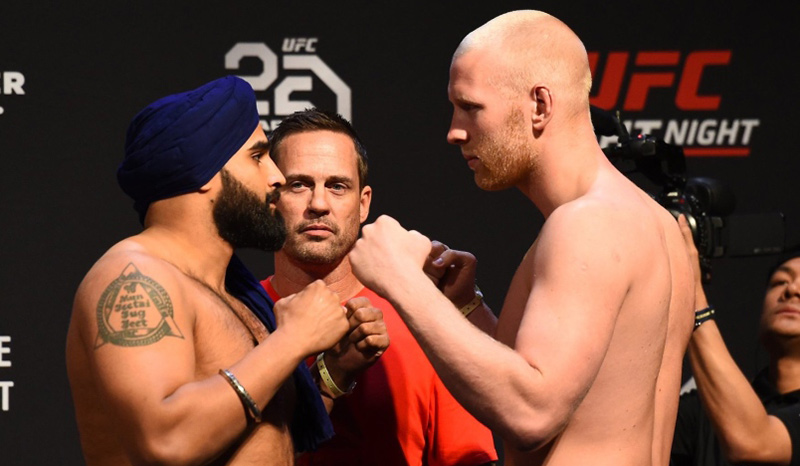 In the Bay Area, Bhullar has found the perfect partner in the Sikh Foundation, a non-profit organization founded by Dr. Narinder Singh Kapany that shares his vision of promoting the ideals, wisdom, and philosophy of Sikhism to new generations and new audiences. "The Sikh Foundation is a phenomenal organization," says Bhullar. "It is perfectly located in the heart of industry for this new century to be able to effect change. I am amazed and impressed by the work they do and would like to support them in whatever way possible."
Bhullar recently became the father of a beautiful baby girl. Would he support her if she decided to take up wrestling in the future? "Left to me, I would not like for her to enter this sport," he laughs. "But it would be entirely her decision," he adds. "Sikhism was created with respect and equality between the sexes. We may have lost it somewhat along the way, but we are getting those core values back."
Bhullar ended up losing that match at Glendale Arena on Baisakhi. "It was tough, because it was my first loss. I guess I got complacent and did not respect my opponent. I won't make that same mistake again," he says. He looks forward to his next fight sometime in August and hopes to continue to be one of his community's voices, spreading his faith's message of peace, justice, and equality through his actions on and off the octagon.