Written by Ashveer Pal Singh
From Bangkok to Birmingham to Bhatinda, people around the world are commemorating the 550th birth anniversary of a beloved saint, scholar, and poet from the South Asian region of Punjab: Baba Nanak. While he is the founder of the Sikh faith, many religious traditions and communities of South Asia draw strength, inspiration, and solace from Baba Nanak's writings and life stories which emphasize equality, shared humanity, and the importance of cultivating one's everyday appreciation of the divine. To celebrate and share Baba Nanak with the wider community the Sikh Foundation has partnered with the Triton Museum and the City of Santa Clara to showcase the works of six artists whose work engages with the teachings and message of Guru Nanak in the exhibit: Expressions of Divinity. The exhibit runs from August 31st to November 3rd, 2019.
A core aspect of the Sikh Foundation's 50 year history has been to display and celebrate Sikh art as a critical part of Sikh culture, and to share the contributions of Sikh artists with the public for appreciation and contemplation. Keerat Kaur, a Canadian artist featured in the exhibit, draws inspiration from the imagery in Guru Nanak's writings to connect his teachings to our contemporary lives. "He is one of my favorite people," she remarks. "Our culture is rich in imagery and poetics, and visuals are a strong way to communicate and celebrate Nanak's teachings and vision. I work to visually produce our ancient treasures." Keerat Kaur, who spent some of her formative artistic years in the royal Punjabi city of Patiala, has generated a mystical self-taught aesthetic that highlights Baba Nanak's lyrical appreciation of nature. One gets easily lost in the intricacy of Kaur's work, juxtaposing verses from Nanak's writings with celestial, animal, and human figures.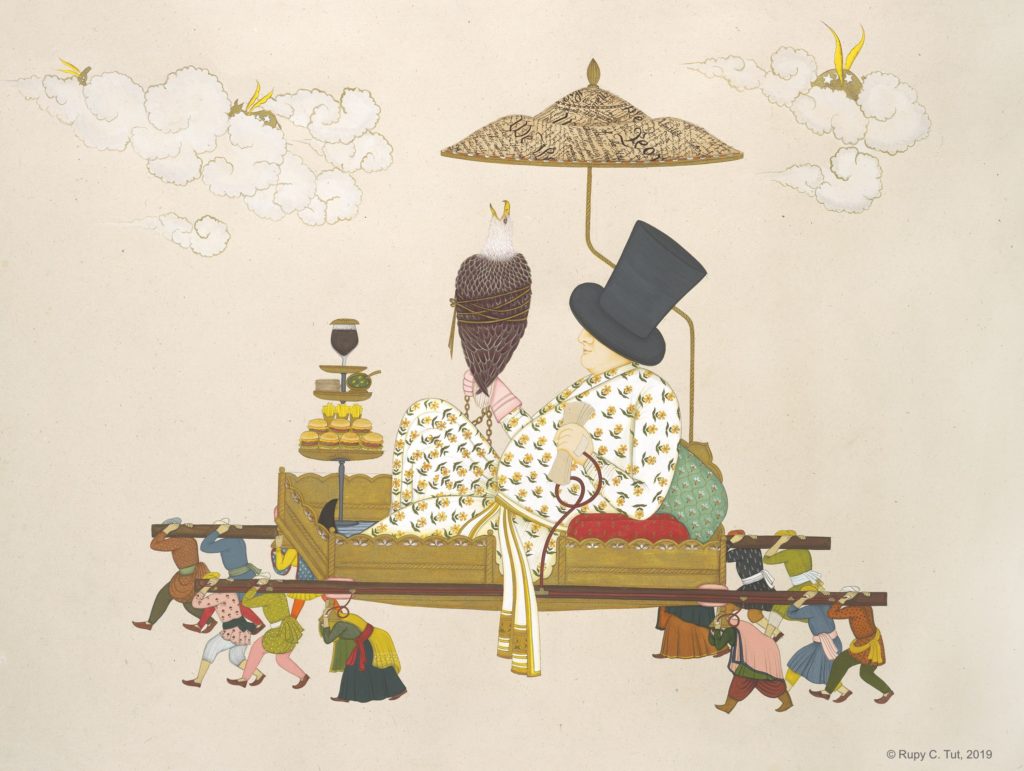 Working out of the Bay Area, contributing artist Rupy C. Tut's vision contributions to the exhibit explore themes of loss, identity, and community in the face of adversity. "The works are a meditation on my core values as a Sikh, which Guru Nanak is very much a part of. Additionally, they are an expansion on investigating my own community's experience as well as forming a bridge to other communities who have seen hardship," she notes. The exhibit's place in Silicon Valley is important to Tut, who, like many of Baba Nanak's devotees, is steeped both in the homes she physically lives in, and the home of Nanak, the Punjab.  Blending traditional art forms from South Asia, engaging with her spiritual process, while simultaneously exploring the political upheavals that her community has faced, Tut's work is a reflection of Nanak's ideal that one should be both spiritually motivated while being actively engaged in understanding and critiquing the political world around us.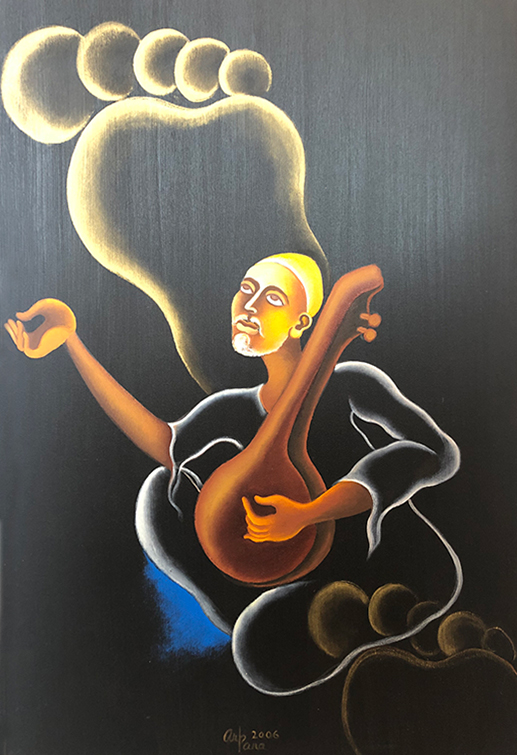 "Contemporary art is a critical, yet often overlooked part of our shared heritage," says Dhami, executive director of the Sikh Foundation. Reflecting on the goal of the exhibit, Dhami notes the importance of using art to celebrate community and the shared contributions that these artists have made to art writ large, but also as an opportunity for the viewer to reflect on the message, mission, and divine vision of Guru Nanak. "Baba Nanak is a son of the Punjab," she notes, reflecting on how Nanak's message of humanism reminds us to think of the ways in which his life's work spiritually sutures a region marred by the violence of partition and subsequent political upheavals on both sides of the border. Dr. Anmol Mahal, a passionate preserver of Sikh art and antiquities for future generations, and a contributing collector to the exhibit agrees, "Guru Nanak's message is simple: treat everyone and your environment with respect. He reminds us not only to work hard and contribute to our families, but to also share our earnings with others. Guru Nanak lived in a politically turbulent time and his message is as relevant in our present time of discord as when it was given." In a time of global populism and fear-laced nationalism, the Expressions of Divinity exhibit gives an opportunity to view these pieces work for their artistic merit and beauty, and also to build community through the eternal message of unity, grace, and altruism that is embodied in Nanak.