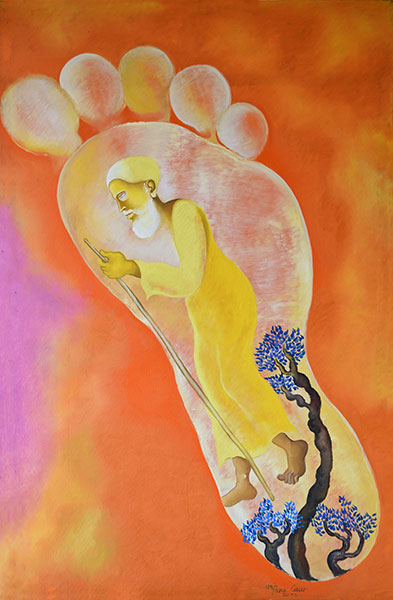 Details:
Expressions of Divinity explores the teachings of Guru Nanak, the founder of Sikhism, and how they hold meaning for artists today. The exhibition will showcase a selection of work from celebrated artists from India, Arpana Caur and Devender Singh. The works featured represent several collections from the Greater Bay Area, most notably the prestigious collection of Dr. Narinder S. and Mrs. Satinder K. Kapany. The depth and breadth of the Kapany Collection serves as wonderful resource for the study of great Sikh Art and the vast collection has traveled globally, most recently with the Asian Art Museum in San Francisco. This exhibition is in collaboration with the Sikh Foundation, founded by the Kapany's in 1967. The Foundation is a valuable resource in advancing educational discourse around Sikh arts and culture.
Arpana Caur and Devender Singh's work depict various aspects of Guru Nanak's travels, visions, and poetry. Caur's paintings present the Guru as a visionary and reformist whose teachings are at the core of spiritual beliefs within Sikh culture. Singh's work focuses on the visual interpretation of Guru Nanak's Baramaha verses as enshrined in the Guru Granth Sahib, the holy book of the Sikhs. Expressions of Divinity will also feature the work of local Sikh American artists in conversation with Caur and Singh. They explore how historical events and contemporary themes of divinity help shape identity in the diasporic Sikh community.
Aug 31- Nov. 3 2019
The Triton Museum
1505 Warburton Avenue
Santa Clara CA 95050-USA
Tuesday-Sunday 11am-5pm
Free Admission
Save the Dates:
Aug 31: Opening Celebration & Family Art Day & Art Fair 12-4pm.
Sept 13: Artist Reception 6-8pm.
Sept 25: Brown Bag Lunch~Sonia Dhami 12-12.45 pm
Oct. 9:   Brown Bag Lunch~Rupy C. Tut  12 -12.45 pm
The Sikh Foundation thanks the following persons for generous donations:
Dr. Surjit Kaur & Dr. Anmol S Mahal
Mrs. Vimal Oberoi
Mr. & Mrs Ahluwalia
We thanks our volunteers for their generosity with their time and contributions
Dr. Gurpreet K. Rihal
Simran Kaur Ghuman
Simran Bajaj
Gagandeep Kaur
Rupy C. Tut
Sarabjit Singh
Inderjit Singh
Amrinder Singh
Harpreet Singh
Savinder Singh
Jessi Kaur
Parveen K. Dhillon
Ishmeet Narula & Mein Sufi Hun group
Dr. Sunny Anand
Mr. Miqdad Husen
Guneet Sandhu
Vidya Pradhan
Mehar Nijjar
Amrita Bhasin
Ashveer Pal Singh
Tanmeet Gujral
Tanya Momi
Simreen Virk