In the borderless world of 15th century, people travelled distances to trade, rulers invaded to expand territories, and Nanak glided across the geographies to spread the message of humanity.
ALLEGORY, which means the revelation of a hidden meaning, is a tapestry of Guru Nanak's travels. During his travels, Guru Nanak covered a large geographical tapestry, which in the 21st century, comprise of 9 nations, Pakistan, India, China, Bangladesh, Sri Lanka, Saudi Arabia, Iraq, Iran and Afghanistan. To break barriers across faiths by engaging in spiritual dialogues, Guru Nanak visited numerous Islamic, Sufi and Hindu sites.
Between 15th and 16th centuries, the universal narratives of Guru Nanak's travels were rendered only through oral traditions. In the 17th century, the oral narratives were strengthened by documenting them in the form of books, known as Janamsakhis. Today, in the 21st century, the Janamsakhis are forgotten and division of geographies as sovereign nations have made many of the historic sites inaccessible.
Moreover, today the Sikh narrative stands limited to gurdwaras at Nankana Sahib, Kartarpur Sahib and Panja Sahib. Thus, there is a compelling need to explore and film the sites visited by Guru Nanak so that the faded memories can be kept alive.
This will be the first documentary of its kind to chronicle the vast expanse of sites across 9 countries that were visited by Guru Nanak. Through an exploration and documentation of these sites in the 21st century, interspersed with narratives of the past, the universal message of Guru Nanak will continue to glide through generations.
The Sikh Foundation is supporting this film and appeals to you to add your support to this worthy project to enable the filming cost of 150+ interfaith sites associated with Guru Nanak's travels across nine nations:
Sri Lanka – filming completed
Iran – filming completed
Sri Lanka – filming completed
Pakistan – filming completed
India
Afghanistan – filming on site
Iraq
Saudi Arabia
China
Bangladesh
COMPLETION DATE: November 2019
RELEASE DATE: November 2020
Amardeep Singh, from Singapore, is leading this project. He has a proven track record of developing unique and monumental works. Most noteworthy are Amardeep's two books entitled 'LOST HERITAGE The Sikh Legacy in Pakistan' and 'THE QUEST CONTINUES: LOST HERITAGE The Sikh Legacy in Pakistan', in which he has explored the remnants of the Sikh legacy in 126 cities and villages in Pakistan, including many places where the community has had no access for seven decades. Amardeep has also produced two visual film documentaries 'PEERING SOUL' and 'PEERING WARRIOR', which present his field explorations across Pakistan.
The progress of the filming activity can be followed on the following social media pages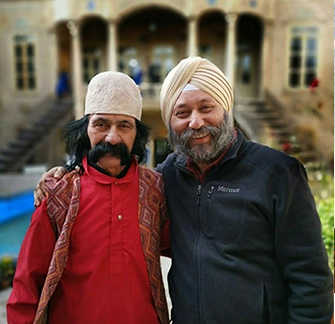 Highlights and updates on Filming
At 6 Darbars across Kathmandu one finds hand written Guru Granth Sahib. These Darbars were established in the name of Guru Nanak, through grants given by Kings of Nepal.

– Snippets from the journey in the making of the documentary, 'ALLEGORY – A Tapestry of Guru Nanak's Travels' pic.twitter.com/WvNqUioSM5 — Amardeep Singh (@adsranghar) May 21, 2019
Then Guru Nanak ascended to Mount Sumeru (Kailash) in Tibet & held discourse with Gorakhnath Jogis.

Tomorrow we embark on the path he took from India to Mount Kailash, – Snippets from the journey in the making of the documentary, 'ALLEGORY – A Tapestry of Guru Nanak's Travels' pic.twitter.com/WYghxVXRnC — Amardeep Singh (@adsranghar) May 18, 2019