By Vidya Pradhan
Even the most casual student of Indian history knows of Maharaja Ranjit Singh, the leader of the Sikh Empire, who famously united warring confederacies (misls) and whose reign ushered in a renaissance for the Punjab. But how many of us have heard of Maharani Jind Kaur, the Sikh regent who bravely fought the British in an attempt to secure the throne for her son Duleep Singh?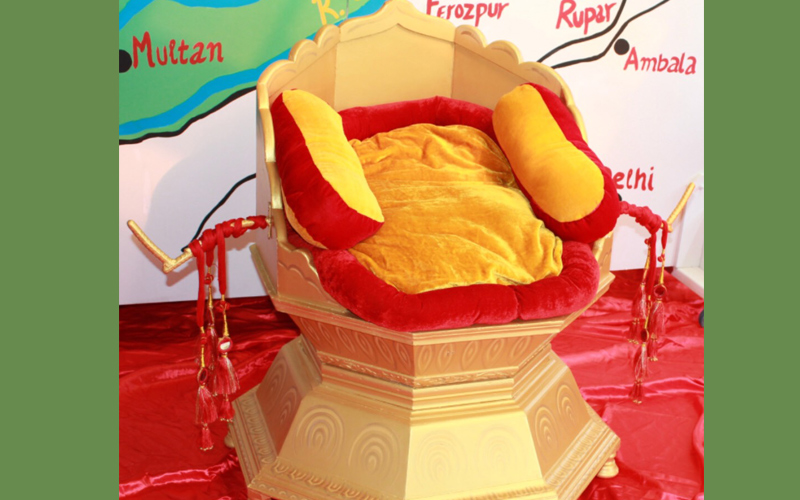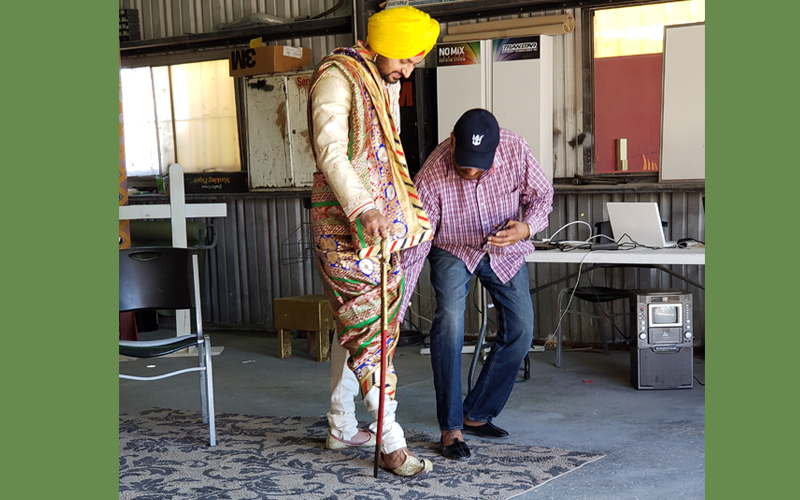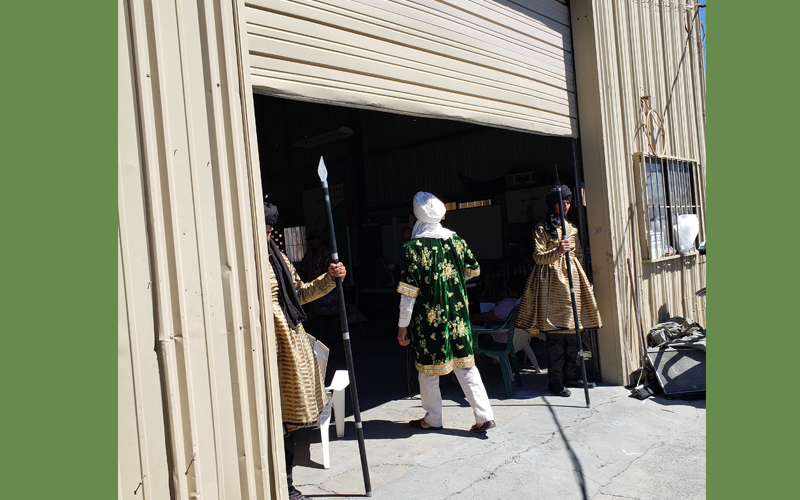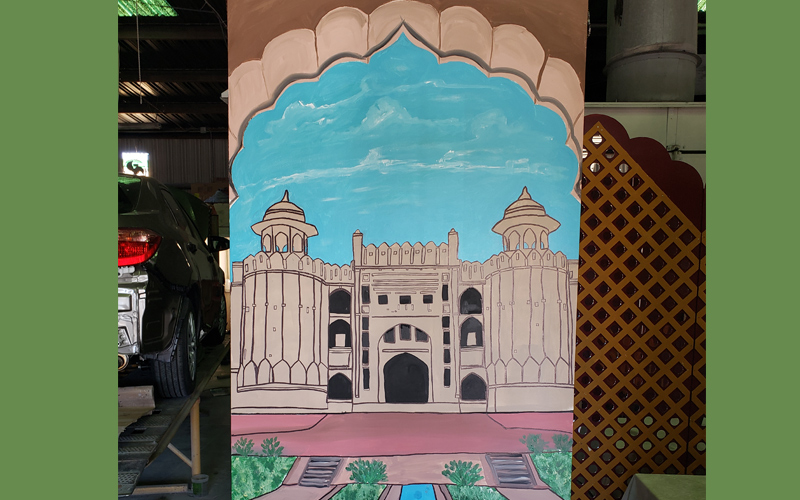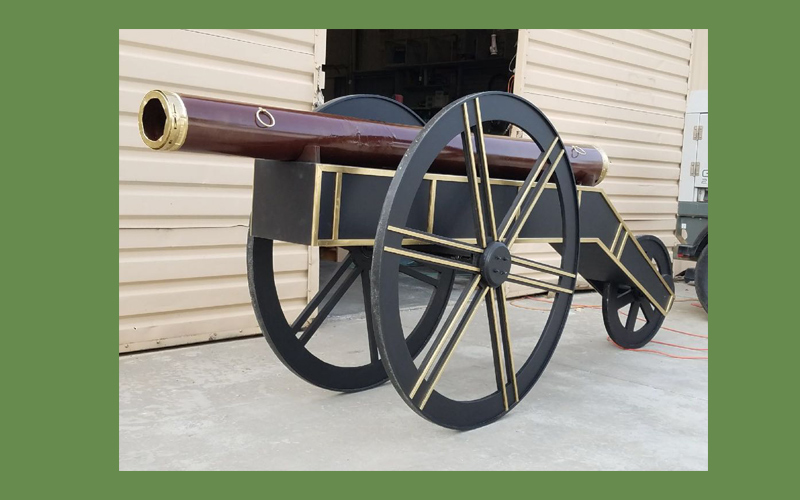 Throne of Maharaja Ranjit Singh - replica Pic: Surinder Dhanoa - Pic courtesy: Vidya Pradhan
Maharani-Jindan-2
Surinder Dhanoa making adjustments to Duleep Singh's costume. - Pic courtesy: Vidya Pradhan
Maharani-Jindan-3
Ranjit Singh making his entry through the autobody doors - Pic courtesy: Vidya Pradhan
Maharani-Jindan-4
Palace prop - Pic courtesy: Vidya Pradhan
"Rani Jindan was the first woman to fight the British," says Surinder Singh Dhanoa, a Bay Area writer, actor, and director who has penned a play on the queen. "She even preceded Rani Lakshmibai, who has a place in Indian history books."
Mr. Dhanoa's play Maharani Jindan, premiers this Saturday, September 22, 2018 at the James Logan High School in Union City. It is a monumental labor of love – Mr. Dhanoa took a year to write it and performers have been rehearsing it for over nine months. The play spans the history of the Punjab from the time it became known as the land of five rivers to its annexation by the British. "I could not just introduce the story of Rani Jindan without explaining the context," says Mr. Dhanoa. "Most of us are not familiar with the events that preceded her reign."
Maharani Jindan is the third play Mr. Dhanoa has written and directed for his theater troupe Punjab Lok Rang, which has been performing since 2006. It is his 12th play and 2nd historical, after Hukmo di Haveli. Mr. Dhanoa is a farmer by profession, but theater is his passion.
"Producing this play was a challenge," he says, "because I wanted to get the historical details exactly right." He spend days researching, talking to eminent scholars and devouring books on Sikh history.
Monica Uppal, who plays Queen Victoria in the play, attests to this attention to detail. "Our director is a stickler for accuracy," she says. "Even holding a tea cup is something we have to pay attention to, because there is a way we hold it when it is full and a different way when it is empty."
Even the costumes and props have been meticulously researched and produced. Surinder Dhanoa and his wife Jaswinder, who plays the lead role, travelled to India this past February to get costumes and accessories made. They received a great deal of help in sourcing these from Jasbir Gill, a theater enthusiast who has also acted in several Punjabi films.
One important prop that Mr. Dhanoa was particular about getting perfect was Maharaja Ranjit Singh's throne.
"There's quite a story behind this," laughs Mr. Dhanoa. "We had to hunt high and low for a carpenter who was willing to take the job. Even the artisans at Kartarpur, which is a hub for the furniture industry in Punjab, refused to consider it." He travelled to Lucknow to try his luck with the karigars there, but failed again. Just when he was about to give up, he heard of a person in Sirhand who was willing to build the royal chair. The item was then taken to another artisan in Khamano village to be gold painted and to Malerkotla for the final touches. When it was finally done it was too big to be shipped and ended up having to be disassembled and assembled back here in the United States.
"I am not even keeping track of what I have spent on this play," says Mr. Dhanoa ruefully. He has also had a massive, true to life cannon nicknamed "Jamjam" built by builder Bhupinder Padam from a picture of it outside the Punjab Museum in Lahore. Other props have also been faithfully recreated here in the Bay Area with the help of designer Ramneet Chaudhary
While in India, Mr. Dhanoa also had the music and the background score for the play recorded through AKS Studios in Chandigarh.
The play, which is in Punjabi, opens with a stirring and emotional monologue encapsulating the history of the Punjab and brims with love for the land that has given the Sikh community its identity. Even in rehearsal, the moving speech draws goosebumps. Ten other segments create vivid and resonant tableaux that bring to life the rich and passionate history of the Sikhs.
It is only fitting that the play has the local Sikh community pitching in enthusiastically to make it a success. The entirely volunteer cast and crew of 22 has been working for months to bring Mr. Dhanoa's vision to life. "I would like to acknowledge Pali Dhanaula as the organizer of the play," says Mr. Dhanoa. "Without his tireless efforts this play would not have been possible."
As I write this, a week before the play premieres, there is frenetic activity to get all the last minute details right – the draping of Duleep Singh's robes, the placement of the brightly painted backdrops, the entrances and exits of the actors. With only one technical rehearsal, just hours before the actual event, precision and accuracy at the rehearsals take on great significance.
"It is this meticulousness that makes us special," says Uppal. Punjab Lok Rang has advised other up and coming play companies on the operational challenges of community theater. Mr. Dhanoa and his team have mentored other fledgling drama companies in the Bay Area and beyond with the experience they have developed over the years.
For now, there is no time for anything but this lavish and comprehensive retelling of the story of the Sikh Empire. Says Surinder Dhanoa, "My job is to recreate history." What a treat for the audience!
Maharani Jindal – The Legacy of Sikh Raj and its Downfall
A play in Punjabi
Date: September 22, 2018 (Saturday)
Time: 6:00 PM
Venue: Center of Performing Arts
James Logan High School
1800 H Street, Union City, CA 94587
For More Information Contact:
Pali Dhanaula @ (510) 992-9285