By Inderjit Singh Takhar Harjit Singh Sajjan, Canada's Minister of National Defense visited the Sikh Foundation offices in Palo Alto CA along with a 4 member team. Minister Sajjan is a man whose resume includes four oversea tours with the Canadian Armed Forces, and 11 years in the Vancouver Police Department where he was a detective with the department's gang crimes unit. Minister Sajjan's persona and humility are immediately recognized. He speaks with authority and grace which captivates all and his knowledge and passion about his field and work stand out. The Sikh community should be informed that Minister Sajjan shouldn't only be a pride of the community because of his appearance, but also for his relentless service to his country and his drive to make the world a better and safer place for all. However, it is also clear to see that Sikhi played a role in the development of his character and ideals. When introducing his staff he was quick to point out that this military attaché was the first women Lieutenant Colonel in Canadian Army. The Minister stated that gender equality in the military is something that should be a norm across the world, and stated that as a Sikh the "idea of gender equality is not a new thing; the Sikhs have had it for centuries… Mai Bhago is a great example".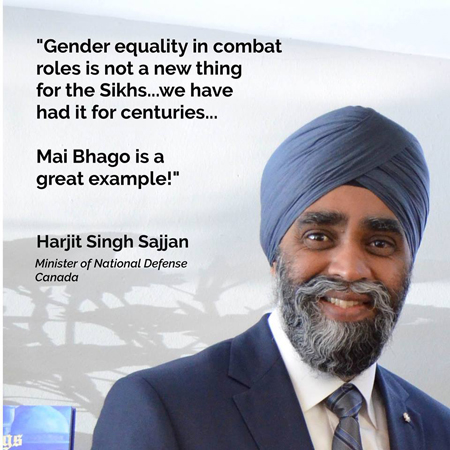 Photo Credit: Sikh Foundation Artist-in-Residence, Rupy C Tut
Meeting Minister Sajjan was any absolute honor. After listening and talking to him one on one, I would have to say that he is now a role model of mine. He is an inspiration to not only Sikhs but all minority communities and is an excellent example of how having the passion to make a difference and hard work pays off. During this visit the Minister made an outstanding statement "never underestimate a person that wants to make a difference".He is the pride of the community; his title brings joy and confidence to Sikhs across world, and I believe that he knows that an entire community is looking up to him. But despite the pressure of being the holder of such a prestigious title and all the challenges that come with it, he knows he is the man for the job. He stated that he got into politics because he didn't like the direction his country was headed in. He wanted to make a difference, and he did. He stated that he is honored to be a part of such a diversity cabinet, in a country whose strength is its multicultural populations. I strongly believe that over the coming years Minister Sajjan will continue to make the Sikh community and his country proud by standing up for what is right and making a positive impact in the world.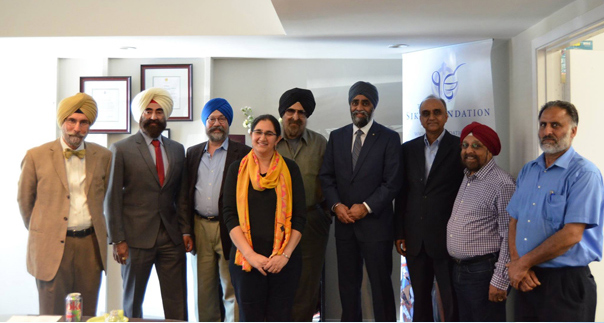 Harjit Sajjan with the Sikh Foundation Trustees Photo Credit: Sikh Foundation Artist-in-Residence, Rupy C Tut
Minister Sajjan also showed a great appreciation for the arts and was grateful for the work the Sikh Foundation has done and continues to do to collect and promote Sikh Art. He willingly offered his support and assistances in the Sikh Foundations ongoing effort to establish a permanent Sikh Art exhibit at the National Gallery of Canada in Ottawa, Canada. Moreover, he was absolutely delighted when the Sikh Foundations Artist-in-Residence, Rupy C Tut, presented him with a one of a kind piece of art work. Additionally, the Minister was pleased to hear that the Sikh Foundation was behind the establishment of Sikh Studies programs in Universities across California, as he stated that education is a major first step in showing the world who the Sikhs are. Furthermore, he expressed admiration for the Foundations longevity and success in educating the American community about Sikhs is the unique way across multi-cultural platforms. The Minister enjoyed meeting us over lunch, stating that the work that Dr. Kapany and the Foundation have done is unmatched. The Minister is now looking forward to attending our 50
th
Anniversary Gala in 2017 where he with be joined by top Sikh dignitaries, entrepreneurs, professions and business men and women from around the world.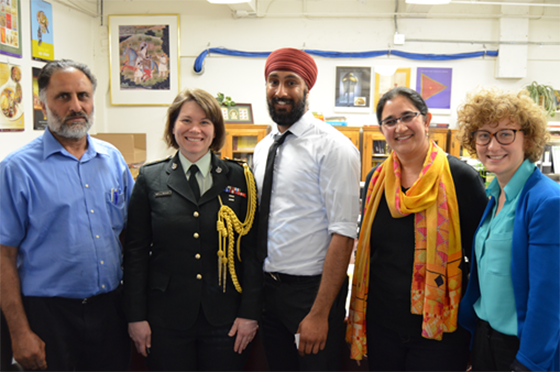 Photo Credit: Sikh Foundation Artist-in-Residence, Rupy C Tut