In the late 19
th
century, men from the Punjab region in north India, known as the Land of Five Rivers, began settling in the Sacramento Valley and other parts of rural California, farming the land that reminded them of home. Despite the many challenges these pioneers faced in a new land, they built a thriving community. The history and ongoing vibrancy of Yuba City's Punjabi American community – one of the largest rural South Asian communities outside India – is celebrated with the launch of the
Pioneering Punjabis Digital Archive Project
by the University of California, Davis. The archive was officially launched at an event Oct. 8 at UC Davis. The digital archive seeks to share the stories and contributions to California of these pioneering Punjabi Americans and their descendants through more than 700 video interviews, speeches, diaries, articles, and photographs. "It is important to save and share the rich history of the South Asian pioneers in California," said Nicole Ranganath, a lecturer in the UC Davis Middle East/South Asia Studies (ME/SA) Program. "It's a vital part of California history that's virtually unknown."
Collaboration with Punjabi community
Ranganath created the archive in collaboration with the Punjabi American Heritage Society in Yuba City. The project also builds on the decades of research about the Punjabi pioneers gathered by Ted Sibia, a former UC Davis librarian. "It's a very inspiring story, one that not enough people know about," said Dr. Jasbir Singh Kang, Punjabi American Heritage Society co-founder. "With a world class institution like UC Davis involved, it definitely takes us to a higher level." With its roots as an agricultural university and proximity to Yuba City, UC Davis is the appropriate home for the archive.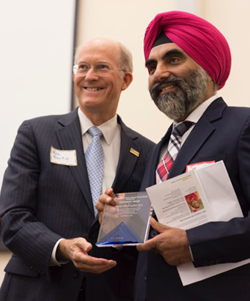 UC Davis interium Provost Kenneth Burtis with Dr. Jasbir Singh Kang, Punjabi American Heritage Society co-founder
"The community has such strong ties to UC Davis, through agricultural innovations from new peach varieties to farming technology," Ranganath said. "The university has been so integral to their livelihood and so many people from that community have also attended UC Davis." The archive will be a resource for academic researchers, K-12 educators, and the general public. The Middle East/South Asia Studies program is partnering with the California History-Social Science Project to train K-12 teachers to use the archive in California history courses.
Important leaders in the community highlighted
Among the dozen people featured in the archive are:
Didar Singh Bains, the best known member of Yuba City's Punjabi American community and one of the largest peach growers in the world known as "The Peach King."
Hari Singh Everest, a writer and teacher whose extensive diaries, writings, and video and audio interviews form a core part of the archive.
Dr. Jasbir Singh Kang, a passionate community activist whose speeches, media appearances, and writings promote greater cross-cultural understanding and address pressing issues facing the Punjabi American community, especially after 9/11.
Dr. Gurdev Khush, a UC Davis adjunct professor in the College of Agricultural and Environmental Sciences, known for his pioneering work in rice breeding and winner of the 1996 World Food Prize.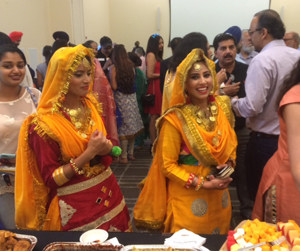 UC Davis Giddha performance members
"Punjabis are a vibrant and influential community in California," said Khush, who will give the keynote address at the archive launch. "During their 120-year presence here Punjabi Americans have made remarkable contributions to agriculture, technology, engineering, medicine and academic professions," he said. "The archive is a valuable resource for historians, academicians and the community in general." The digital archive will also contribute to connecting the ME/SA program to the region's various South Asian communities. "The ME/SA program is excited to showcase this rich archive of the history and dynamism of the Punjabi community in California,'" said Smriti Srinivas, a professor and director of the program. "We hope to engage with other South Asian communities in meaningful ways in the future." The archive would not have been possible without the generous support provided by the College of Letters & Science, College of Agricultural & Environmental Sciences, the University Library's Digital Scholarship Office led by Carl Stahmer, the Middle East/South Asia Studies Program, and a grant from the Andrew W. Mellon Foundation. For more information contact Nicole Ranganath at
nranganath@ucdavis.edu
– Jeffrey Day, content strategist for the College of Letters and Science. jadday@ucdavis.edu Courtesy of
www.ls.ucdavis.edu