By Bhai Harbans Lal
Sirdar Jasbir Singh Sethi, who initiated many thoughts and projects benefiting Sikhs in the USA, left his earthly life on February 12, 2017, in Houston, Texas. His wife Surjit Kaur, his Son (Navneet Singh), his daughter (Pinki Kaur) along with many friends were by his side. Jasbir has been battling the stage-four gall bladder cancer for the past several months.
I often had long phone conversations with Sethi Sahib, as we used to call him, and visited him as often as I could. It was always a treat; he had plenty to talk about in regards to Sikh communities and organizations that he regularly helped and guided from the deep of his heart, and he always gave his selfless helping hand. So was he with his friends and colleagues. For example, in 1982 when my home in Arlington, Texas, burnt in a fire, Sethi Sahib drove from Houston to visit us in order to offer his help.
Most recently, I saw Sethi Sahib was on January 28, only less than two weeks before his death. He was in typical charadee-kala and without complaining about his cancer. Instead, he asked about the health of the Panth and he told me how he stayed in touch with his Guru through listening to kirtan and reciting Gurbani. He handed over a check for the Sikh Review to me. He has been representing Sikh Review in the USA for years, enrolling new subscriber, reminding those already enrolled to renew their expiring subscriptions, and sending articles and guidance to the journal.
During my recent conversation with Dr. Narinder Singh Kapany, Narinder emphasized that he had lost an invaluable member of his team at the Sikh Foundation. Jasbir Ji had been a member/trustee of the Sikh Foundation for over 25 years.
Several years ago, when late Sardar Ganga Singh was looking for the Secretary General for the Sri Nanakana Sahib Foundation he spotted none other than Jasbir Singh Sethi. Sethi Sahib declined to take on that responsibility so that both Ganga Singh and I drove to Houston to convince him personally that both of us needed his guidance and services. He readily agreed to serve even though he stood firm on where he differed with Ganga Singh on some details of the working of the Foundation in Pakistan.
Jasbir was born in what is now Mardan, Pakistan, in 1936. He received his engineering degree from Punjab Engineering College in 1956. He then joined the Indian Railway system as an officer where he worked for ten years. During the same period, he earned a law degree from the University of Gorakhpur. After his immigration to the USA, he completed MS degree from Rutgers University in 1972.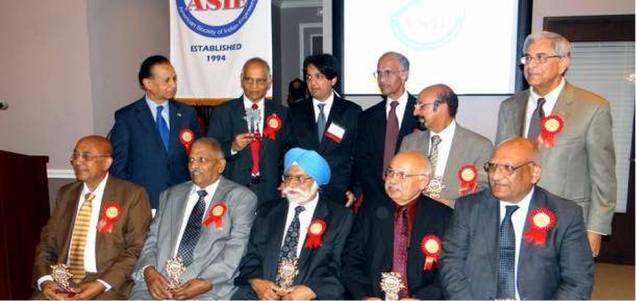 The American Society of Indian Engineers honored Jasbir Singh Sethi among the prominent engineers and architects at its Annual Dinner and Awards Ceremony 2013. Photo from India Herald.
Sirdar Sethi moved to Houston in 1972 and joined Brown & Root as an engineer. He became the first Indian-born manager at Brown & Root, who led a team of engineers to design the piping system for the world's first nuclear power plant. Since then, he served several American companies in a variety of positions.
The American Society of Indian Engineers honored Jasbir Singh Sethi among the prominent engineers and architects at its Annual Dinner and Awards Ceremony 2013. Photo from India Herald.
Sirdar Sethi was one of the founders of the Sikh Center of the Gulf Coast Area. At the time, the Sikh Center was the first Gurdwara in the southern states of the United States. Jasbir was also either the founder or held offices in several cultural, educational, and religious organizations such as – Sikh Students' Federation, Indian Student Association, Punjabi Society, Urdu Cultural Society, and Sikh Council of North America. He had written several books and essays on Sikhism published in various Sikh journals.
Sirdar Sethi received several recognitions from the Sikh institutions. Further, the NRI Welfare Society of India honored Jasbir Singh Sethi with its Hind Rattan award. This is one of the highest Indian diasporic awards granted annually to non-resident persons of Indian origin (NRIs) on the eve of India's Republic Day, in conjunction with national Pravasi Bharatiya Divas celebrations.
The Sikh congregation and many friends of Jasbir Singh Sethi will feel his absence for a long time to come.
From the Sikh Foundation:
"Mr. Sethi was a profound thinker and a committed Sikh. His contributions to the Sikh cause will always be remembered. We will miss his wisdom and ingenuity. May God bless his soul and give courage to his relatives for this great loss." – Dr. Narinder Singh Kapany, Sikh Foundation Chairman
Last week the Sikh Foundation lost an invaluable member of its team, Mr. Jasbir Singh Sethi. He had been a member/trustee of the Sikh Foundation for over 25 years and had served the entirety of Sikh community for his whole life.
Aside from his numerous accolade and business successes, Mr Sethi was a writer. One of his more popular publication was titled "Fall and Colored Leaves: A Collection of Thought Provoking Random Essays". In his own words he stated that the essays in the book "portray [his] own love of life".
His curiosity to understand diversity and seeking common threads brought enormous reward to his life. Through his writing he was able to share his thoughts and experiences with the goal that they would bring happiness and meaning to life for others.
Mr. Sethi was a vibrant man who lived a full life. His legacy will live on and his service to humanity will never be forgotten.
"Sethi Ji's demise is not only a loss to his family but to the entire Sikh community." – Dilmohan Singh Chadha, Sikh Foundation trustees
"A real loss for the Sikh Foundation and Sikh community. May he Rest In Peace." Sardool Samra. Sikh Foundation trustee