Reviewed by: Ranbir Singh
Kanwer Singh a.k.a Humble The Poet is an elementary school teacher and writer by day. By night, he is a Toronto bred MC/spoken word artist and musician that embodies the diversity and resiliency of one of the world's most unique cities. Tattoos, beard, a turban and a smile, Humble the Poet captivates the attention of his diverse audiences.
From the classroom to centre stage, Humble the Poet utilizes the myriad of experiences in his life and fuses them into digestible lyricism, witty choruses and unmatched energy. #UnLearn, his literary debut, aims to motivate and inspire its readers to explore their own hidden potentials.
#Unlearn focuses on the idea that an individual's feelings and reactions are not singular. Specifically, experiences are not only individualized but also shared among different people. In this way, the author has wonderfully presented discussions which everyone can relate to in one way or another.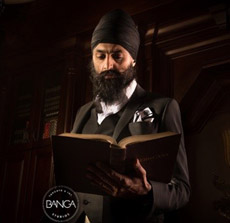 Image of Kanwer Singh a.k.a Humble the Poet. Image Credits to BangaStudios.ca
However, despite greatly enjoying the book, I did dislike a few things. While readers would enjoy more relevant details in each chapter the author has smartly left out specifics in order for the reader to come to their own conclusions.
In his literary debut, Kanwer Singh has a collection of writings inspired by his continuous journey to challenge his biases and remain a lifelong learner. This book follows the genre of Self-Help/Motivational and Inspirational literature. Simple, honest, and effective, this book is a collection of nuggets that provides the reader with advice to help keep the wild ride of life steady.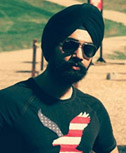 Ranbir Singh
Mr. Ranbir Singh is a Master's student in Concordia University, Montreal, Canada. Born and brought up in New Delhi, India, Ranbir has always pursed adventures. He enjoys playing the tabla, and considers himself as an amateur sketch artist and fitness freak. Ranbir is a personable individual that enjoys exploring and trying new things. He believes that everyone should attempt to move out of their comfort zone, and explore all that life has to offer.