By Vidya Pradhan
"Do not blame others, O people, as you plant so shall you harvest."
"Earn your living with your own effort; thus you will find happiness."
"With Guru's own words, let us resolve our own affairs; look to the future and don't glance behind."
These words of wisdom from the Guru Granth Sahib were quoted by Dr. Narinder Kapany as he received a Lifetime Achievement Award from the Sikh American Chamber of Commerce (SACC). Dr. Kapany, the Father of Fiber Optics and the founder of the Sikh Foundation, was unable to attend in person, but sent his message of encouragement to new and established entrepreneurs who attended the grand celebrations on October 13, 2018.
With over 400 accomplished Sikh-American business members and professionals, the event was standing room only at the Liberty Science Center in Jersey City. This year's theme for the Annual Gala – Breaking Barriers – was elaborated on by an impressive array of speakers:
The Honorable Gurbir Grewal: Mr. Gurbir Grewal is the 61st Attorney General of the State of New Jersey. He is the first Sikh-American Attorney General in United States history. Mr. Grewal has made his mark in public and professional life with his beliefs well-grounded in equality and social justice. Speaking at the event, Mr. Grewal said, "In every position that I have held in the past and even as Attorney General now, I have attempted to promote understanding and acceptance through my service to show everyone through my work that Sikhs are a part of the fabric of this country (and) that we are doing our part to keep all of us in this country safe."
Jaideep Bajaj: Mr. Jaideep Bajaj is the Chairman of ZS Associates' board of directors and is based at Princeton, NJ. Mr. Bajaj has held a number of senior leadership roles and served as the firm's first Managing Director after the founders, holding the role between 2003 and 2012. Prior to taking the firm's helm in 2003, he was the leader of the US Pharmaceuticals industry group and Managing Principal of the Princeton office, which he launched in 1995.
Ravi Bhalla: Mr. Ravi Bhalla is the first Sikh Mayor of New Jersey. He was born and raised in New Jersey. Mr. Bhalla earned a Juris Doctor Degree from Tulane Law School in New Orleans, Louisiana. He has supported Sikhs throughout his legal career, especially in extradition cases, employment discrimination cases, and issues of profiling. He has been a Civil and Human Rights lawyer for many clients throughout New Jersey.
The following invitees were honored not only for their contributions to the Sikh community but for their impact on global society: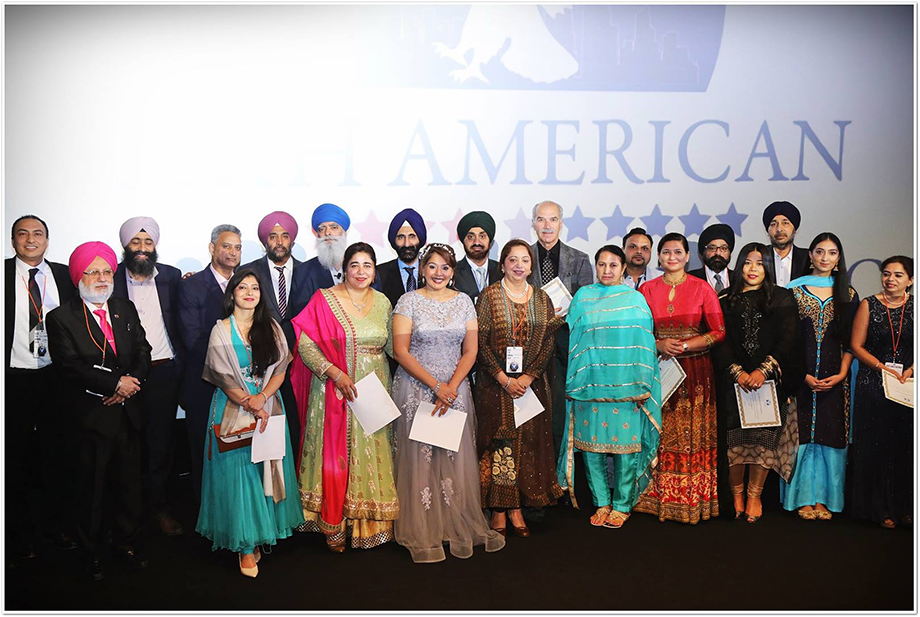 ​Gagan Singh, Chief Investment Officer, PNC Financial Services Group: Outstanding Achievement award. Mr. Gagan Singh has been Chief Investment Officer of PNC Bank National Association at The PNC Financial Services Group, Inc. since May 2004.
Sikh Research Institute (SikhRI): Community Development award. Sikh Research Institute (SikhRI) is a global organization based in North America with the simple mission of helping people fall in love with Sikhi. Through the wisdom of Guru Granth Sahib, SikhRI strives to inspire Sikh values within individuals. SikhRI embraces anyone in search for a better understanding of Sikhi and the impact it can have on their lives — exploring and sharing knowledge is the key to a better and more enlightened world. In its devotion to help people interpret and internalize Gurbani, the SikhRI team produces a diverse range of immersive programs, webinars, podcasts, workshops, and lectures that cover topics as wide as history, culture, language, community, family, and self-development.
Ensaaf: Human Rights award. Ensaaf (which means "justice in many South Asian languages) is a nonprofit organization working to achieve justice for crimes against humanity in India, with a special focus on Punjab, by documenting abuses, bringing perpetrators to justice, and organizing survivors.
Balvir Singh, Freeholder, NJ: Outstanding Achievement award. Balvir Singh is a teacher and Democratic politician from Burlington Township, New Jersey who has served on the Board of Chosen Freeholders of Burlington County since 2018. Singh is the first Asian American to win a countywide election in Burlington County and the first Sikh American to win a countywide election in New Jersey. He has been awarded numerous awards in his academic career and has presented internationally on teaching and learning of mathematics, including recently in Germany and Ecuador.
Khalsa Aid International: Humanitarian award. Mr. Ravi Singh Sidhu, the CEO of Khalsa Aid International, has been working as a humanitarian since 1999, when he had the idea of taking the concept of langar (Sikh community kitchen) to regions of the world that needed it the most with the hope that it will help to rekindle people's trust in humanity. At the event, Mr. Sidhu stressed on the importance of Sikhs uniting for humanity and passed on his message on faith, hope, and humanity.
Says event organizer Chandeep Kaur, "The gala, a showcase of successful Sikh entrepreneurs, provides the community with an opportunity to meet successful entrepreneurs and professionals from different spheres in an engaging atmosphere where they can network and learn ways to enhance their career and business."
As Dr. Kapany pointed out, entrepreneurship is in the genes of the Sikh community; the Guru Granth Sahib exhorts Sikhs to develop economic independence and live by the fruit of their own endeavors. And free enterprise and entrepreneurship are also in the DNA of the United States, a country founded on exploration and risk-taking. In closing, Dr. Kapany called upon the new breed of entrepreneurs to be good Sikhs and Americans and to never forget to support the less fortunate while chasing their dreams. After all, as the Guru Granth Sahib says, "Dharm (the path of righteousness) is a product of daya (compassion).
To learn more about the SACC, its mission, objectives, and events, check out www.saccglobal.org. Next year's Gala will be held on September 21, 2019.
To view Dr. Kapany's address in its entirety, click on https://www.youtube.com/watch?v=k_rZiOJAgCc