by Louise Nicholson
A kennel keeper's daughter, Jind Kaur was left to defend the mighty Sikh empire against the British. Louise Nicholson tells the maharani's story
The remarkable rags-to-riches life of Maharani Jind Kaur deserves to be better known. At the peak of her power – the three years from 1843 when she was regent of the Sikh Empire on behalf of her infant son – the vast Sikh territories stretched from the Khyber Pass to Kashmir and Delhi, and were the strategic frontier between Central Asia and the British East India Company's lucrative and ambitious commercial enterprise in the Indian subcontinent. She wore spectacular jewelry, was hugely energetic, and terrified the British. They dubbed her 'the Messalina of the Punjab' – Messalina was the promiscuous and treacherous third wife of Roman Emperor Claudius.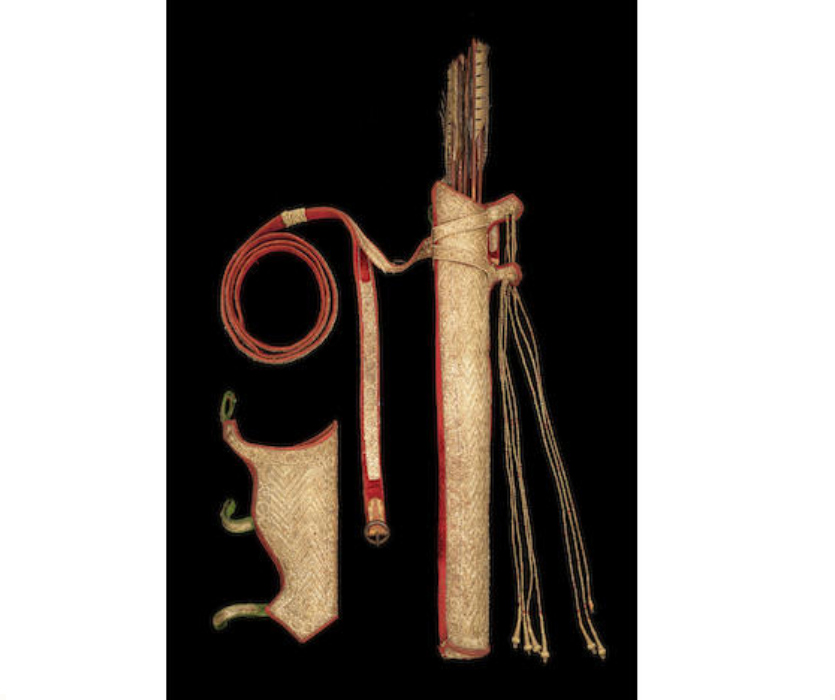 Jindan Kaur was born in 1817 to the Royal Kennel Keeper in Chachar village, near both Lahore, the Sikh political and cultural capital, and Amritsar, its spiritual capital. The myth is that her father sang the praises of his ravishingly beautiful daughter to his master, the one-eyed Maharaja Ranjit Singh, 'Lion of the Punjab', who had conquered Lahore in 1799 and united the small Sikh misls into a single Sikh Empire. The maharaja listened to his kennel keeper and summoned the 18-year old. Smitten, Ranjit sent his arrow and sword to Chachar to symbolize marriage. She became his 17th and youngest wife, and mother to the empire's last maharaja, Duleep Singh.
Intriguingly, a quiver of arrows and bow holder, magnificently finished in gold-embroidered velvet, is one of the important lots offered by Bonhams in October's Sikh Treasures and Arts of the Punjab sale in London. The Lahore in which Jindan Kaur lived centered on the majestic Lahore Fort, built by the Mughal emperors, the surrounding havelis (mansions) of the Sikh nobility, and the lively walled city – even today it is a time-capsule of mansions with carved windows, tiny mosques, traditional kebab cafés, cotton-dyers, spice-dealers, textile-traders, and male gymnasia. Its 19th-century elegance can be
seen in the photographs Lockwood Kipling took while he lived there – an album of which is also offered in the Sikh Treasures sale. From 1875 to 1893, Lockwood ran the art school and museum – the facade of the museum inspired the opening paragraph of his son Rudyard's novel Kim.
The young maharani joined the court and hundreds of supporters and servants at the fort. There, the lavish Sheesh Mahal served as Ranjit's royal apartments. The Scottish explorer Alexander Burns had visited in 1831, and was dazzled. He described a day bed "covered entirely with gold and the canopy was one sheet of the same precious metal", curtains "of Kashmir shawls" and footstools "made of gold". An adjoining eight-door building served as Ranjit's Court of Justice, while a Mughal watchtower was his private shrine, where the Sikh holy book, the Guru Granth Sahib, was read each day. The huge Badshahi mosque, built by Emperor Aurangzeb, was the Sikh army's ammunition depot. In the summer heat, the maharaja and his close entourage decamped to the cool underground chambers of his nearby royal garden, Hazuri Bagh, which he had had built in 1818. A few treats in the Victoria & Albert Museum conjure up the quality of court life: Ranjit's golden throne, lace-like carved wooden panels and precious Kashmir shawls.
Ranjit kept his fabulous treasury in the fort's Moti Masjid, a triple-domed mosque, encased in white marble, that had been added by Emperor Shah Jahan. Even if reports of it holding 48,000 rare Kashmir shawls and equally eye-boggling quantities of gold, silver, bejeweled arms, engraved armor and gem-encrusted jewelry are exaggerated, it was definitely an astounding horde. The necklace of emeralds and strings of pearls that is another major lot in Sikh Treasures gives an idea of the Treasury's mind-boggling wealth.
Just four years into their marriage, Ranjit died in 1839. With his death, the Sikh empire began its collapse. But Rani Jindan, as she was popularly known, now began to show her political clout. From a safe distance in the Punjab Hills, the 22-year-old widow observed rampant court intrigue, including two royal deaths, as six remaining princes competed for the throne. East India Company bigwigs and even the Governor-General joined in to further their expansionist goals, and finally the army proclaimed the five-year-old Duleep as maharaja with Hira Singh as his self-aggrandizing wazir, or chief minister. Rani Jindan called the army's bluff: she became regent.
To do so, Rani Jindan had to defy the traditions of sati – which required a widow to commit suicide on her husband's pyre – and purdah, taking off the veil to hold court, transact state business, meet with army chiefs and review the troops. She restored the delicate balance between army and civil administration, and dealt with tax levies, land grants, army pay increases and power struggles. Such was her confidence and strength of personality that men followed her counsel. No wonder her granddaughter, Sophia Duleep Singh, would become a suffragette. But Rani Jindan met her match with the British, who were massing forces at her border. Wanting to strike a deal, she and her Lahore junta agreed to a British demand that the Sikh army be made to appear the aggressor. What was the First Anglo-Sikh War in 1845-6 which, thanks in part to the treacherous Sikh commander-inchief, resulted in defeat, greatly reduced territories and a depleted treasury. Duleep remained puppet king, but his mother was replaced by a British Resident, Henry Lawrence, and she was imprisoned in her former home.
In a letter to Governor-General Lord Hardinge, Lawrence wrote: 'the native prince is in fetters and under our protection, and must do our bidding'. There was more fighting to come with the Second Anglo-Sikh War (1848-9), after which the British annexed the Punjab. Duleep held his final court on 29 March 1849.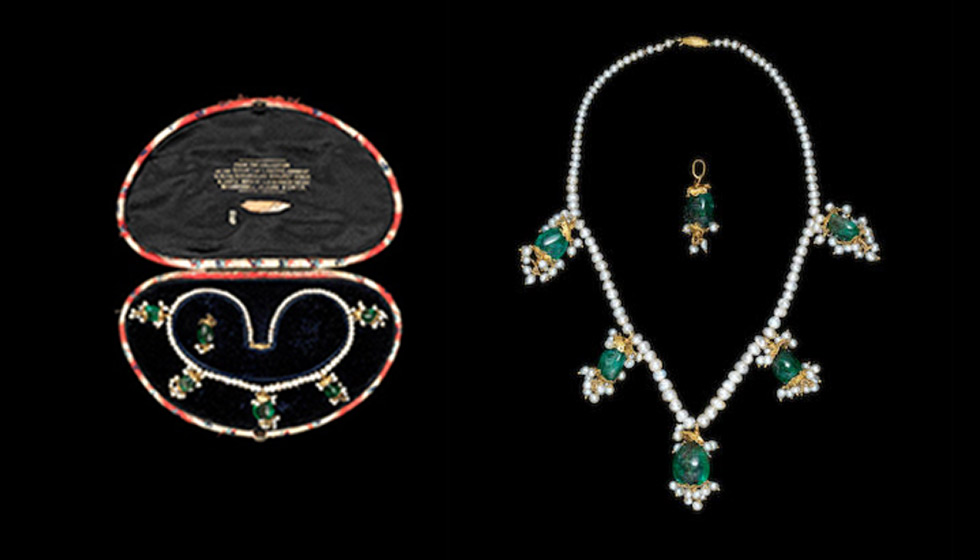 Fearing Rani Jindan would be a rallying point for rebellion, after a year in Lahore Fort, the British moved her halfway across India to Chunar Fort on the banks of the River Ganges near Varanasi. Even more outrageous to Sikhs than this, her jewelry was confiscated.
But Chunar Fort was no match for the gutsy Rani Jindan. After a year, she escaped disguised as a servant and made her way north through 800 miles of dense forest to Kathmandu in Nepal. There she was given asylum by the maharaja. He built her a house, gave her pocket money and treated her as the widowed queen-consort of Ranjit Singh. She stayed for 11 years. Then, in 1861, her son – now living in Britain, with Queen Victoria among his close friends – fetched her from Calcutta, together with her jewels. They lived in Perthshire where, when her son was not enjoying lavish shooting parties, Rani Jindan –
prematurely weak and blind – would make sure he did not forget his royal Sikh heritage.
Maharani Jindan Kaur was to die two years later, aged just 46 and in, as it were, enemy territory: a Kensington townhouse in London. She was initially laid to rest in Kensal Green Dissenters' Chapel (her remains were eventually repatriated) with a marble memorial stone carved in both English and Gurmukhi script. Thus, she was the first documented Sikh woman in Britain.
Louise Nicholson (louisenicholsonindia.com) is an art historian and writer, whose in-depth study since the 1970s has been South Asia.
Sale: Sikh Treasures and Arts of the Punjab
London
Tuesday 23 October at 11am
Enquiries: Oliver White +44 (0) 20 7468 8303
oliver.white@bonhams.com
bonhams.com/islamicandindian
Courtesy of BONHAMS MAGAZINE – ISSUE 56, AUTUMN 2018