A review by Sonia Dhami
The places where we live and the experiences we live through help shape and define us.
Tapishar 'Sher' Singh, author of this engaging volume of essays and a man of many talents, was born in the "…the land of Buddha and Mahavira, of Chandragupta, Ashoka and Chanakya, where Sita was born and where the heroes of the Mahabharta gambolled."
He is most proud of the fact that it is also the birthplace of Guru Gobind Singh, the 10th Guru of the Sikhs. "Once known as Pataliputra, the capital of the great Mauryan empire, it now honours Guru Gobind Singh in its new name, Patna Sahib" he writes in the opening of this collection of inspiring essays.
Interactions with luminaries like Baba Gurdit Singh of Komagata Maru fame, Hardit Singh Malik the World War 1 ace, top bureaucrat, diplomat and golfer, Kirpal Singh the eminent artist, Dr. Ganda Singh the historian and many others, left a indelible impression on the young Sher and in many ways helped start him on his career as a writer and journalist.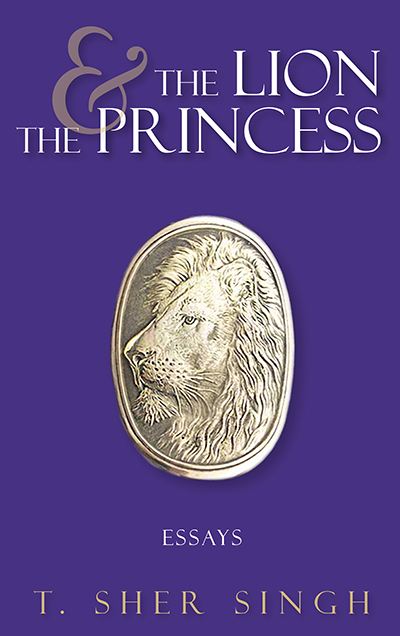 The Lion & the Princess, an insightful collection of anecdotal essays presents a layered personal journey of the author. The explorations of God, religion, politics, culture, identity are refreshing and relevant to our times, making them even more relatable to the young irrespective of their religions. Recalled events, festivals & incidents, are sprinkled with copious amounts of anecdotes.
The teachings of the Guru Nanak and the martyrdom of Guru Tegh Bahadur are impact fully elaborated with relevance to our life in the 21st century and possibly beyond as well. Even the theological concepts of seva, hukam & chardi kala are brought alive with examples from real life.
Khalsa identity with the symbols of – kesh, kangha, kara, kirpan, and the ceremonies of dastar saajna & amrit chakna are described in the first person establishing their symbolism & meaning to the authors own life.
Living in Canada, Sher had ample opportunities to interact with interfaith leaders. An interesting meeting with the First Nations community in Nakoda, test his Sikh values resulting in the realization that such outwardly conflicting cultural and religious values are not as daunting as they appear at the outset.
While the author shares his opinions and perspectives through a large part of the book, he also inspires us to action. In the chapter "Whats with this Unity thing anyways" Sher urges us to "getting off our butts and doing what we would like others to do". The analogy of "add the yeast of personal action and by the next morning it'll be a loaf of bread a hundred times the original size" is a clarion call to action.
Though the book does not delve deeper into the personal tribulations that the author might have experienced, there is ample insight for a deeper and better understanding of what it means to be Sikh in the modern world, both for Sikhs and non-Sikhs.